A Collection in the
Special Collections Department
Accession number 10230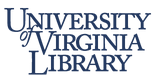 University of Virginia Library
Albert and Shirley Small Special Collections Library
University of Virginia
Charlottesville, Virginia 22904-4110
USA
Phone: (434) 243-1776
Fax: (434) 924-4968
Reference Request Form:
https://small.lib.virginia.edu/reference-request/
URL:
http://small.library.virginia.edu/
© 1997 By the Rector and Visitors of the University of Virginia. All rights reserved.
Funded in part by a grant from the National Endowment for the Humanities.
Processed by: Special Collections Department Staff
Repository
University of Virginia. Library. Special Collections Dept. Alderman Library University of Virginia Charlottesville, Virginia 22903 USA
Collection Number
10230
Title
Alfred Dickinson Barksdale Papers 1905-1973
Extent
Collector
Mr. and Mrs. Robert H. Garbee
Location
Language
English
---
Access Restrictions
Collection is open to research.
Use Restrictions
See the University of Virginia Library's use policy.
Preferred Citation
Alfred Dickinson Barksdale Papers, Accession 10230, Special Collections Department, University of Virginia Library
Acquisition Information
The Alfred Dickinson Barksdale papers were presented to the library by Mr. and Mrs. Robert H. Garbee , 1601 Clayton Avenue, Lynchburg, Virginia , on 8 July 1977 .
Funding Note
Funded in part by a grant from the National Endowment for the Humanities
Alfred Dickinson Barksdale was born in Halifax (then Houston ), Virginia , on 17 July 1892. He was educated in local schools, with the exception of one year (1907-1908) which he spent at Cluster Springs Academy in Cluster Springs, Virginia . He attended the Virginia Military Institute from 1908 to 1911, graduating with a Bachelor of Science degree after only three years. Following a year of teaching in a Halifax school, he entered the University of Virginia Law School , and received his LL.B. in 1915. He entered the practice of law in Lynchburg, Virginia , but soon left to serve as a first lieutenant in the First Virginia Infantry --known as the "Musketeers"--on the Mexican border from June 1916 to February 1917. Promoted to captain in July 1917, he served in the 116th Infantry, 29th Division, American Expeditionary Forces , and saw active service in France from June 1918 to July 1919. Following the Armistice, he attended classes at the Sorbonne , in addition to acting as a judge-advocate for his battalion. He was released from service in August 1919, and received the Distinguished Service Cross, the Croix de Guerre, and the Chevalier Legion of Honor as a result of his military performance.
Upon his return to the United States , Alfred Dickinson Barksdale resumed his legal practice in Lynchburg . He served as a Virginia state senator from 1924 to 1928, and although this was the extent of his active political career, he formed many valuable political connections, including one with Harry F. Byrd, Sr. , whom he assisted in his campaign for governor. In 1938, Barksdale was named judge of the Sixth Judicial Circuit of Virginia , this being the same position which his father, William Randolph Barksdale , had filled for many years in the early 1900's. In 1940 he was appointed judge of the United States District Court for the Western District of Virginia , and served in this capacity until he retired in 1957. Following his retirement from the bench he continued to do legal work, including service on the Trial Bench and the Court of Appeals, until his death on 16 August 1972.
Judge Alfred Dickinson Barksdale married Estill Winfree Phillips in 1934, and they made their home in Lynchburg until the judge's death. Their family included Mrs. Barksdale's son from her previous marriage, William Causey Phillips, Jr. , and the Barksdale 's two daughters, Louisa Estill Winfree Barksdale Loyd , and Mary B. Garbee .
In addition to his legal career, Alfred Dickinson Barksdale served on the Board of Trustees of Hollins College for over thirty years, was a member of the Board of Visitors of the University of Virginia for ten years, and was a member of both the Virginia Bar Association and American Bar Association .
For further biographical information, see the typescript biography in control folder no. 10230.
These papers, consisting of cat 7770 items, (12 boxes, 1 oversize folder; 5 linear shelf feet), are the personal papers of Judge Alfred Dickinson Barksdale of Lynchburg, Virginia . Most of the papers fall between the years 1938 and 1972, with some covering the earlier period of 1918-1919. These periods correspond to the years of Alfred Dickinson Barksdale 's career as judge of the Sixth Judicial Circuit of Virginia and as judge of the U. S. District Court of the Western District of Virginia , and also of his military service during World War I.
The major series in the collection is that of chronologically-arranged personal correspondence, covering the years 1918-1919 and 1940-1972. This correspondence consists chiefly of personal and routine social correspondence with family members, acquaintances, and friends, many of whom were Virginia lawyers, judges, businessmen, and political figures. Prominent correspondents include Virginia senators Harry F. Byrd, Sr. , and Carter Glass ; Virginia governor and University of Virginia president Colgate Darden ; prominent businessman, government official, and Secretary of State Edward R. Stettinius, Jr. ; and speaker of the House of Representatives Sam Rayburn . A minor problem in using the correspondence is that Barksdale's nickname was "Dick," and occasionally people address him as "Richard" Barksdale.
The chronological correspondence also includes Alfred Dickinson Barksdale 's World War I correspondence with his father, William Randolph Barksdale , his brother; John Barksdale , and other family members and American friends. There are also a substantial number of letters and postcards from acquaintances he made in France , including several young French women. One folder contains official correspondence concerning Barksdale's war honors.
Following the chronological correspondence is a section of topical correspondence and related materials, which include memoranda, newspaper clippings, notes, miscellaneous printed material, etc.. The topics include important court cases, organizations to which Alfred Dickinson Barksdale belonged, and major turning points in his career, such as his appointment to the district judgeship, and his retirement. The letters relating to Barksdale's appointment to the district judgeship are of particular interest as they shed some light on the processes of political appointments. Other folders contain material concerning Barksdale's World War I unit, Company M, and the "Musketeers," and material regarding Barksdale's associations with Hollins College and the University of Virginia . Some genealogical material is also contained in this section.
A major portion of the collection consists of speeches given by Alfred Dickinson Barksdale , with background material, correspondence, and miscellaneous items. Barksdale delivered speeches at naturalization ceremonies at Roanoke and other Virginia locations many times over a period of about twenty years. He often spoke to various University of Virginia alumni groups, women's groups, bar associations, and at various Virginia Military Institute , court, and law school functions. Some speeches are related to special functions Barksdale performed such as introducing Greer Garson and John F. Kennedy on the occasions when they spoke in Lynchburg . It should be noted that material in the chronological correspondence overlaps with both topical correspondence and speeches. This material was not transferred as Barksdale had filed it chronologically.
Alfred Dickinson Barksdale 's miscellaneous papers and memorabilia consist of family, personal, and professional items. His memorabilia from World War I includes contemporary postcards from places he visited in Europe . Contained in this section, as well as in the section of oversized material, are Barksdale's certificates for awards he won and positions he held. Two folders contain listings of addresses of people with whom he was acquainted.
The printed material section contains printed items used in Alfred Dickinson Barksdale 's military and professional careers, and printed memorabilia from the Virginia Military Institute and the University of Virginia . Three folders of newspaper clippings relate to important events in his life and career, including the trial of several German-American Bund leaders, convicted of violating the Selective Service Act in 1942 in New York City , at which Alfred Dickinson Barksdale served as judge.
The papers were arranged to some extent by Judge Barksdale, and this order was preserved wherever possible, unless further organization was necessary to facilitate research. The World War I correspondence is arranged in folders according to correspondents, and chronologically within the folders. The major correspondence series is arranged chronologically. The topical correspondence and speech sections generally follow the divisions set up by Barksdale. In the speech section, the manuscript speeches precede other related materials. Within the two miscellaneous speech folders, each speech and its related material is in chronological order by the date of the speech. The miscellaneous papers and memorabilia have been divided into general categories, and are arranged in chronological order within the folders. Printed material follows the same organization. Oversize material is arranged chronologically and is listed at the end of this guide. Undated material is located at the end of its particular section or folder.
Alfred Dickinson Barksdale
Carter Glass
Colgate Darden
Edward R. Stettinius, Jr.
Estill Winfree Phillips
Greer Garson
Harry F. Byrd, Sr.
John Barksdale
John F. Kennedy
Louisa Estill Winfree Barksdale Loyd
Mary B. Garbee
Robert H. Garbee
Sam Rayburn
William Causey Phillips, Jr.
William Randolph Barksdale
Cluster Springs, Virginia
Europe
France
Halifax
Houston
Lynchburg
Lynchburg, Virginia
New York City
Roanoke
United States
Virginia
Box 1

Letter: Wm. R. Barksdale to Helen & Mary Barksdale

1905 March 5

1 item

Box 1

Letters: Alfred Dickinson Barksdale to William Randolph Barksdale

1917 Dec 25 -post 1919 Jul 5

33 items

Box 1

Letter: Madge N. Thomson to Wm. R. Barksdale, enclosing letter, C. C. Barksdale to Wm. R. Barksdale

1918 Jun 22

1 item

Box 1

Letters: John Barksdale to Wm. Randolph Barksdale

1918 Aug 14 -1919 Feb 10

8 items

Box 1

Letters: Family members to Alfred Dickinson Barksdale

1918 Sep 13 -Dec 25

4 items

Box 1

Letters: Misc. to Alfred Dickinson Barksdale, during WWI, from both French & American correspondents

1918 Oct 5 -1919 June 25

23 items

Box 1

Letters: Wm. R. Barksdale to Alfred Dickinson Barksdale

1918 Oct 10 -1919 May 2

7 items

Box 1

Official Corres.: inc. re Distinguished Service Cross & French Citation

1918 Nov 10 -1919 Oct 20

4 items

Box 1

Letters: Alfred Dickinson Barksdale to Fannie & Louise Barksdale

1918 Nov 20 -1919 Apr 22

2 items

Box 1

Correspondence

1940 Mar -1942 Dec

524 items, 6 folders

Box 2

Correspondence

1943 Jan-1947 Dec

959 items, 10 folders

Box 3

Correspondence

1948 Jan-1951 Dec

991 items, 10 folders

Box 4

Correspondence

1952 Jan-1954 Dec

848 items, 10 folders

Box 5

Correspondence

1955 Jan-1959 Dec

970 items, 12 folders

Box 6

Correspondence

1960 Jan-1963 Dec

705 items, 9 folders

Box 7

Correspondence

1964 Jan-1968 Dec

889 items, 10 folders

Box 8

Correspondence

1969 Jan-1972 Aug;n.d.

532 items, 8 folders
CORRESPONDENCE AND RELATED MATERIAL
Box 8

re History of Co. M, 116th Infantry, Amer. Expeditionary Forces

1918 Nov 1 -1968 Nov 22

6 items

Box 8

re U. S. vs. J. E. Testerman & C. K. Lovett, U. S. District Court, Abingdon, Va. - 1942 Apr

1937 Nov 23 -1969 May 9

40 items

Box 9

re Hollins College

1938 Apr 28 -1959 Feb 22

12 items

Box 9

Recommendations of Alfred Dickinson Barksdale to the District Judgeship, incl. by Harry F. Byrd & Carter Glass

1939 Feb 3 -Dec 4

32 items

Box 9

Congratulatory letters to Alfred Dickinson Barksdale on his appointment to the U.S. District Judgeship of Western Virginia, incl. from Harry F. Byrd, Carter Glass, & Clifton Woodrum

1939 Dec 17 -1940 Feb 26

30 items

Box 9

re Congratulations to Alfred Dickinson Barksdale on his appointment to the District Judgeship

1940 Feb 15 -19

78 items

Box 9

re Memorials for John White Acree, Edley Craighill, Jr., Robt. Jones & Wm. Gerhard Suhling, III

1944 Oct 11 -1948 Oct 31

8 items

Box 9

Letters & pictures thanking Alfred Dickinson Barksdale for his Flag Day Speech to the Fourth Grade, GarlandRodes School, Lynchburg, Va.

1945 Jun 14

17 items

Box 9

Recommending Alfred Dickinson Barksdale for vacancy on the Circuit Court by the Lynchburg Bar Assoc.: incl. letters of Harry F. Byrd, & A. Willis Robertson

1956 Feb 8 -13

7 items

Box 9

w/ John H. Auer re John Miller & Mary Fry

1956 Apr 2 -1962 July 25

19 items

Box 9

re Alfred Dickinson Barksdale's retirement from the District Judgeship

1957 Mar 4 -June 17

61 items

Box 9

re Memorial for Judge Thompson

1960 Aug 24-Dec 21

23 items

Box 9

re the "Musketeers"

1961 Jun 24 -1966 Sep 17

36 items

Box 9

re Amer. Bar Assoc. Mtg.San Francisco, Ca.

1961 Dec 19 -1962 Aug 21

49 items

Box 9

re Barksdale Family History bet. Alfred Dickinson Barksdale, MarthaCraddock, & Betsy Willis

1971 Aug 17 -1972 Jul 24

28 items

Box 9

re Memorial for Alfred Dickinson Barksdale by the Va. Bar Assoc.

1973 Jan 3 -4

2 items
SPEECHES AND RELATED MATERIAL
Box 10

Miscellaneous

1921-1947

11 items

Box 10

Ms and Printed material used as reference works for speeches

1922-1961

8 items

Box 10

Printed material re Naturalization

1938-1942, 1955

4 items

Box 10

Welcoming the Class of 1940 into the Alumni of UVA, Finals Day Speech

1940 Jun 8

15 items

Box 10

re Naturalization Ceremony speeches, inc. by others than Alfred Dickinson Barksdale

1940-1960

23 items

Box 10

re Va., WWII and World Peace delivered to the Soc. of Virginians in N.Y.

1943 Dec 10

32 items

Box 10

re "The Practical Application of the Federal Rules of Civil Procedure" delivered to the Judicial Section, Va. State Bar Assoc.

1946 Sep 17

13 items

Box 10

Misc.

1950-1966

13 items

Box 11

re Brotherhood, delivered over Radio as Chairman of Brotherhood Week in Lynchburg, Va.

1951 Feb 18 -25

28 items

Box 11

re Court System and Jury Service delivered toWomen's Clubs of Lynchburg, Roanoke, and Halifax, Va.

1951 Feb 23;1955 Dec 13;1955 Feb 11

5 items

Box 11

Intro. of Sen. John F. Kennedy to a Lynchburg, Va. audience

ca 1956 -1957

1 item

Box 11

Remarks at dedication of new Court House at Abingdon, Va.

1960 May 26

55 items

Box 11

Welcoming the Class of 1917 into the Thomas Jefferson Society

1967 May 5

11 items
MISCELLANEOUS PAPERS AND MEMORABILIA
Box 11

Barksdale Family, biographical and genealogicalmaterial

ca [1893],1925 -1972

14 items

Box 11

WWI incl. re Crox de Guerre & Distinguished Service Cross

ca 1919, [1927]

17 items

Box 11

Professional

ca 1940 -1956

19 items

Box 11

Addresses

1941-1967 , n.d.

83 items

Box 11

re Barksdale & Uva Board of Visitors

1947 -1956

3 items

Box 11

Passenger lists from Legal Conferences, w/Names & Addresses

1952 -1957

4 items

Box 11

Certificates

1954 -1969

4 items

Box 11

Personal

1965 Jun 9, n.d.

5 items
Box 11

Manuals, Biographies and Journal of the General Assembly of Virginia

1897-1946

6 items

Box 11

Newspaper Clipping re William Randolph Barksdale

1907 Jun 25

1 item

Box 11

Newspaper Clippings re WWI

1918 Dec 19 -1919 Jul 12

7 items

Box 12

General Orders, War Dept. and Infantry Drill Regulations (Provisional) American Expeditionary Forces

1918-1919

2 items

Box 12

Newspaper Clippings

1936 Oct 11-1970 Oct 22

69 items

Box 12

Misc.

1940-1955

11 items

Box 12

Alfred Dickinson Barksdale's introduction of Greer Garson at Lynchburg Bond Sale, in The Iron Worker

1942 Sep, Dec

2 items

Box 12

Misc.

1962 -1972

8 items
Box: Oversize

Bachelor of Science Degree awarded to Barksdale by the Virginia Military Institute, 21 June 1911

Diploma

Box: Oversize

appointing Barksdale a First Lieutenant (Virginia) in the National Guard, 5 August 1717

Certificate

Box: Oversize

awarding the Croix de Guerre to Barksdale, 9 December 1924

Certificate

awarding the Distinguished Service Cross to Barksdale,

10 December 1924

Certificate

Box: Oversize

appointing Barksdale United States District Judge, Western District of Virginia, 19 December 1939

Certificate

Box: Oversize

appointing Barksdale United States District Judge, Western District of Virginia, 5 February 1940

Certificate

Box: Oversize

Barter Theater Award Luncheon for Henry Fonda, 4 May 1948

Photograph

Box: Oversize

appointing Barksdale to the Board of Visitors of the University of Virginia, 1946-1948, 1948-1952, 1952-1956

Certificates

Box: Oversize

commissioning Barksdale a Kentucky Colonel, 8 May 1961

Certificate

Box: Oversize

"The Hung Jury" by J. T. Brett

Print

Box: Oversize

"Rules for Judicial Conduct" by Sir Matthew Hale, Kt.

Poster