A Collection in
Special Collections
The University of Virginia Library
Accession number 5950-cs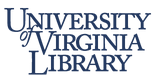 Special Collections, University of Virginia Library
Albert and Shirley Small Special Collections Library
University of Virginia
Charlottesville, Virginia 22904-4110
USA
Phone: (434) 243-1776
Fax: (434) 924-4968
Reference Request Form:
https://small.lib.virginia.edu/reference-request/
URL:
http://small.library.virginia.edu/
© 2011 By the Rector and Visitors of the University of Virginia. All rights reserved.
Processed by: Special Collections Staff
Repository
Special Collections, University of Virginia Library
Collection Number
5950-cs
Title
Elizabeth Dos Passos Letters
Physical Characteristics
The collection consists of 20 items.
Location
Language
English
---
Access Restrictions
There are no restrictions.
Use Restrictions
See the University of Virginia Library's use policy.
Preferred Citation
Elizabeth Dos Passos Letters, Accession #5950-cs, Special Collections, University of Virginia Library, Charlottesville, Va.
Acquisition Information
The letters were a given to the University of Virginia Library by Caroline Feiss, 2006 December 4.
This collection consists of twenty items, 1981-1990, from Elizabeth Hamlin Holdridge Dos Passos (1909-1998) to her old Smith College friend, Alleen Kelly Feiss (1908-2000), discussing news and events in both their families. Also present is a biography of Feiss, written by her daughters, 2000.
Subjects in the letters to Feiss include: the mention of an art exhibit showing seventeen watercolors by John Dos Passos and the death of a friend who was a former college classmate, Mountie (November 1, 1981); warm reflections on their friendship and mention of the terrible, icy weather (January 25, 1982); description of a series of events at the Warsaw campus of the [Rappahannock] Community College honoring John Dos Passos and his work, including a project to tape the recollections of local residents who knew Dos Passos or had memories of the Northern Neck of the past; the project was enabled by a grant from the National Endowment for the Humanities (Vernal Equinox, 1982); news of her farm concerns, more Dos Passos events at the Warsaw [Rappahannock] Community College with a reception at the Montross Museum showing memorabilia and photographs, and a mention of the CBS option to make a television series based on U.S.A. which CBS had renewed three times (August 16, 1982); the premiere showing of a twenty minute film "Chosen Country " on the times of John Dos Passos on September 25th and her opinion and knowledge of horse farms (September 6, 1982, [February 8, 1983]).
Other topics include: mention of the Friday February 11th huge snowstorm that blanketed the East Coast from the Carolinas to New England and a huge tax assessment increase on her land of 442 %, which she and other property owners in her county fought successfully (February 17, 1983); the production of U.S.A. by the Westmoreland Players a success, with an interview with her making it into the Washington Post (July 25, 1983); details about the settlement of the estate of Frances Smith, deceased in July 1981 (August 19, 1983); limits and ramifications of her hip replacement surgery (February 24 and March 29, 1984); the bad effects of the weather on the corn farmers planting season (May 30, 1984); relates an anecdote about Max Perkins and says she is enjoying reading the Rawlings letters (March 25, 1985); cheer upon the receipt of three checks from Dos Passos's literary agent (July 27, 1987); her misadventures in breaking her right hip (April 17, 1990); and her mending hip, news of grandchildren, and two bald eagle families nesting in a pine grove near her house (August 31, 1990).