A Collection in
The Special Collections Department
Accession Number 11028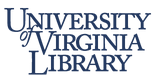 Special Collections Department, University of Virginia Library
Albert and Shirley Small Special Collections Library
University of Virginia
Charlottesville, Virginia 22904-4110
USA
Phone: (434) 243-1776
Fax: (434) 924-4968
Reference Request Form:
https://small.lib.virginia.edu/reference-request/
URL:
http://small.library.virginia.edu/
© 2001 By the Rector and Visitors of the University of Virginia. All rights reserved.
Funding: Web version of the finding aid funded in part by a grant from the National Endowment for the Humanities.
Processed by: Special Collections Department
Repository
Special Collections, University of Virginia Library
Accession number
11028
Title
Victorian British Women Authors Autograph Letters 1873-1900
Physical Characteristics
There are 4 items in this collection.
Language
English
---
Access Restrictions
There are no restrictions.
Use Restrictions
See the University of Virginia Library's use policy.
Preferred Citation
Victorian British Women Authors Autograph Letters, 1873-1900, Accession #11028, Special Collections Dept., University of Virginia Library, Charlottesville, Va.
Acquisition Information
These items were purchased by the Library from Bernard Quaritch Ltd, London, Great Britain, on January 14, 1992.
This collection consists of four autograph letters, 1873-1900, of the Victorian women authors Charlotte Cowan Riddell (1832-1906), Anne Manning (1807-1879), Rosa Nouchette Carey (1840-1909) and Mathilde Blind (1841-1896).
Charlotte Riddell, whose writing was important in the development of the ghost story as a genre, writes from London, March 28, 1884, to J.E. Bowen, that although she has no short stories ready at present she will send him the first suitable one as soon as it is finished.
Anne Manning, "The Authoress of Mary Powell ," and other historical novels written in the form of diaries or letters concerning domestic life and religion, from Surrey, December 23, 1873, sends to Mrs. Edith Malleson a Christmas present of a complete set of her Illusions Dispelled for the Malleson family. Illusions Dispelled was a serial story published in Dr. Whittemore's magazine Golden Hours . Her full signature as "Anne Manning" in this letter is unusual as she always preferred to refer to herself as "the authoress of Mary Powell ".
The note from Rosa Carey, East Putney, June 5, 1900, to a female admirer of her novels answers her request for an autograph and expresses appreciation of her kind letter. An autograph postcard from Mathilde Blind, May 10, 1886, at a villa near Nice, France, to Alexander Ireland, Cheshire, regrets that she cannot use the material that he sent her for her book of poetry The Heather on Fire since it has been completely in print for a week and remarks that she would like to see his list of the hundred best books which included two of her own.