A Collection in the
Clifton Waller Barrett Library of American Literature
Accession number 5866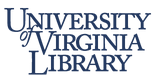 University of Virginia Library
Albert and Shirley Small Special Collections Library
University of Virginia
Charlottesville, Virginia 22904-4110
USA
Phone: (434) 243-1776
Fax: (434) 924-4968
Reference Request Form:
https://small.lib.virginia.edu/reference-request/
URL:
http://small.library.virginia.edu/
© 1997 By the Rector and Visitors of the University of Virginia. All rights reserved.
Funded in part by a grant from the National Endowment for the Humanities.
Processed by: Margret Groschel
Repository
University of Virginia. Library. Special Collections Dept. Alderman Library University of Virginia Charlottesville, Virginia 22903 USA
Collection Number
5866
Title
Frank Richard Stockton Collection 1875-1900
Extent
54 items
Creator
Location
Language
English
---
Access Restrictions
Collection is open to research.
Use Restrictions
See the University of Virginia Library's use policy.
Preferred Citation
Frank Richard Stockton Collection, Accession 5866, Special Collections Department, University of Virginia Library
Acquisition Information
Gift 1958 Jun 5
Funding Note
Funded in part by a grant from the National Endowment for the Humanities
Alexander William Drake
Alexander Wilson Drake
Amalie LaForge
Benson John Lossing
David Douglas
E. Leslie Gilliams
Frank Richard Stockton
Frederick Gotthold
John Brisben Walker
John Eliot Bowen
Kate Douglas Wiggins Riggs
Mary Mapes Dodge
Robert Underwood Johnson
Roswell Smith
Samuel Sidney McClure
T. Johnson
William Fayal Clarke
William Henry Rideing
[Harry Thurston] Peck
[Mary Mapes] Dodge
[William Holbrook] Beard
America
Bahamas
Blue Ridge Mountains
Cape Cod
Charlottesville, Virginia
Chicago
England
Europe
Florence
Florida
France
Geneva
Italy
Jacksonville
Madison, New Jersey
New Jersey
New York
Philadelphia
Rhine
Rigi
Rome
Scotland
Switzerland
United States
Venice
Venice, Italy
The Adventures of Captain Horn

1895

TMs, 582 p.

[Includes autograph corrections; in slipcase.]
Frank Richard Stocktonto William Fayal Clarke

1876 Nov 7

ALS, 2 p.

[Instructs him to have 2 Ferris blocks engraved as soon as they come in; suggest having 2 engravers do them as they must be ready in January.]

Frank Richard Stocktonto William Fayal Clarke

1877 Jan 20

ALS, 2 p.

[Thanks him for notes and favors; instructs him how to forward his mail to Philadelphia; mentions article that will appear in the Midsummer number, a "Letter-Box" item by the daughter of Benson John Lossing, and Amalie LaForge. ]

Frank Richard Stocktonto William Fayal Clarke

[1877 Jan]

AL, 4 p.

[Apologizes for sending the proofs late; points out that he introduced " The Baby Camel, " " Prairie-dog's Home, " and " Prairie Wolf"; criticizes animal drawing by [William Holbrook] Beardand specifies 3 drawings he disagrees with, should any pictures have to be omitted.] (incomplete)

Frank Richard Stocktonto William Fayal Clarke

1877 Mar 28

ALS, 3 p.

[Says he had a delightful trip to the Bahamasand is enjoying Florida; reports on letters lost in forwarding; inquires about fees for " Sam Clemson" and " The Lion"; asks for reading material to be sent to him in Jacksonville; sends regards to "immortals of 743"; says he is anxious to see St. Nicholasmagazine which he cannot get in Florida. ]

Frank Richard Stocktonto William Fayal Clarke

1877 May 15

ALS, 1 p.

[Acknowledges receipt of manuscripts which he will revise; inquires about the $100 English serial he is to revise; declines invitation to Carnival; asks him to come see a permanent exhibition in Philadelphia, 1905 Broad St.]

Frank Richard Stocktonto William Fayal Clarke

1877 Jul 7

ALS, 1 p.

[Returns a corrected, shortened proof; refers to a Russian story in the possession of Mary Mapes Dodge; mentions batch of electro-work he sent to Clarke and his need of money.]

Frank Richard Stocktonto William Fayal Clarke

1877 Jul 31

ALS, 1 p.

[Includes two 1 1/2 page manuscripts requested by [Mary Mapes] Dodge; mentions that he has 3 Scannell pictures, but no manuscript yet.]

Frank Richard Stocktonto Mr. Scott

1877 Aug 30

ALS, 1 p.

[Refers to revised manuscripts he has sent to William Fayal Clarke's office, the charge being $53; asks him to hand Clarke a letter when he returns from vacation.]

Frank Richard Stockton, steamer " City of Illinois, " off Cape Cod, to William Fayal Clarke

1877 Sep 2

ALS, 2 p.

[Says he is leaving for Europerather suddenly without having revised manuscripts; advises him to repage and shorten them; discusses social matters.]

Frank Richard Stocktonto William Fayal Clarke

1878 May 24

ALS, 1 p.

[Sends requested address; promises to write about schedules, etc.; wants drawing of the expression on a boy's face, which is to appear changed in a story.]

Frank Richard Stocktonto William Fayal Clarke

1878 May 27

ALS, 2 p.

[Speaks about a frontispiece which he finds improved; leaves the execution of his ideas, by process or wood, to Alexander William Drake; says he will discuss "schedule" when coming in on Wednesday.]

Frank Richard Stocktonto William Fayal Clarke

n. d.

ALS, 2 p.

[Talks about stories and illustrations to appear in St. Nicholas; agrees to some formats and suggests some changes; leaves decision about frontispiece to Alexander Wilson Drake. ]

Frank Richard Stocktonto Samuel Sidney McClure

1890 Nov 8

ALS, 1 p.

[Says he will have requested story by mid-December and it will be divided into 5 chapters of about 2000 words each.]

Frank Richard Stocktonto William Fayal Clarke

1878 Jun 1

ALS, 2 p.

[Discusses changes and omissions on proof for July; mentions contributors Trowbridge, Dodge, Richards, and Foote.] (On St. Nicholas stationary)

Frank Richard Stocktonto William Fayal Clarke

1878 Jul 1

ALS, 1 p.

[Announces his visit for July 3.] (On St. Nicholas stationary)

Frank Richard Stocktonto William Fayal Clarke

1878 Jul 25

ALS, 1 p.

[Endorses a note to [Mary Mapes] Dodge; requests to be sent all manuscripts that have to be read; says he has time for manuscript work right now.]

Frank Richard Stocktonto William Fayal Clarke

1878 Sep 10

ALS, 1 p.

[Acknowledges receipt of proofs; says they will be take care of promptly.]

Frank Richard Stocktonto William Fayal Clarke

1878 Sep 15

ALS, 4 p.

[Criticizes proof of a portrait; finds it worse that the photograph; makes suggestions for the January edition of "A. J. F." in regard to manuscripts and drawings; talks about the December edition; suggests insertions; feels upset about rumors regarding his health; says he won the championship-badge at the Archery Club; writes with a quill from an eagle's wing and promises to send such a quill to him.]

Frank Richard Stockton, Philadelphia, to William Fayal Clarke

1880 May 19

ALS, 2 p.

[Says he will leave for Charlottesville, Virginianext week; gives instructions for forwarding the valise with manuscripts via Adam's Express, which is faster and more reliable than United States[mail]; feels ill; intends to spend time in the Blue Ridge Mountains; promises to send the electro-stories; asks if the new edition of Rudder Grangehas appeared.]

Frank Richard Stockton, Venice, Italy, to William Fayal Clarke

1883 Jul 1

ALS, 3 p.

[Wonders if his mail has been sent to Europe; misses the June number of St. Nicholas; reports on his illness in Florida; finds Veniceenchanting, urges him to take his bride there; mentions letter his wife received from [Mary Mapes] Dodge; asks if he ought to do more for St. Nicholas; requests Mr. Smith's address; states that letters sent to him have been lost.]

Frank Richard Stockton, Geneva, to William Fayal Clarke

1883 Aug 18

ALS, 2 p.

[Regrets that he did not write The Lion and the Lamb, which he received a request for a copy of; talks about David Douglas' idea to publish his collected short stories; mentions a check Douglas sent him before he sold a single copy of Rudder Grange; recalls meeting him in Florence; mentions suggestion to write "The Candid Adventurer," but does not feel up to it.]

Frank Richard Stocktonto William Fayal Clarke

1883 Sep 16

ALS, 4 p.

[Talks about their travels through Switzerland, their 2 days on the Rigi, their plans a trip to the Rhine, England, and Scotland, and then home to America; says he will write requested article and furnish photographs; mentions idea for serial story, set in Rome, Veniceand various parts of Italyand Switzerland, for children, for St. Nicholasif the publishers want it; looks forward to promised letter; mentions having spent several days wit Mr. and Mrs. Roswell Smithand Dr. Robinson.]

Frank Richard Stocktonto John Eliot Bowen

1883 Nov 5

ALS, 2 p.

[Says the Century Company's request for an occasional story for The Independentcannot be complied with at once, because he is otherwise engaged; promises to write a story of 8 to 10 columns when time allows; asks fee of $100 for a story of that length.]

Frank Richard Stocktonto John Eliot Bowen

1883 Dec 31

ALS, 1 p.

[Encloses " A Penny Walk" for The Independent; instructs him on where to divide the story should it be necessary to publish it in 2 installments; hopes story will be liked.]

Frank Richard Stocktonto Samuel Sidney McClure

1884 Nov 25

ALS, 2 p.

[Regrets not being able to meet him at this time; says he will be back in New Yorkthe following week and spend the winter there; promises a humorous story for February, if not sooner.]

Frank Richard Stocktonto Robert Underwood Johnson

1885 Feb 11

ALS, 1 p.

[Authorizes him to deposit Stockton's vote of favor of admitting William Fayal Clarketo membership, as he is unable to attend the Author's Clubmeeting.]

Frank Richard Stocktonto Samuel Sidney McClure

1885 Nov 4

ALS, 2 p.

[Expresses disappointment that an important part of the manuscript The Demon Plaguewas lost while in McClure's possession; includes attempted replacement which was exceedingly difficult to write; discusses another sketch; points out where his portrait, to accompany the sketch, can be obtained.]

Frank Richard Stocktonto William Henry Rideing

1887 Jul 8

ALS, 1 p.

[Asks him to send a proof to his new house in Madison, New Jerseyand to come visit there when he comes that way.]

Frank Richard Stocktonto Messrs. Sampson, Low & Co.

1887 Jul 12

ALS, 3 p.

[Thanks the company for letter containing royalty accounts and money; refers to The Dusanteswhich appears in 3 parts in The Century; assumes the story will be printed by the Century Companyin book form in 1888; wishes the company luck with his books; acknowledges receipt of copies of his books; says he is pleased by their appearance.]

Frank Richard Stocktonto Robert Underwood Johnson

1889 Jan 1

ALS, 1 p.

[Sends note to accompany paragraph for the McClure column.]

Frank Richard Stocktonto Editor, The Eagle

1889 Nov 21

LS, 1 p.

[Asks for the correction of a statement in a New Yorkpaper in regard to his travel intentions.]

Frank Richard Stocktonto Robert Underwood Johnson

1889 Dec 29

ALS, 1 p.

[Informs him that he is unable to go to Chicagoto read; promises to send an item for McClure syndicate; sends New Year's wishes.]

Frank Richard Stocktonto Robert Underwood Johnson

1890 Mar 7

ALS, 1 p.

[Says he is unable to attend copyright meeting; promises to come to the next meeting on a Club-dinner night at the Aldine.]

Frank Richard Stocktonto Robert Underwood Johnson

1890 Jun 24

LS, 1 p.

[Promises to write a Christmas story for him, although he is very busy with The Squirrel Inn; mentions " The Illinois Farmer" by Johnson.]

Frank Richard Stocktonto Samuel Sidney McClure

1890 Oct 25

LS, 1 p.

[Writes children's stories only occasionally now but is willing to write a ten thousand word piece for McClure's circular for $500; compliments him on his magazine for young people.]

Frank Richard Stocktonto Robert Underwood Johnson

1891 Mar 6

ALS, 3 p.

[Congratulates him on the copyright victory; says that the authors of Americaowe Johnson everlasting gratitude; declares himself proud to be a citizen of the United States. ]

Frank Richard Stocktonto Robert Underwood Johnson

1891 Apr 11

ALS, 4 p.

[Tells him that he has not been asked by anyone to take part in the reading on the 22nd; says he will be happy read, but only parts of Squirrel Inn; says the same presentation was like by another audience; refers to European trip; congratulates him on hors received from France. ]

Frank Richard Stocktonto Mr. Robinson

1892 Jan 7

ALS, 1 p.

[Informs him that he will have to get permission to use The Great War Syndicatefrom Messrs. Dodd & Mead; says he has talked to them about the matter.]

Frank Richard Stocktonto Robert Underwood Johnson

1893 Jan 18

TLS, 1 p.

[Refers to a will, with property bequeathed to Stockton; explains how much he expects to get and what percentage should go to Johnson.]

Frank Richard Stocktonto Robert Underwood Johnson

1893 Feb 14

TLS, 1 p.

[Discusses will of Stockton's great great great grandfather from New Jersey; says it is authentic, but no possessions come with it and Johnson will get nothing in return for his endeavors.]

Frank Richard Stocktonto Robert Underwood Johnson

1896 Apr 14

LS, 1 p.

[Regrets not having been able to attend the meeting of the Council of the Copyright League; says he is enjoying culinary and other delights of the Bayou country; intends to return to New Jerseyby May 1.]

Frank Richard Stocktonto Mrs. Frederick Gotthold

1897 Aug 19

ALS,3 p.w/env

[Responds to request for his help in manning the Gotthold houseboat; suggests "The Halcyon," and "The Angler."]

Frank Richard Stocktonto E. Leslie Gilliams

1897 Sep 24

ALS, 2 p.

[Sends manuscript of " A Sailor's Knot" for $850, giving him all the serial rights in the United Statesin Europewith the stipulation not to offer it to American monthlies; says the story had been written for Ladies Home Journalof Philadelphia; says he took it back after a disagreement with the editor.]

Frank Richard Stocktonto Professor [Harry Thurston] Peck

1898 Oct 21

TLS, 1 p.

[Agrees to lend a hand in the compilation of the New Library of Literature, provided the new duties will not interfere with his present engagements; says he cannot do any editorial work, only assist in choosing authors for the series.]

Frank Richard Stocktonto John Brisben Walker

1900 Aug 23

ALS, 2 p.

[Requests payment of $500 for " The Conscious Armada, " published in Cosmopolitanin June; reminds him of the terms agreed upon; says that if " The Conscious Armada" was shorter than average, it was evened out by " The Cot and the Rill" which was much longer than average; insists on $500 for each story published.]

Frank Richard Stocktonto Robert Underwood Johnson

1900 Nov 5

TLS, 2 p.

[Relates a strange dream, pertaining to his writing of humorous stories; comments on letter from Johnson, received the day after the dream, in which Johnson requests another humorous story; says he is glad that Johnson liked Pomona's Travels, he is pleased with illustrations by Mr. Steele.]

Frank Richard Stocktonto Samuel Sidney McClure

n. d.

ALS, 2 p.

[Requests meeting to discuss story, ready to print, of about 30800 words; says it could be divided into 5 segments to be published in newspapers; asks to see a notice from the Commercial Advertiser. ]

Frank Richard Stocktonto William Fayal Clarke

n. d.

ALS, 1 p.

[Says he is in bed "with a ten pound boil"; expects to be all right soon; asks him to keep his mail in the office unless something looks very important.]

Frank Richard Stocktonto Kate Douglas Wiggins Riggs

n. d.

ALS, 2 p.

[Regrets not being able to come to a benefit in New York; hopes to get better acquainted with Mr. Riggs in the future.]
Frank Richard Stockton, profile, by T. Johnson

[1886]

Engraving

Magazine photographs, Frank Richard Stockton, head and shoulders

n. d.

Photos 3 copies
Quotation from " The Lady or the Tiger"

1892 Feb 19

AQ,

["Without the slightest hesitation . . ."]

Signed note regarding International Copyright Law

n. d.

Printed note