A Collection in the
Special Collections Department
Accession number 10378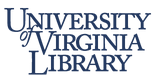 University of Virginia Library
Albert and Shirley Small Special Collections Library
University of Virginia
Charlottesville, Virginia 22904-4110
USA
Phone: (434) 243-1776
Fax: (434) 924-4968
Reference Request Form:
https://small.lib.virginia.edu/reference-request/
URL:
http://small.library.virginia.edu/
© 1997 By the Rector and Visitors of the University of Virginia. All rights reserved.
Funded in part by a grant from the National Endowment for the Humanities.
Processed by: Special Collections Department Staff
Repository
University of Virginia. Library. Special Collections Dept. Alderman Library University of Virginia Charlottesville, Virginia 22903 USA
Collection Number
10378
Extent
36 items
Location
Language
English
---
Access Restrictions
Collection is open to research.
Use Restrictions
See the University of Virginia Library's use policy.
Preferred Citation

Stuart  

-

Baldwin  


Papers  

, Accession 10378, Special Collections Department, University of Virginia Library
Acquisition Information
This accession was a gift of Mr. and Mrs. A.

Stuart  

Robertson Jr. , of Orange, Virginia , on April 29, 1980 .
Funding Note
Funded in part by a grant from the National Endowment for the Humanities
Briscoe Gerard

Baldwin  

was born on January 18, 1789, in Winchester, Virginia , the eldest son of Cornelius

Baldwin  

and Mary Briscoe . He attended William and Mary College and later studied law under Judge William Daniel in Cumberland County, Virginia . During 1818-1820 he served in the Virginia House of Delegates as representative for Augusta County and in 18291830 was a member of the constitutional convention. He returned to the House of Delegates during 1841-1842. On January 29, 1842,

Baldwin  

was elected a member of the Supreme Court of Appeals of Virginia and held that position until his death on May 18, 1852.
This accession is comprised of thirty-six items, 1786-1882, primarily letters to Briscoe G.

Baldwin  

and Alexander H. H.

Stuart  

, lawyers in Staunton, Virginia . Also included are a dinner invitation from the Minister of France to Alexander H. H.

Stuart  

; two certificates of membership for Alexander H. H.

Stuart  

in the Virginia Historical Society ; a handwritten poem entitled "Hope"; two newspaper clippings, one regarding the Whig party in 1844 and another regarding Southern debts owed to Northerners after the Civil War; and an unsigned printed petition, 1848-1849, regarding internal improvements in Virginia .
The letters to Briscoe G.

Baldwin  

are primarily from his wife, Martha S.

Baldwin  

, or his daughter, Frances C.

Stuart  

, regarding family matters but there are also letters from others regarding legal and business matters. These correspondents include J. E. Brown , M. F. Eskridge , and Alexander H. H.

Stuart  

. Letters to Alexander H. H.

Stuart  

regard business and legal matters and a variety of political topics including secession, reconstruction, the "Negro problem,' and Fillmore's cabinet. Correspondents include Charles Francis Adams, Jr. , J. Lidball , R. W. Clelland , Joseph

Baldwin  

, Nathan K. Hall , James H. Dooley , Thomas Hall , and George C. Whiting . One letter, September 20, 1786, was written by Thomas Hall to Archibald

Stuart  

( Alexander H. H.

Stuart  

's father) and concerns Hall's supposed drinking problem, family news, the last military expeditions of George Rogers Clark , the desire of Kentucky to separate from Virginia , and local politicians Joseph Crockett and John Fowler .
A. Stuart Robertson Jr.
Alexander H. H. Stuart
Archibald Stuart
Briscoe G. Baldwin
Briscoe Gerard Baldwin
Charles Francis Adams, Jr.
Cornelius Baldwin
Frances C. Stuart
George C. Whiting
George Rogers Clark
J. E. Brown
J. Lidball
James H. Dooley
John Fowler
Joseph Baldwin
Joseph Crockett
M. F. Eskridge
Martha S. Baldwin
Mary Briscoe
Nathan K. Hall
R. W. Clelland
Thomas Hall
William Daniel
Augusta County
Cumberland County, Virginia
France
Kentucky
Orange, Virginia
Staunton, Virginia
Virginia
Winchester, Virginia
1 item ALS

16 items

15 items
Poem, "Hope"

n.d.

1 item

Printed unsigned petition to the General Assembly of Virginia re railroads

n.d.

1 item

Newspaper clippings

n. d.

2 items