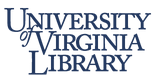 Albert and Shirley Small Special Collections Library
Albert and Shirley Small Special Collections Library
P.O. Box 400110
University of Virginia
Charlottesville, Virginia 22904-4110
URL:
https://small.library.virginia.edu/
Ellen Welch
Repository
Albert and Shirley Small Special Collections Library
Identification
MSS 4966
Title
Anna Maria Hickman Otis Mead Chalmers family papers 1821-1897
URL:
Quantity
4.5 Cubic Feet, 9 document boxes, 9 legal size document boxes, 2 oversize documents and one oversize account book. (and 3 flat boxes in original collection).
Condition Description
Fair to good.
Language
English .
---
Conditions Governing Access
The collection is open for research use.
Immediate Source of Acquisition
Part of this collection was a deposit from Ernest C. Mead on January 5, 1955 which became a gift in 1998, another gift from Ernest C. Mead on January 30, 2007, and in 2020. There was an additional gift from James Blizzard Mead on September 27, 2012 to the Small Special Collections library at the University of Virginia.
---
Southern Churchmen Boston Home Journal
The collection is arranged into fifteen series: 1.William and Sarah Hull papers, 2.Otis Mead Chalmers family correspondence, 3.Anna Maria Mead Chalmers correspondence, 4.Clarke family correspondence, 5. Anna Maria Mead Chalmers business papers, 6. Enslavery, 7. United States Civil War, 8. Financial papers, 9.Diaries and daybooks, 10. Genealogy, 11. Hair collection, 12. Miscellaneous first telegraph of morse code, 13.Photographs 14. Printed items 15.Poetry & writings
Under Series 1. William and Sarah Hull papers includes letters about filing a claim in support of General Hull. Information about the claim can also be found throughout the family correspondence in the collection.
Enslavers
United States -- History -- Civil War, 1861-1865 -- Personal narratives
United States -- History -- War of 1812
United States History Revolution, 1775-1783 Personal narratives
University of Virginia -- History
women--education -- Virginia