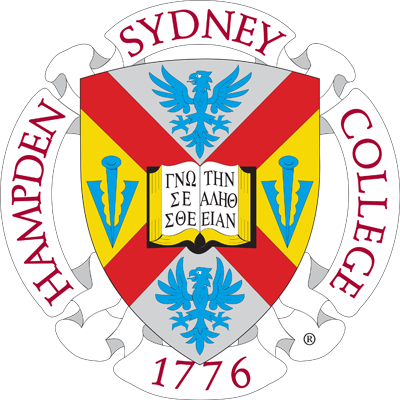 Hampden-Sydney College Archives & Special Collections
Hampden-Sydney College
Walter M. Bortz III Library
P.O. Box 7
Hampden-Sydney, VA 23943
salmond@hsc.edu
URL:
http://libguides.hsc.edu/library
Sarah Almond
Repository
Hampden-Sydney College Archives & Special Collections
Identification
CA.000102
Title
J. D. Eggleston Papers 1750/1952
URL:
Quantity
2 Linear Feet, 3 boxes; 1 bound typescript
Language
English .
---
Use of these materials
The nature of the Hampden-Sydney College Archives and Special Collections means that copyright or other information about restrictions may be difficult or even impossible to determine depsite reasonable efforts. As a result, Hampden-Sydney College claims only physical ownership of most Special Collections materials.
The materials from our collections are made available for use in research, teaching, and private study, pursuant to U.S. Copyright law. The user must assume full responsibility for any use of the materials, including but not limited to, infringement of copyright and publication rights of reproduced materials. Any materials used for academic research or otherwise should be fully credited with the source.
This collection may contain materials with sensitive or confidential information that is protected under federal or state right to privacy laws and regulations. Researchers are advised that the disclosure of certain information pertaining to identifiable living individuals represented in this collection without the consent of those individuals may have legal ramifications (e.g. cause of action under common law for invasion of privacy may arise if facts concerning and individual's private life are published that would be deemed highly offensive to a reasonable person) for which the College assumes no responsibility.
Access to materials
Collection is open for research; access requires at least 48 hours advance notice. Because of the nature of certain archival formats, including digital and audio-visual materials, access will require additional advanced notice. Copies of digital files will be provided for use upon request.
Preferred citation
[Identification of item], Joseph Dupuy Eggleston II Papers, CA 000102, Hampden-Sydney College Archives and Special Collections, Hampden-Sydney, VA
Processing Information
Processed by: Sarah Almond, 2020 April; machine-readable finding aid created from previous inventories by: Sarah Almond, 2020 May.
---
Joseph Dupuy Eggleston II (1867-1953) was born in Prince Edward County, Virginia, and graduated from Hampden-Sydney College in 1886. Eggleston taught in public schools in Virginia, Georgia, and North Carolina, accepting the role of superintendent of the Asheville, NC public schools in 1893. He worked briefly at the University of Tennessee as the editor and secretary of the Bureau of Information and Publicity of the Southern Education Board before returning to Prince Edward County, Virginia, where he served as the superintendent of the county schools, elected to State superintendent in 1906. In 1913, he accepted the presidency of what is now known as Virginia Polytechnic Institute and State University, resigning in 1919. He then served as president of Hampden-Sydney College for twenty years, from 1919 until his retirement in 1939. He continued to live on campus until his death in 1953, where he was frequently contacted to search the school's 'records of attendance, graduation, and the conferring of degrees' in order to locate alumni and provided genealogical information.
The Joseph D. Eggleston II Papers document Eggleston's tenure as president of Hampden-Sydney College from 1919 to 1939, as well as his retirement, when he continued to conduct genealogical research pertaining to Prince Edward County, Virginia, and to live on the Hampen-Sydney College campus. Primarily dating from 1934 to 1951, the collection includes copies of public addresses and presentations, photos, correspondence, newspaper clippings, historical documents used in genealogical research, addenda, and obituaries, including material related to fundraising for, design, and construction of the Watkins Bell Tower, named after Hampden-Sydney Professor Asa Dupuy Watkins and erected in 1934. The last series of this collection includes a bound typescript of historical and genealogical research written, conducted, and collected by Eggleston.
The collection is divided into 4 series:
01. Alumni Notes: Research and Correspondence by Recipient
02. General Correspondence by recipient
03. Watkins Bell Tower Records
04. Historical and Genealogical Records
Hampden-Sydney College
Hampden-Sydney College
Prince Edward County, VA
United States--History
Universities and colleges--Alumni and alumnae--United States
---
Hampden-Sydney College
Prince Edward County, VA
Archival Resource Key
Alumni Notes: Research and Correspondence by Subject
Mixed Materials box: 1 Mixed Materials box: 2 1829-1951English.
Archival Resource Key
Historical and Genealogical Papers
Mixed Materials Bound typescript: 1 1790-1947English.