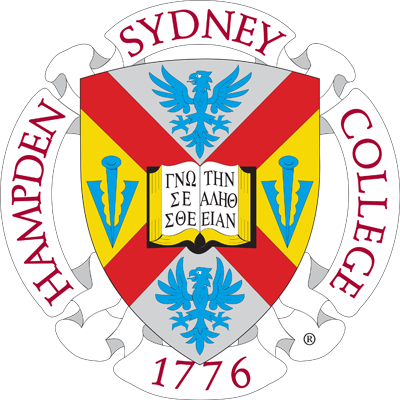 Hampden-Sydney College Archives & Special Collections
Hampden-Sydney College
Walter M. Bortz III Library
P.O. Box 7
Hampden-Sydney, VA 23943
salmond@hsc.edu
URL:
http://libguides.hsc.edu/library
Colin E. Woodward
Repository
Hampden-Sydney College Archives & Special Collections
Identification
SC.000101
Title
Samuel Vaughan Wilson Papers 1945/2017
URL:
Quantity
140 Linear Feet, 270 boxes
Language
English .
---
Use of these materials
The nature of the Hampden-Sydney College Archives and Special Collections means that copyright or other information about restrictions may be difficult or even impossible to determine depsite reasonable efforts. As a result, Hampden-Sydney College claims only physical ownership of most Special Collections materials.
The materials from our collections are made available for use in research, teaching, and private study, pursuant to U.S. Copyright law. The user must assume full responsibility for any use of the materials, including but not limited to, infringement of copyright and publication rights of reproduced materials. Any materials used for academic research or otherwise should be fully credited with the source.
This collection may contain materials with sensitive or confidential information that is protected under federal or state right to privacy laws and regulations. Researchers are advised that the disclosure of certaininformation pertaining to identifiable living individuals represented in this collection without the consent of those individuals may have legal ramifications (e.g. cause of action under common law for invasion of privacy may arise if facts concerning and individual's private life are published that would be deemed highly offensive to a reasonable person) for which the College assumes no responsibility.
Access to Materials
Collection is open for research; access requires at least 48 hours advance notice. Because of the nature of certain archival formats, including digital and audio-visual materials, access will require additional advanced notice. Copies of digital files will be provided for use upon request.
Preferred Citation
[Identification of item], Samuel Vaughan Wilson Papers, SC 000101, Hampden-Sydney College Archives and Special Collections, Hampden-Sydney, VA
Processing Information
Processed by: Colin E. Woodward, 2019/2021; machine-readable finding aid created by: Colin E. Woodward, 2021 July; additions to finding aid by: Sarah Almond, 2021 October.
---
General Samuel Vaughan Wilson was a highly decorated veteran of World War II, Cold War intelligence officer, commander in Vietnam, and president of Hampden-Sydney College for eight years. Wilson spent more than 35 years working for the United States military, eventually rising to the rank of lieutenant general. Over the course of his career, General Wilson worked for the Central Intelligence Agency and the Defense Intelligence Agency and played a prominent role in formulating the army's counter-insurgency (COIN) doctrine.
Wilson was born September 23, 1923 in Rice, Virginia. He was the son of Jasper Dennis "Cap'n Jack" Wilson (1879-1959) and Helen Wilson (1893-1955). Sam's family had deep roots in rural Virginia and the Prince Edward County area. After graduating from high school in 1940, and inspired by a speech by Winston Churchill, Sam enlisted in the Virginia National Guard, though he lied about his age in order to enter the service (originally as a bugler). He quickly rose through the ranks, becoming a second lieutenant by the age of 18.
During World War II, Sam volunteered for the 5307th Composite Unit (Provisional), better known as "Merrill's Marauders." The Marauders gained fame in what was then Burma. The 3,000 man force fought Japanese troops behind the lines with the help of English, Indian, and Burmese forces. The Marauders suffered more than 95% casualties. Sam was among those who were wounded, killed, or who fell ill in the tropical and mountainous conditions. He served only a few months in the Marauders, but his experiences were formative. He won the respect of his men for his scouting missions, which often found him miles ahead of Japanese forces. For his conduct, Sam was awarded the Distinguished Service Cross, but he had to wait years to get it. Later, Sam served as a historical advisor to the 1962 Sam Fuller film Merrill's Marauders and had a speaking role in the movie.
After the war, Sam joined the ranks of U.S. intelligence, tasked with containing communism and maintaining the balance of power in Europe. Sam was a student at Columbia University, where, as an officer in OSS (Office of Strategic Services), he studied Russia and Russian history. He became fluent in Russian and German and later spoke other languages as well. Despite his intelligence and accomplishments, Sam never obtained a college degree, though later in life he received various honorary degrees.
In the 1950s, now a major, Wilson worked in Germany as a spy, a job that not only put his life in danger, but placed extraordinary pressure on his family, who traveled with him. Nevertheless, by the 1950s, Sam's career had established a pattern: he would travel across the globe, while also working for long stretches in the United States. Over the course of his career, he served at various military posts, including Fort Bragg, Fort Leavenworth, and Fort Benning.
In the early 1960s, Colonel Wilson worked with Ed Lansdale in Washington, D.C., to formulate the United States' counterinsurgeny doctrine. In Vietnam, Sam would help implement this doctrine. Sam believed the war against communism could not be won in Vietnam without the support of the local population. Winning the "hearts and minds" of civilians, therefore, was essential to victory. Eventually, Sam was put in charge of pacification efforts in Long An province in 1967. He served in that capacity for several months before returning to the States in late 1967 to teach Special Forces at Fort Bragg. Decades later, Sam served as a commentator for Ken Burns's critically acclaimed documentary on the Vietnam War.
Sam continued to rise in the ranks, earning promotion to major general and then lieutenant general before retiring in 1977. He spent extended periods of time in the 1970s in the Soviet Union as an intelligence officer. He also developed close relationships with men in government such as George H. W. Bush and Donald Rumsfeld. Sam's last post was as director of the Defense Intelligence Agency. His decision to retire was not just for his benefit, but done out of concern for the health of his wife, Brenda.
After retiring from the military, at the behest of his friend Earl "Frosty" Lockwood, Sam worked as a consultant for the small, D.C. area intelligence firm Betac. Despite pressure from some admirers, Sam mostly kept out of politics and avoided calls for running for office. He spent most of his time on his farm and taught college courses on politics and government at Longwood University and HSC. A man of faith, he also taught Sunday School in the Farmville area. A warm and outgoing man who liked to tell stories, Sam was an accomplished musician, who liked to play piano and guitar for the many visitors to the farm.
In 1992, Sam was chosen to be president of Hampden-Sydney College and served in the position until 2000. As president, one of Sam's first accomplishments was refurbishing campus buildings that had fallen into disrepair. He also was responsible for significantly growing the HSC endowment. In 1996, HSC gained national attention for its decision, after a long and highly publicized debate, the college chose to remain an all-male college. Sam was also responsible for bringing many celebrities to campus for major events. In 1993, HSC held a symposium on the Vietnam War attended by General William Westmoreland, film director Oliver Stone, and journalist Morley Safer, among others. Other celebrities that visited during Sam's tenure included actor James Earl Jones, authors Doris Goodwin and Tom Clancy, and controversial former military officer and aspiring politician Oliver North.
After retiring from the presidency, Sam continued to teach and remain active in the Farmville area. He worked with HSC undergraduate Drew Prehmus to complete the biography "General Sam." Sam died on June 10, 2017 of lung cancer at the age of 93.
Sam was married twice, the first time to Frances Brenda Downing (1926-1987), whom Sam met while stationed at Fort Benning shortly after the war. They had four children: Sam Jr. (1946-), Susi (1949- ), Jackson (1952-), and David (1957-). After the death of Brenda in 1987, Sam remarried to Susi Wilson (born Virginia Howton), who was herself a native of the South and an officer in the U.S. military.
This collection contains the entirety of General Samuel Vaughan Wilson's personal and professional papers, as donated to Hampden-Sydney College by his widow in 2019. Topics include the Vietnam and Second World Wars, the development of the United States of America's intelligence and counter-intelligence communities, military strategy, and Wilson's role as president of Hampden-Sydney College from 1992 until 2000.
This collection is divided into 11 Series: 01: Wilson genealogy, family papers, and biographical material, 1780/2017 02: Miscellaneous subjects related to Wilson's life and career 03: World War II and Vietnam 04: Wilson correspondence and other papers 05: Speeches and writings 06: Financial papers 07: Miscellaneous writings and publications 08: Teaching and course materials 09: Photographs and scrapbooks 10: Audiovisual materials 11: Memorabilia and oversize items
Hampden-Sydney College
Military history
Prince Edward County, VA
United States Army
Wilson, Samuel (Samuel Vaughan)
---
Hampden-Sydney College
Prince Edward County, VA