A Collection in the
Special Collections Research Center
Accession Number Mss. Acc. 2009.132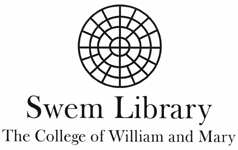 Earl Gregg Swem Library, College of William and Mary
Special Collections
Earl Gregg Swem Library
College of William and Mary
Williamsburg, Virginia 23187-8794
USA
Phone: (757) 221-3090
Fax: (757) 221-5440
Email:
spcoll@wm.edu
URL:
http://swem.wm.edu/scrc/
© 2012 By the College of William and Mary. All rights reserved.
Repository:
Special Collections Research Center
Identification:
01/Mss. Acc. 2009.132
Title:
Buford Family Papers 1845-1895
Quantity:
0.10
Alternate Extent Statement:
2 folders
Creator:
Buford, Paschal, 1791-1875Buford, Frances A.Buford, Margaret Letitia, 1835-Burks, Edward C.Burks, Mildred Elizabeth Buford, 1822- arrangement
Language of Materials
The papers are in: English
---
Conditions Governing Access
Collection is open to all researchers.
Conditions Governing Use
Before reproducing or quoting from any materials, in whole or in part, permission must be obtained from the Special Collections Research Center, and the holder of the copyright, if not Swem Library.
Preferred Citation
Buford Family Papers, Special Collections Research Center, Swem Library, College of William and Mary.
Acquisition Information
The materials were acquired by Special Collections Research Center on 03/26/2009.
Processing Information
Accessioned and processed by Ute Schechter, March 2009. Further described by Gloria Oh, SCRC Staff in April 2009.
---
Captain Paschal Buford was lived from 1791 to 1875. He was the son of Henry and Mildred Blackburn Buford. He married Frances Ann Otey on October 31,1820. Paschal Buford was a farmer and a horse breeder. Regarding his military career, he served as an officer in the War of 1812. During the Civil War, he supported the south and invited General Robert E. Lee's wife and daughter to spend the summer of 1863 at his home. He died at "Locust Level", Bufordsville, Bedford County, Virginia, July 23, 1875.
Papers, 1840-1892, of the Buford family of Bedford County, Va., consisting of letters, mostly addressed to Capt. Paschal Buford (1791-1875). Other correspondents include his wife Frances Ann Otey Buford and his daughter Maggie (Margaret Letitia) Buford. Some letters to Paschal Buford were written by his daughter Bettie (Mildred Elizabeth) and her husband Edward C. Burks. Also includes financial records, wedding invitations, records relating to horse breeding and a note book, circa 1880.The following description was provided by the seller:"The letters are talking about travel, deaths, politics, some talk about the good and bad of having servants. Letter, 1845, from Edward Burks to Captain Buford notifying him that he is engaged to his daughter and asking about Buford's wishes and opinion in relation to it. Western Union Telegraph letting  Mrs. T. N. Cobbs (Margaret Letitia Buford Cobbs) know that her husband, Captain Thomas N. Cobbes has died. 2 Wedding Invitations for the children of Captain Buford from the 1860s. Several letters and items dealing with Paschal Buford's raising of prize horses, mainly about the pedigree of a horse named Red Robin from the early 1870s, also about Knight of St George, Trustee and other horses."
Genre/Form of Material:

Correspondence
Financial records

Topical Term:

Horses--Breeding--Virginia.
Virginia--Social life and customs--19th century
---
1
Correspondence and Miscellaneous Material
1845-1882
1

Letters addressed to Captain Paschal Buford

1845-1872

1

Letters addressed to Frances Ann (Otey) Buford

1852-1877

1

Letters addressed to Bettie (Mildred Elizabeth) Burks

1846-1847

1

Letters addressed to Maggie (Margaret Letitia) Buford

1851-1882

1

Eulogy of Mrs. Frances A. (Otey) Buford

1882

1

Horse Breeding

circa 1870s

1

Household and Financial Records

1856-1882

1

Wedding Invitations

1869-1876

1

Miscellaneous Notebook

circa 1870s-1880s
2
Correspondence
1854-1895
2

Letters addressed to Miss Mag Buford

1874

2

Unidentified Letters

1854-1892

2

Envelopes

circa 1870s

2

Telegraph of Captain T.N. Cobbes' Death

1895
Buford, Frances A.
Buford, Margaret Letitia, 1835-
Buford, Paschal, 1791-1875
Burks, Edward C.
Burks, Mildred Elizabeth Buford, 1822-