A Collection in the
Special Collections Research Center
Accession Number Mss. Acc. 2009.117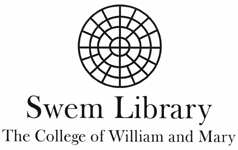 Earl Gregg Swem Library, College of William and Mary
Special Collections
Earl Gregg Swem Library
College of William and Mary
Williamsburg, Virginia 23187-8794
USA
Phone: (757) 221-3090
Fax: (757) 221-5440
Email:
spcoll@wm.edu
URL:
http://swem.wm.edu/scrc/
© 2012 By the College of William and Mary. All rights reserved.
Repository:
Special Collections Research Center
Identification:
01/Mss. Acc. 2009.117
Title:
Grand Oaks Daybook 1947-1954
Quantity:
0.01
Alternate Extent Statement:
1 vol.
Creator:
Ankers, Mary Alice, 1915-1994Boggs, Olive Louise arrangement
Language of Materials
The papers are in: English
---
Conditions Governing Access
Collection is open to all researchers.
Conditions Governing Use
Before reproducing or quoting from any materials, in whole or in part, permission must be obtained from the Special Collections Research Center, and the holder of the copyright, if not Swem Library.
Preferred Citation
Grand Oaks Daybook, Special Collections Research Center, Swem Library, College of William and Mary.
Acquisition Information
The materials were acquired by Special Collections Research Center on 03/22/2009.
Processing Information
Accessioned and described by Ute Schechter in March 2009.
---
Excerpted from the Stoy Family of Northern Virginia database http://www.robertstoy.com/database-PhilipStoy/StoyFamily-o/p3.htm#i4201 Mary Alice Ankers was born 1 February 1915 in Virginia.1,2 She was the daughter of Robert Emerson Ankers and Alice S [-?-].1 Mary Alice Ankers died 30 July 1994 at age 79 (last residence was Fork Union, Fluvanna County, Virginia).    Mary Alice Ankers appeared on the 1920 federal census of Henrico Co, Virginia, in her parent's household. She appeared on the 1930 federal census of Fairfax Co, Virginia, in her parent's household. She graduated from The Limestone Springs Female High School, class of 1933. This became the current Limestone College, Gaffney, South Carolina. She was mentioned in the obituary of Robert Emerson Ankers in April 1965. She was a member of the Women's Missionary Union of the Fork Union Baptist Church and had performed missionary work in Ireland. Her obituary stated: "Fork Union - Ms Mary Alice Ankers, 79, a retired teacher and farmer."
Daybook for Grand Oaks (formerly Strange Acres) school and camp, probably in Virginia. No location is given in the daybook but the director, Mary Alice Ankers is with great likelihood Mary Alice Ankers (1915-1994) who was born and spent most of her life in Virginia. The daybook was kept by Ankers and assistant director Olive Louise Boggs.Students were aged 8-12 and came for the most part from Virginia, West Virginia, and Washington, D.C.The daybook records school and camp fees, personal effects of students, medical information, visits, as well as entries on behavioral issues.
Genre/Form of Material:

Daybooks

Topical Term:

Boarding schools--Virginia.
Camps--Virginia
---
Ankers, Mary Alice, 1915-1994
Boggs, Olive Louise