A Collection in
Special Collections and Archives
Accession Number #1995-71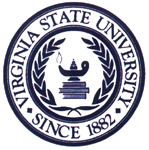 Johnston Memorial Library, Virginia State University
Special Collections and Archives
Johnston Memorial Library
P.O. Box 9406
Virginia State University
Petersburg, Virginia 23806
USA
Phone: (804) 524-5749
Fax: (804) 524-6959
Email:
ledwards@vsu.edu
URL:
http://www.vsu.edu/library/index.htm
© 2008 By the Board of Visitors of Virginia State University. All rights reserved.
Processed by: Special Collections and Archives Staff
Repository
Special Collections and Archives, Johnston Memorial Library at Lindsay-Montague, Virginia State University
Accession Number
#1995-71
Title
F. Nathaniel Gatlin Papers 1929-1989
Physical Characteristics
40,000 items
Creator
F. Nathaniel Gatlin
Language
English
Abstract
The F. Nathaniel Gatlin papers document his long and successful career at Virginia State University in Music. Gatlin served as chair of the department and was the founder of the Intercollegiate Music Association and the Petersburg Symphony.
---
Access Restrictions
Collection is open to research.
Use Restrictions
There are no restrictions.
Preferred Citation
F. Nathaniel Gatlin Papers, Acc. #1995-71, Special Collections & Archives, Johnston Memorial Library at Lindsay-Montague, Virginia State University
Acquisition Information
Gift from family
---
This collection contains correspondence, newspaper clipings, and information for Petersburg Symphony
The collection contains eight series
Series List Series I: Biographical Data Series II: Correspondence Series III: Music Affilations Series IV: Organizations and Affiliations Series V: Audio
For materials related to Gatlin's work with the Intercollegiate Music Association see the Records of Intercollegiate Music Association,Acc. #1982-45
---
Series I: Biographical Data
First two folders contain the Vita of F. Nathaniel Gatlin and a biographical sketch
Box-folder 1:1

VITA

Box-folder 1:2

biographical sketch