A Collection in
Special Collections and Archives
Collection Number 1984-39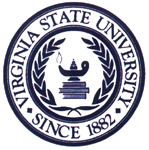 Johnston Memorial Library, Virginia State University
Special Collections and Archives
Johnston Memorial Library
P.O. Box 9406
Virginia State University
Petersburg, Virginia 23806
USA
Phone: (804) 524-5749
Fax: (804) 524-6959
Email:
ledwards@vsu.edu
URL:
http://www.vsu.edu/library/index.htm
© 2005 By the Board of Visitors of Virginia State University. All rights reserved.
Processed by: Special Collections and Archives Staff
Repository
Special Collections and Archives, Johnston Memorial Library, Virginia State University
Accession number
1984-39
Title
A Guide To the Papers of Harry Walter Roberts
Physical Characteristics
100,000 items
Language
English
Abstract
Harry W. Roberts was a professor of sociology at Virginia State University from 1935 until 1968. While at Virginia State Roberts was an authority on African American life and culture in rural Virginia. His papers consist of correspondence, writings, and a few photographs. Acc. #1984-39
---
Access Restrictions
Collection is open to research.
Use Restrictions
There are no restrictions.
Preferred Citation
[A Guide To the Papers of Harry Walter Roberts], Accession #[ 1984-39], Special Collections and Archives, Johnston Memorial Library, Virginia State University, Petersburg, VA.
Acquisition Information
A gift from Mrs. Roberts
---
Harry Walter Roberts was born in Philadelpha, Pennsylvania to Wallace and Frances (Jackson) Roberts and grew up in Berlin, New Jersey. After completing his secondary education, he matriculateed at Wilberforce University, where he earned an A.B. Magna Cum Laude, and the B.D. degree from Yale Univerity. He also studied at the London School of Economics, where he earned the M.A. with distinction in 1935.
With the completion of his M.A. in 1935, Harry Roberts joined the faculty of what was the Virginia State College for Negroes, now Virginia State University. During his thirty-four years at Virginia State he established the Department of Sociology and was the founder of the Alpha Chapter of Alpha Kappa Delta, and the National Sociology Honor Society. He also continued his academic studies and earned from Yale University in 1942, a Ph.D. degree.
Roberts was a member of a number of professional organizations far too numerous to cite here. In many of these organizations he held elected offices. In addition, he worked with a number of groups and associations in the academic arena.
Dr. Roberts was an authority on rural Virginia Blacks and rural Baptiat churches and conducted extensive research in there area, some of which were done in cooperation with Virginia Polytechnic Institute ( and State University). His works have been published in the American Journal of Sociology, Journal of Negro Education, the Journal of Social Science Teachers, Phi Delta Kappa, the Quarterly Review of Higher Education Among Negroes, Social Forces, Social Problems, Rural Sociology, Viginia State University Gazette, and the Viginia Teachers Bulletin.
Roberts like many other members of the faculty at Virginia State was both a scholar and a social and political activist. As a scholar Roberts was a prodigious investigatior of African American life and culture in rural Virginia. He also produced a number of scholarly studies, which examined the problems of race relations in the United States. Harry Roberts was also active in a number of activities, which attempted to bring about social, economic, and political change. He maintained a life long relationship with Jerome Davis who he met while a student a Yale Univeristy. In the 1960's he joined Davis on a trip to the Soviet Union, which raised local conerns abour Roberts politics. In addition Roberts attempted to form an alliance of local ministers in Petersburg who would commit to bringing about peaceful integration in Petersburg. Harry Roberts was a scholar, and an ordained minister in the African Methodist Episcopal Church. He was also a believer in the social gospel. The Roberts papers document his activities not only as a scholar but also a social and policital activist. The Roberts papers are a window into a time lost. Anyone interested in the Aferican American history in the rural life in Virgina should seek the papers of Harry Roberts
Series I. Correspondence, Family, Personal, and Community Activites Boxes #1-14
Sub-Series A. Family Box #1 Correspondence generated by Harry Roberts and other members of his family. Most of the correspondence is with his sister and brother. Arranged chronologically within the folder.
Sub-Series B. Personal Boxes #1-12 The bulk of this sub-series consist of correspondence between Harry Roberts and hundreds of individuals he met and worked with. Included in this sub-series are material, which help to document the Civil Rights movement in Petersburg. of particular note was Roberts attempts to establish a forum to disciss interracial problems. This sub-series is divided into two sections. The first part is made up of correspondences arranged by folder headings. The second section is made up of correspondence by date. both sections are arranged chronologically.
Sub-Series C. Community Activities Boxes #13-14 Correspondence maintained by Harry Roberts concerning numerous issues in and around Petersburg. The correspondence includes copies of many of Robers' editorials written during the late 1950's and early 1960's.
Series II. Organizations and Affiliations Boxes #15-34
Sub-Series A. The Association of Social Science Teachers in Negro Colleges Boxes #15-17A,18A The ASSA was established by African-American professeors of social science and served as a platform for the presentation of paper and, issues directed to the African-American experience. Roberts held several positions within this group including this association published The Journal of Social Science Teachers.
Sub-Series B. The Virginia Social Science Association 1964-1967 Boxes #18-18A The Virginia Social Science Association opened its doors to African-Americans in the 1960's.
Sub-Series C. The Virginia Council of Churches Boxes #19-20 Correspondence, newsletters, and reports mainly focused on how the church could or should aid in bringing about social change.
Sub-Series D. The Faculty Christian Fellowship Box #20 Organized in 1952 at Berea, Kentucky this organizations goal was to improve and make aware of developments and activities of Christian faculty members in U.S. schools and universities. Correspondence arranged chronology.
Sub-Series E. Hollins College Box #20 Correspondence with Bell Beard Boone and the sociology department of Hollins College. Much of the correspondence pertains to their studies of rural life in South West Virginia.
Sub-Series F. Central State Hospital Box #20 Mainly correspondence pertaining to improving services at the Central State Hospital, which provided services to African-Americans only. Included in the sub-series are a number of newsletters concerning activities at the training school. Although a state agency the newsletters were printed by the employees of the training school.
Sub-Series G. The Society of Social Problems Boxes #21-22 One of the many professional organizations Roberts held membership
Sub-Series H. The Southen Sociology Society Box #22 Correspondence with other members, concerning meetings, papers and research interest.
Sub-Series I. The Frontiers Club Boxes #23-25A The Frontiers a national service organization, which devoted it's time and resources to uplifting the life and total betterment of African-American young men. A regional chapter of this organization was established by the teaching faculties of Virginia State and Peabody High School
Sub-Series J. The Rural Sociology Society Box #26 The Bulk of these materials document Roberts professional involvement with this group. Correspondence with fellow members regarding interest, grants, and areas of mutual concerns.
Sub-Series K. Southern Regional Education Board Box #26 The Southern Regional Education Board. Established in 1949, this group met on a yearly basis and discussed some of the South's problems. This sub-series contains minutes, reports, and correspondence.
Sub-Series L. The Virginia Council on Human Relations Box #27 One of the oldest organizations in Virginia which sought to improve race relations in the commonwealth reports, minutes and correspondences which document some of their activities.
Sub-Series M. The Alpha Phi Alpha Fraternity Boxes #28-31 Harry Roberts was a member of Alpha Phi Alpha fraternity, and chaired the educational committee which awarded a prize for the best essay addressing some aspect of citizenship in America. The sub-series includes copies of those essay, beginning in box 30.
Sub-Series N. The Virginia Voters League Box #32 The Virginia Voters League was first organized by Luther Porter Jackson and Robert Cooley in 1941. Luther Jackson died in 1950 and there were several unsuccessful attempts to continue the work of the league through the early 1950's.
Sub-Series O. The NAACP Box #32 Correspondence form both the national and state offices.
Sub-Series P. The Summer School for Ministers Boxes #33-33A In 1943 a meeting was held at Virgina State College for Negroes (now Virginia State Univeristy) to discuss the problem of "rural Negro ministers." This was a cooperative meeting attended by the president of the states's HBCU's. At this meeting the "Conference of Virginia Negro Colleges on Rural Life" was formed. The first summer school for ministers was held in 1943 and continued until 1950 under Roberts direction at Virginia State.
Sub-Series Q. The Leagues of Colored Peoples Box #34 The League of Colored Peoples was established at the London School of Economics and Political Science to support those students who were from various parts of the Empire. Students from the Caribbean, East, West, and South Africa, Hong Kong, Singapore, and India composed the membership. Included are copies of their newsletter, The Keys.
Series III. The Department of Sociology Boxes #35-48
Sub-Series A. Annual Reports Box #35 Harry Roberts began the department of Sociology at Virginia State Univerisity in 1935. In this sub-series are all of the deparments records from 1935-1968.
Sub-Series B. Correspondence By Folder Heading Box #35 Correspondence maintained by Roberts, arranged by folder heading.
Sub-Series C. Correspondence By Date Boxes #36-46 Correspondence maintained bt Roberts arranged by date.
Sub-Series D. Sociology Graduates Box #47 Roberts undertook a ten year study to document the accomplishments of the department. Information was obatined from graduates regarding what they were doing, located, graduate training, and how had the program chainged their lives.
Sub-Series E. Notes on History of the Sociology Department Box #48 Research date compiled by Roberts and he attempted to develop a profile of the sociology department and its graduates.
Sub-Series F. HBCU, Graduates in the TVA States 1941-1950 Box #48 In the 1960's a study was undertaken to measure how certain programs of the Tennessee Valley authority had helped or hurt African-American population in the Tennessee Valley.
Series IV. Literary Boxes #49-52
Sub-Series A. Diary Box #49 Diary maintained by Roberts over a period from 1932-1968. Entries begin while Roberts was a student in England. Some of the material, record his observations, thoughts and general items of interest from the perspective of a young African-American male living and studying in Europe. Other materials of interest concern various issues concerining the Chesterfield and Petersburg area later after joining the faculty at Virginia State University.
Sub-Series B. Articles Box #49 A wide range of pieces authored by Roberts. This sub-series includes articles published as well as pieces addressed to local newspapers. In this sub-series is Roberts study on "Black-White" soldiers, additionally there are articles or papers based on his Doctoral Dissertation and Master Thesis.
Sub-Series C. Thesis and Dissertation Boxes #50-52 Drafts of Roberts Dissertation, and his thesis The Life and Labor of Rural Virginia Negroes, 1942.
Series V. Research Data Boxes #52-55
Sub-Series A. Dissertation Research Boxes #52-53 Articles, (non published) about rural Viginia life, and local problems of interest
Sub-Series B. The Jerome Davis Papers 1954-1955 Boxes #54-55 The correspondence and minutes of the Columbia Conserve Company document Jerome Davis's role in mediating a labor dispute. Other arbitratiors were Paul H. Douglan Sherwood Eddy and James Myers. The Conserve Company in the 1930's was experimenting with what they called "Industrial Democracy"
Series VI. Photographs Box #56-57
Sub-Series A. Family/Personal Photographs Box #56 A board range of photographs kept by Harry Roberts. Several photographs of family members. The majority however are related to travel and organization which Roberts was associated with and university activities
Sub-Series B. Jerome Davis Photographs Box #57 Taken in Russia before and during the Bolsheviks Revolution.
Series VII. Printed Boxes #58-64
Sub-Series A. African-American Newspapers Tray #58 Unique grouping of African-American Newspapers, published in Virginia.
Sub-Series B. The Expected Box #59 The offical publication of the Virginia Baptist State Converntion. News articles, biographies, views of the association.
Sub-Series C. The Zion Herald News Box #59 Church news, items of intrest concerning church members and highlights of this Petersburg church.
Sub-Series D. The Baptist Trumpet Box #59 Published in Arrington, on behalf of a number of churches in the northern Virginia area.
Sub-Series E. The Mountain Voice Box #59 Published in Pinewood, Kentucky for the Mountain Preachers Bible and Kindred Clear Creek Activists; 1948-1951
Sub-Series F. Religion and Labor Box #59 THe offical newsletter for the Religion and Labor Foundation 1958-1960
Sub-Series G. The Richmond Unitarian Boxes #60-61 Newsletters of the First Unitarian Church of Richmond, Virginia.
Sub-Series H. Newsletters Box #61 Publications that include the Virginia Council of Churches, NAACP newsletters, journals and other materials.
Sub-Series I. Printed programs and brochures Box #62 A combination of printed programs and brochures some of which document Roberts speaking engagements.
Sub-Series J. Journals and Pamphlets Box #63 A wide range of printed material. Most of the materials consern interest of Roberts as a faculty member at Virginia State.
Sub-Series K. Postcards and Scrapbooks Box #46 Roberts aquired a number of postcards during his travels. In addition several scrapbooks were maintained which include a number of printed journals.
---
Series I: Correspondence, Family, Personal, and Community Activities
Sub-series A: Family

Box-folder 1:1

Correspondence, Family 1921-1936

Box-folder 1:2

Correspondence, Family 1952-1962

Box-folder 1:3

Correspondence, Family 1968

Box-folder 1:4

Correspondence, Family

Box-folder 1:5

Family, Legal Correspondence 1954

Box-folder 1:6

Family, Legal Correspondence 1954, 1968

Box-folder 1:7

Family, Legal Correspondence 1968

Box-folder 1:8

Lease 1956

Box-folder 1:9

Deed 1957

Sub-series B: Personal

Box-folder 1:10

Correspondence, Adult Society of Virginia

Box-folder 1:11

Correspondence-Course on Africa Mar.-Sept. 1956-1958; 1959

Box-folder 1:12

Correspondence-Course on Africa October-December 1959

Box-folder 1:13

Correspondence-Course on Africa January-February 1960

Box-folder 1:14

Correspondence-Course on Africa March-December 1960

Box-folder 1:15

Correspondence-Course on Africa 1961

Box-folder 1:16

Correspondence- Course on Africa 1962-1963

Box-folder 1:17

Correspondence- The Am. Sociological Soc. 1941-1960

Box-folder 1:18

Correspondence-The Am. Sociological Re. 1966

Box-folder 2:1

Correspondence-Ballots to vote 1944

Box-folder 2:2

Correspondence-Blind Students 1950-1953

Box-folder 2:3

Correspondence-Blind Students

Box-folder 2:4

Correspondence- The Boule' 1956

Box-folder 2:5

Correspondence-Council on Natural Defense

Box-folder 2:6

Correspondence-Education 1931-1937

Box-folder 2:7

Correspondence-Education 1939

Box-folder 2:8

Correspondence-Education 1941-1942

Box-folder 2:9

Correspondence-Faculty Study Club

Box-folder 2:10

Correspondence-Foreign Study 1950-1952

Box-folder 2:11

Correspondence-Gov. Interracial Comm. 1959-1960

Box-folder 2:12

Correspondence-Carl Hayer-Petition 1967

Box-folder 2:13

Correspondence-Arthur Holmes 1957

Box-folder 2:14

Correspondence-Petersburg Minister's Meeting November-December, 1959

Box-folder 2:15

Correspondence-Minister's Conference 1959-1961

Box-folder 3:1

Correspondence-Petersburg Minister's Meeting January-February, 1960

Box-folder 3:2

Correspondence-Minister's Meeting March-May, 1960

Box-folder 3:3

Correspondence-Minister's Meeting June-August, 1960

Box-folder 3:4

Correspondence-Minister's Meeting September-December, 1960

Box-folder 3:5

Correspondence-A.W. Mitchell 1956

Box-folder 3:6

Correspondence-Negro Education 1936-1951

Box-folder 3:7

Correspondence-Negro Leaders 1965

Box-folder 3:8

Correspondence-Southeastern Council 1964-1969

Box-folder 3:9

Correspondence-Southeastern Council Correspondence 1964-1968

Box-folder 3:10

Correspondence-Southeastern Council Reports, Minutes 1967-1968

Box-folder 3:11

Correspondence-Southeastern Regional Council Newsletters 1959-1960

Box-folder 3:12

Correspondence-Roberts-St. Paul's College 1967-1968

Box-folder 3:13

Correspondence-Roberts-St. Paul's College 1969

Box-folder 4:1

Correspondence-Science/Math Conference 1958

Box-folder 4:2

The VA Council on Human Relations

Box-folder 4:3

Correspondence-Science/Math Conference 1957

Box-folder 4:4

Southeastern Council-Newsletter 1965-1977

Box-folder 4:5

Teacher Fellowship 1965

Box-folder 4:6

V.C.H. Relations Correspondence 1958-1960

Box-folder 4:7

V.C.H.R. Minutes 1958-1959, 1964-1965

Box-folder 4:8

V.C.H.R. Correspondence 1962

Box-folder 4:9

V.C.H.R. Correspondence 1961-1962

Box-folder 4:10

Va. Council Reports 1960

Box-folder 4:11

VTA-Correspondence 1954-1955

Box-folder 4:12

VTA-Campus Chapter

Box-folder 4:13

VTA-Programs

Box-folder 5:1

The Richmond Normal School 1940

Box-folder 5:2

Roberts-VSU 1955-1956

Box-folder 5:3

VSU-Correspondence 1968

Box-folder 5:4

VSU-Correspondence 1969-1970

Box-folder 5:5

VSU-Correspondence 1953, 1948

Box-folder 5:6

Roberts-VPI-Summer School 1951

Box-folder 5:7

St. Paul's Roberts 1969-1970

Box-folder 5:8

The Committee for West Chesterfield Heights 1951

Box-folder 5:9

Correspondence-Race 1938-1941, 1965

Box-folder 5:10

Correspondence-Richmond Public Schools 1965

Box-folder 5:11

Correspondence-Richmond Public Schools 1966-1968

Box-folder 5:12

Correspondence-Wilberforce University 1955-1957, 1060

Box-folder 6:1

Correspondence-Personal 1922-1934

Box-folder 6:2

Correspondence-Personal January-February, 1935

Box-folder 6:3

Correspondence-Personal March, 1935

Box-folder 6:4

Correspondence-Personal April-December 1935

Box-folder 6:5

Correspondence-Personal January-April 1936

Box-folder 6:6

Correspondence-Personal May-August, 1936

Box-folder 6:7

Correspondence-Personal 1937

Box-folder 6:8

Correspondence-Personal 1938

Box-folder 6:9

Correspondence-Personal 1939

Box-folder 6:10

Correspondence-Personal 1940

Box-folder 6:11

Correspondence-Personal 1941

Box-folder 6:12

Correspondence-Personal 1942

Box-folder 7:1

Correspondence-Personal January-April, 1943

Box-folder 7:2

Correspondence-Personal May-September 1943

Box-folder 7:3

Correspondence-Personal October-December 1943

Box-folder 7:4

Correspondence-Personal January-May, 1944

Box-folder 7:5

Correspondence-Personal June-September, 1944

Box-folder 7:6

Correspondence-Personal October-December, 1944

Box-folder 7:7

Correspondence-Personal January-March, 1945

Box-folder 7:8

Correspondence-Personal April-June, 1945

Box-folder 7:9

Correspondence-Personal 1946

Box-folder 7:10

Correspondence-Personal 1947

Box-folder 7:11

Correspondence-Personal 1948

Box-folder 7:12

Correspondence-Personal 1949

Box-folder 7:13

Correspondence-Personal 1950

Box-folder 8:1

Correspondence-Personal Janruary-June, 1951

Box-folder 8:2

Correspondence-Personal July-August, 1951

Box-folder 8:3

Correspondence-Personal September-November, 1951

Box-folder 8:4

Correspondence-Personal Janruary-April, 1952

Box-folder 8:5

Correspondence-Personal May-August, 1952

Box-folder 8:6

Correspondence-Personal September-November, 1952

Box-folder 8:7

Correspondence-Personal January-February, 1953

Box-folder 8:8

Correspondence-Personal March-May, 1953

Box-folder 8:9

Correspondence-Personal June-October, 1953

Box-folder 8:10

Correspondence-Personal November-December, 1953

Box-folder 9:1

Correspondence-Personal January-February, 1954

Box-folder 9:2

Correspondence-Personal March, 1954

Box-folder 9:3

Correspondence-Personal April-July, 1954

Box-folder 9:4

Correspondence-Personal August-December 1954

Box-folder 9:5

Correspondence-Personal January-May, 1955

Box-folder 9:6

Correspondence-Personal June-December, 1955

Box-folder 9:7

Correspondence-Personal January-June, 1956

Box-folder 9:8

Correspondence-Personal July, 1956

Box-folder 9:9

Correspondence-Personal August, 1956

Box-folder 9:10

Correspondence-Personal September-October, 1956

Box-folder 9:11

Correspondence-Personal November-December, 1956

Box-folder 10:1

Correspondence-Personal Janurary-February, 1957

Box-folder 10:2

Correspondence-Personal March-April, 1957

Box-folder 10:3

Correspondence-Personal May-July, 1957

Box-folder 10:4

Correspondence-Personal August-December, 1957

Box-folder 10:5

Correspondence-Personal Janurary-May, 1958

Box-folder 10:6

Correspondence-Personal April-September, 1958

Box-folder 10:7

Correspondence-Personal October-December, 1958

Box-folder 10:8

Correspondence-Personal Janurary-May, 1959

Box-folder 10:9

Correspondence-Personal June-August, 1959

Box-folder 10:10

Correspondence-Personal September-December, 1959

Box-folder 11:1

Correspondence-Personal April-May, 1960

Box-folder 11:2

Correspondence-Personal June-September, 1960

Box-folder 11:3

Correspondence-Personal October-December, 1960

Box-folder 11:4

Correspondence-Personal January-February, 1961

Box-folder 11:5

Correspondence-Personal March-April, 1961

Box-folder 11:6

Correspondence-Personal May, 1961

Box-folder 11:7

Correspondence-Personal June-October, 1961

Box-folder 11:8

Correspondence-Personal November-December, 1961

Box-folder 11:9

Correspondence-Personal 1962-1963

Box-folder 11:10

Correspondence-Personal March-August, 1964

Box-folder 11:11

Correspondence-Personal September-October, 1964

Box-folder 11:12

Correspondence-Personal November-December, 1964

Box-folder 12:1

Correspondence-Personal Janurary-February, 1965

Box-folder 12:2

Correspondence-Personal March-May, 1965

Box-folder 12:3

Correspondence-Personal June-July, 1965

Box-folder 12:4

Correspondence-Personal August-September, 1965

Box-folder 12:5

Correspondence-Personal October-November, 1965

Box-folder 12:6

Correspondence-Personal December, 1965

Box-folder 12:7

Correspondence-Personal January, 1966

Box-folder 12:8

Correspondence-Personal February, 1966

Box-folder 12:9

Correspondence-Personal March, 1966

Box-folder 12:10

Correspondence-Personal April, 1966

Box-folder 12:11

Correspondence-Personal May, 1966

Box-folder 12:12

Correspondence-Personal June, 1966

Box-folder 12:13

Correspondence-Personal July-August, 1966

Box-folder 12:14

Correspondence-Personal September, 1966

Box-folder 12:15

Correspondence-Personal October, 1966

Box-folder 12:16

Correspondence-Personal November, 1966

Box-folder 12:17

Correspondence-Personal December, 1966

Sub-series C: Community Activities

Box-folder 13:1

Community Activities-Correspondence 1939-1940

Box-folder 13:2

Community Activities-Correspondence 1941

Box-folder 13:3

Community Activities-Correspondence 1942

Box-folder 13:4

Community Activities-Correspondence January-August, 1943

Box-folder 13:5

Community Activities-Correspondence September-December, 1943

Box-folder 13:6

Community Activities-Correspondence January-May, 1944

Box-folder 13:7

Community Activities-Correspondence June-December, 1944

Box-folder 13:8

Community Activities-Correspondence 1945

Box-folder 13:9

Community Activities-Correspondence January-September, 1946

Box-folder 13:10

Community Activities-Correspondence October-December, 1946

Box-folder 13:11

Community Activities-Correspondence January-December, 1947

Box-folder 13:12

Community Activities-Correspondence 1948

Box-folder 14:1

Community Activities-Correspondence March-July, 1949

Box-folder 14:2

Community Activities-Correspondence August-December, 1949

Box-folder 14:3

Community Activities-Correspondence January-April, 1950

Box-folder 14:4

Community Activities-Correspondence May-September, 1950

Box-folder 14:5

Community Activities-Correspondence February-August, 1951

Box-folder 14:6

Community Activities-Correspondence September-October 1951

Box-folder 14:7

Community Activities-Correspondence 1954

Box-folder 14:8

Community Activities-Correspondence 1955

Box-folder 14:9

Community Activities-Correspondence 1956-1961

Box-folder 14:10

Community Activities-Correspondence 1962

Box-folder 14:11

The Laundry Workers Union-Correspondence 1940

Box-folder 14:12

The Ordell Waller Case-Correspondence 1941-1942

Box-folder 14:13

Petition of Error (Walker)-Correspondence

Box-folder 14:14

Walker (News Clippings) 1942

Box-folder 14:15

Conference Tennessee: Negro Rural Life Leader 1940
Series II: Organizations and Affiliations
Series III: The Department of Sociology
Subseries B: Articles

Box-folder 49:1

The Personal Method, Servicemen 1959

Box-folder 49:2

Disadvantage Factors March 1944

Box-folder 49:3

The Life and Labor of Rural Virginia Negroes 1942

Box-folder 49:4

The Rural Negro Minister 1947

Box-folder 49:5

Writing-Interracial Marriage 1947

Box-folder 49:6

The Rural Negro Minister: His Work and Slavery 1947

Box-folder 49:7

The Rural Negro Minister: His Educational Status 1948

Subseries C: Thesis and Dissertation

Box 50

"The Influence of External Relations Upon the Inner Life of Social Groups"

Box-folder 51:1

Introduction Table of Contents

Box-folder 51:2

Attitude, Parents Toward Farm Life

Box-folder 51:3

Auxiliary, School, Community League-Political Behaviors

Box-folder 51:4

Auxiliary School Organizations

Box-folder 51:5

Cash Tenants

Box-folder 51:6

Education

Box-folder 51:7

Foods and Nutrition

Box-folder 51:8

Fraternal Orders

Box-folder 51:9

Fraternal and Mutual Associations

Box-folder 51:10

Fraternal Benefits Societies Domicile in Virginia

Box-folder 51:11

Living Conditions

Box-folder 51:12

Making the School A Community Center

Box-folder 51:13

Negro Rural Population

Box-folder 51:14

Recreation ans Leisure Time

Box-folder 51:15

Sharecroppers

Box-folder 51:16

Their Work and its Research-Part III

Box-folder 51:17

Their Work and Its Research-Part III

Box-folder 51:18

Their Work and its Research

Box-folder 51:19

The Auxiliary School Organization

Box-folder 51:20

The Rural Negro Church and Religious Life

Box-folder 51:21

Their Living and Their Instutution-Part IV

Box-folder 51:22

Urban and Rural Life

Box-folder 52:1

The Aftermath of Slavery The Negroes Social Heritage

Box-folder 52:2

The Aftermath of Slavery the White's Social Heritage (ALS)

Box-folder 52:3

The Organ Growth Introduction

Box-folder 52:4

Their Work and its Research

Box-folder 52:5

Institution of Slavery and Plantations Economy

Box-folder 52:6

The Institution of Slavery

Box-folder 52:7

Church Conditions Garnette and Poulton

Box-folder 52:8

Libraries and Black Students
Subseries A: Dissertation Research

Box-folder 52:9

Suggested Revisions in Roberts Paper on Negro Servicemen

Box-folder 52:10

War Time Education

Box-folder 52:11

Emotional and Behavior Problems

Box-folder 52:12

Paper World War II

Box-folder 52:13

Racial Attitudes

Box-folder 52:14

Report on Social Problems

Box-folder 52:15

Research White Soldiers

Box-folder 52:16

The effects of Military Service-Black about whites

Box-folder 52:17

The Mental Ability (white)

Box-folder 52:18

The Negro Soldier in the Past

Box-folder 52:19

Venereal Disease

Box-folder 52:20

The White Social Hierarchy

Box-folder 52:21

White Interviews

Box-folder 52:22

Interviews-White Soldiers

Box-folder 52:23

Research-White Soldiers

Box-folder 52:24

Prior Service Attitude of Black Soldiers

Box-folder 53:1

Case Study-Beaverdam

Box-folder 53:2

Case Study-Beaverdam

Box-folder 53:3

Case Study-Branchville, Southhampton Co.

Box-folder 53:4

Camp Lee Situation

Box-folder 53:5

Research-Change in Acreage of Farm Managers

Box-folder 53:6

Research-Chatham Negroes

Box-folder 53:7

Case Study- The Cypress Community

Box-folder 53:8

Research-The Curriculum

Box-folder 53:9

Case Histories- Dinwiddie County

Box-folder 53:10

Education-Dinwiddle County

Box-folder 53:11

Research-Evaluating A School System

Box-folder 53:12

Farm Study

Box-folder 53:13

Farm Study

Box-folder 53:14

Nansemond County

Box-folder 53:15

Nansemond County Community Map

Box-folder 53:16

Research-Nansemond County

Box-folder 53:17

Research-Nansemond County

Box-folder 53:18

Study-Petersburg, Va. 1960

Box-folder 53:19

Study Petersburg Va. Study on Poverty

Box-folder 53:20

Study-Pittsylvania County

Box-folder 53:21

Study Pittsylvania County

Box-folder 53:22

Research-Present Educational Status

Box-folder 53:23

Report-Rural Health

Box-folder 53:24

Rural Communities Problem

Box-folder 53:25

Research-Sharecroppers

Box-folder 53:26

Research-The Slave Plantation System

Box-folder 53:27

Sold to Georgia

Box-folder 53:28

Southampton County

Box-folder 53:29

Questionnaire-Southern Education

Box-folder 53:30

The Committee of Odell Walker

Box-folder 53:31

Walker Grant

Box-folder 53:32

Research-The White Heritage

Subseries B: The Jerome Davis Papers

Box 54

Diary November 3-December 31, 1916

Box-folder 54:1

Correspondence 1917-1920

Box-folder 54:2

Correspondence 1925-1926

Box-folder 54:3

Correspondence 1941

Box-folder 54:4

Correspondence 1942

Box-folder 54:5

Correspondence 1945

Box-folder 54:6

Correspondence

Box-folder 54:7

Worlds First Proletarian Church 1932

Box-folder 54:8

Correspondence

Box-folder 54:9

Chronicle May 1917

Box-folder 54:10

Chronicle June 1927

Box-folder 54:11

Manifesto of Anarchists Communist 1919

Box-folder 54:12

Brief-Anani Nazarczuk November 6, 1919

Box-folder 54:13

Legal Brief-Ivan Poliachok November 1919

Box-folder 54:14

Deported-Walter Borisuk 1919

Box-folder 54:15

Writing

Box-folder 54:16

The Communist Party-Printed

Box-folder 54

European Russian Tour (Czechoslovakia) 1961

Box-folder 55:1

Columbia Conserve Co. 1926

Box-folder 55:2

Columbia Conserve Co.-Stockholders 1933

Box-folder 55:3

Columbia Conserve Co.-Counsel Meeting 1932

Box-folder 55:4

Columbia Conserve Co.-Correspondence and Counsel Meeting 1932

Box-folder 55:5

Columbia Conserve Co.-Special Counsel Meeting 1933

Box-folder 55:6

Columbia Conserve Co. February 3, 1933

Box-folder 55:7

Columbia Conserve Co.-Special Counsel Meeting January 1933

Box-folder 55:8

Columbia Conserve Co.-Minutes Regular Executive Committee July 1936

Box-folder 55:9

Columbia Conserve Co.-Correspondence December 1932

Box-folder 55:10

Columbia Conserve Co.-Correspondence February 1933

Box-folder 55:11

Columbia Conserve Co.-Correspondence March 1-15, 1933

Box-folder 55:12

Columbia Conserve Co.-Correspondence March 16-31, 1933

Box-folder 55:13

Columbia Conserve Co.-Correspondence April 3-18, 1933

Box-folder 55:14

Columbia Conserve Co.-Correspondence April 19-31, 1933

Box-folder 55:15

Columbia Conserve Co.-Correspondence May 20-31, 1933

Box-folder 55:16

Columbia Conserve Co.-Correspondence May 8-12, 1933

Box-folder 55:17

Columbia Conserve Co.-Correspondence May 15-19, 1933

Box-folder 55:18

Columbia Conserve Co.-Correspondence June 1933

Box-folder 55:19

Columbia Conserve Co.-Correspondence July 1933

Box-folder 55:20

Columbia Conserve Co.-Correspondence August-September 1933

Box-folder 55:21

Columbia Conserve Co.-Correspondence October-December 1933

Box-folder 55:22

Columbia Conserve Co.-Correspondence February 1931

Box-folder 55:23

Columbia Conserve Co.-Flyer 1925
Subseries A: Family, Personal, Business

Box-folder 56:1

"Y" Youth Conference 1938

Box-folder 56:2

Graduates, VSU 1951

Box-folder 56:3

Alpha Beta Boule' 1946

Box-folder 56:4

Alpha Phi Alpha Members

Box-folder 56:5

Association of Social Science Teachers 1954

Box-folder 56:6

Association of Social Science Teachers 1955

Box-folder 56:7

Association of Social Science Teachers 1956

Box-folder 56:8

Association of Socil Science Teachers 1960

Box-folder 56:9

Bears Killed in Dismal Swamp December 8, 1964

Box-folder 56:10

Conference 1950

Box-folder 56:11

Conference

Box-folder 56:12

Conference

Box-folder 56:13

Cooper and Baker/Faulty (VSU)

Box-folder 56:14

Education Committee Award

Box-folder 56:15

Family

Box-folder 56:16

Family

Box-folder 56:17

Family: Waring Oil Service

Box-folder 56:18

Gandys, The

Box-folder 56:19

The Grand Boule' 1946

Box-folder 56:20

Morgan at State 1937

Box-folder 56:21

Nu Lambda Chapter 1940

Box-folder 56:22

Rural Research

Box-folder 56:23

Roberts Concret Block Co.

Box-folder 56:24

Scenes, Central or South America

Box-folder 56:25

Scenes, Central or South America

Box-folder 56:26

Schools in Spotsylvania Co. 1941

Box-folder 56:27

Southeastern Council of Family, Relations Meeting 1964

Box-folder 56:28

Special Project Honoring Leslie Andrews 1956

Box-folder 56:29

Summer School for Ministers 1953

Box-folder 56:30

Summer Session at VIP 1951

Box-folder 56:31

Travels

Box-folder 56:32

Vacation, San Sucs

Box-folder 56:33

Virginia State 1930's

Box-folder 56:34

World Government Conference 1951

Box-folder 56:35

Yale University Graduation

Subseries B: Jerome Davis, Photographs

Box-folder 57:1

Adjutant to the General

Box-folder 57:2

The Army Committee at the Front

Box-folder 57:3

Begging at the Church

Box-folder 57:4

The Bell in the Kremlin

Box-folder 57:5

The Billets of Wood

Box-folder 57:6

Better Class Russian Home Sunday, February 1920

Box-folder 57:7

The Canon in the Kremlin

Box-folder 57:8

Three Children who sleep in the same room

Box-folder 57:9

Community Delegates mingling with the crowd

Box-folder 57:10

The courtyard of a tenement

Box-folder 57:11

Day and Night Bed

Box-folder 57:12

Dining Room of the Kropatun Palace

Box-folder 57:13

Dr. Gunfill in a kyack

Box-folder 57:14

Eating Breakfast

Box-folder 57:15

Feeding the dogs

Box-folder 57:16

Fishing Schooner/Schooner Sailing home

Box-folder 57:16

Georgiana Davis and Mother February 1, 1916

Box-folder 57:18

Greek Orthodox Church of Olyphant, PA

Box-folder 57:20

The Henry Ford Trade School

Box-folder 57:21

In The Factory

Box-folder 57:22

Irrigation Ditch being completed-Turkestan

Box-folder 57:23

Junior Play Cast

Box-folder 57:24

The Library of the Henry Ford Trade School

Box-folder 57:25

The mode of travel

Box-folder 57:26

Negatives-Transportation

Box-folder 57:27

Negatives-Transportation

Box-folder 57:28

Negatives-Group Scene

Box-folder 57:29

One Family

Box-folder 57:30

Parade of Russian Workers July 4, 1918

Box-folder 57:31

Pittsburgh

Box-folder 57:33

Poster December 31, 1919

Box-folder 57:34

Raid on a Russian Club

Box-folder 57:35

In a Kayak

Box-folder 57:36

Room with Kitchen Sink

Box-folder 57:37

Rudzatale, Peoples Commissar of Transportation

Box-folder 57:38

Russian Home in North Dakota

Box-folder 57:39

The Russian Village

Box-folder 57:40

Peasant girls in Moscow

Box-folder 57:41

Russian Soldiers July 1919

Box-folder 57:42

Russian Soldiers

Box-folder 57:43

Member's of the Soviet

Box-folder 57:44

Russian boys mining coal

Box-folder 57:45

Russian home card party

Box-folder 57:46

Russian wife in peasent dress

Box-folder 57:47

Spruce Alley steel plant

Box-folder 57:47

Students at work

Box-folder 57:49

The tenements of Spruce Alley

Box-folder 57:50

Their only snow slide

Box-folder 57:51

Two tenements of Spruce Alley

Box-folder 57:52

Ukranian Village-Drieprostray

Box-folder 57:53

Unidentified Male

Box-folder 57:54

Unidentified Female

Box-folder 57:55

Unidentified Female

Box-folder 57:56

Unidentified Female

Box-folder 57:57

Unidentified Family

Box-folder 57:58

Union of Russian Citizens

Box-folder 57:59

Volkhov hydro-electric station

Box-folder 57:60

Workers two and three family homes

Box-folder 57:61

Y.M.C.A. Club May 1918

Box-folder 67:62

Pioneer Camp, Moscow

Box-folder 57:63

Painting

Box-folder 57:64

Street Sweeper, Moscow

Box-folder 57:65

Union, Russia