A Collection in
Special Collections and Archives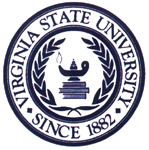 Johnston Memorial Library, Virginia State University
Special Collections and Archives
Johnston Memorial Library
P.O. Box 9406
Virginia State University
Petersburg, Virginia 23806
USA
Phone: (804) 524-5749
Fax: (804) 524-6959
Email:
ledwards@vsu.edu
URL:
http://www.vsu.edu/library/index.htm
© 2002 By the Board of Visitors of Virginia State University.
Funding: Funded in part by a grant from the National Endowment for the Humanities.
Processed by: Lucious Edwards, Jr.
Repository
Special Collections and Archives, Johnston Memorial Library, Virginia State University
Collection number
1951
Title
Ettrick Mill Cemetery Papers 1951
Physical Characteristics
1 item.
Collector
Ettrick Mill Cemetery.
Language
English
Abstract
Plat map and a short history of this cemetery established by one the the cotton mills which operated in Ettrick during the antebellum. Forty-seven soldiers are buried there, forty-six of which are confederate. Acc #1982-47
---
Access
There are no restrictions.
Use Restrictions
There are no restrictions.
Preferred Citation
Ettrick Mill Cemetery Papers, 1982-47, Special Collections and Archives, Johnston Memorial Library, Virginia State University, Petersburg, VA.
Acquisition Information
A gift from Sadie Bowman's son,James R. Bowman.
---
The Ettrick Mill Cemetery began in the 1800's when the Hartley Company designated an area as a burial ground for their workers. Many of their employees were from North Carolina and various places in Virginia, Which made it difficult to ship their bodies home after they died. The cotton mill owned the property but the cemetery was operated as a public cemetery,however, cotton mill workers recieved burials there free of charge.
After the factory closed, the cemetery was not maintained well. Mrs. Sadie Archer Bowman became interested in restoring the cemetery in conjunction with her work with the Home Demonstration Club. In 1949 Virginia State University acquired several acres of the plat which did not contain graves. The money from that was turned over to Mrs. Bowman and was used to restore the cemetery.
In addition to the mill workers Forty-five confederate veterans and one Union soldier are buried in the cemetery. On October 17, 1951, the Chesterfield Chapter of The United Daughters of The Confederacy dedicated a marker in memory of the confederate soldiers.
An excellent plat map of the Ettrick Mill Cemetery. The plat contains names and locations of people buried there.
Series I: Ettrick Mill Cemetery
Box-folder 1:1

A plat map of Ettrcik Mill Cemetery