A Collection in
Special Collections and Archives
Collection Number 1976-79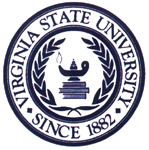 Johnston Memorial Library, Virginia State University
Special Collections and Archives
Johnston Memorial Library
P.O. Box 9406
Virginia State University
Petersburg, Virginia 23806
USA
Phone: (804) 524-5749
Fax: (804) 524-6959
Email:
ledwards@vsu.edu
URL:
http://www.vsu.edu/library/index.htm
© 2002 By the Board of Visitors of Virginia State University.
Funding: Funded in part by a grant from the National Endowment for the Humanities.
Processed by: Lucious Edwards Jr. Special Collections and Archives Staff
Repository
Special Collections and Archives, Johnston Memorial Library, Virginia State University
Accession Number
1976-79
Discriptive Summary
1000 items
Language
English
Abstract
---
Access
There are no restrictions.
Use Restrictions
There are no restrictions.
Preferred Citation
The Delta Omega Chapter of

Alpha 


Kappa 


Alpha 

Sorority Inc., Accession #1976-79 , Special Collections and Archives, Johnston Memorial Library, Virginia State University, Petersburg, VA.
---
The

Alpha 


Kappa 


Alpha 

Sorority was formed at Howard University in 1908. The original nine members were Ethel Hedgeman Lyle, Marjorie Hill, Peselah Lillie Burke, Margaret Flagg Holmes, Lavinia Norman, Marie Woolfolk Taylor, Lucy Slowe and Anna E. Brown. From this group Ms. Lucy Slowe was selected as the first Basileus.
The Delta Omega Chapter was the first to be formed in the South Atlantic Region, and also the fourth graduate chapter established on the campus of Virginia State College. Soror Nellie Quander, the deputy Organizer for the East, set up this chapter. This Chapter was organized February 6, 1921. The chapter members were Louise Stokes (Hunter), Pauline Simms (Puryear), Mae Hatchett (Seabrooks), Ester Tate, and Edna Colson. All of these Sorors except Sorors Tate and Colson had been members of the

Alpha 

Chapter at Howard University. (The History of The South Atlantic Region of

Alpha 


Kappa 


Alpha 

written by committee of history of the Southern Atlantic Region, chairman Clarissa K. Dillard appointed 1948)
The records of the Delta Omega Chapter of

Alpha 


Kappa 


Alpha 

span the year 1921 through 1988. This includes correspondence and reports as well as issues of the Ivy Leaf.
These papers reflect how this chapter was organized and how they sought to carry out the mission of the Sorority. Issues such as sisterhood, empowerment and service not only to the campus but to the community as well.
Additional materials about Delta Omega may be found in the Colson/ Hill Family Papers, accession number 1965-13, boxes 57, 57a, 57b, in addition, the Alice and Henry Colson Jackson Papers Accession # 195-13a and in the records of the Petersburg Epicureans, unarranged.
Series I. Chapter Records Some idea of how the chapter operated and how it was structured. The minute book for 1939-1941 also contains information regarding committees and chapter projects. Included in this series are membership roster, transfer and initiation. It also contains minutes and reports about issues and projects at the Regional and National level.
Series II. Chapter Projects Because

Alpha 


Kappa 


Alpha 

is a service oriented organization they are committed to trying to improved not only the leadership skills of other women who are members, but also to the community. This series documents of some of those activities.
Series III. Printed Programs, Handbooks, minutes of some of the A. K. A. Boule, Songs and Ivy Leaf magazines.
Series IV. Photographs Several photo's of members of Delta Omega and debutantes for the year 1951.
Series I: Chapter Records
Minute Book 1939-1941

Box-folder 1:1

Constitution and By Laws 1945,1956

Box-folder 1:2

Position Bond 1954-1957

Box-folder 1:3

Budgets 1955-1957

Box-folder 1:4

Epistoleus Reports 1954,1957

Box-folder 1:5

Membership Roster No Date

Box-folder 1:6

Initiations 1957

Box-folder 1:7

Transfers 1951-1957

Box-folder 1:8

Basilei and Graduate Transfers 1964

Box-folder 1:9

A Brief History of A.K.A No Date

Box-folder 1:10

Minutes-Regional Conference 1955-1956

Box-folder 1:11

Minutes-First Basilei Conference 1954

Box-folder 1:12

Minutes-Ninth Basilei Conference 1962

Box-folder 1:13

Report- Regional Director 1956

Box-folder 1:14

Committee 1955-1957

Box-folder 1:15

Committee,Assignments 1959-1960

Box-folder 1:16

Comittee-Awards 1948-1950

Box-folder 1:17

Committee-Bazaar No Date

Box-folder 1:18

Committe-Conference 1964

Box-folder 1:19

Committee-Community Service 1955

Box-folder 1:20

Committee-Hospitality 1960

Box-folder 1:21

Committee-Founders Day 160, 1966

Box-folder 1:22

Committee-National Projects No Date

Box-folder 1:23

Committee-Program

Box-folder 1:24

The A.K.A Patroness Group 1946,1950

Box-folder 1:25

Chapter Records

Box-folder 1:26

Correspondence, Corey B. Preston 1956

Box-folder 1:27

Correspondence, National Office 1954-1957

Box-folder 1:28

Correspondance, General 1921-1938

Box-folder 1:29

Correspondance, General 1950,1955

Box-folder 1:30

Correspondance, General 1956

Box-folder 1:31

Meeting Notices 1957,1968

Box-folder 1:32

Thank You Notes 1955-1960
Series II: Chapter Projects
Box-folder 2:33

National Project, Vocational Guidance 1926

Box-folder 2:34

National Project, Vocational Guidance

Box-folder 3:35

Correspondance, Leadership Conference 1964

Box-folder 2:36

Correspondence, Leadershp Conference 1964

Box-folder 2:37

Second Leadership Conference (Delegates) 1964

Box-folder 2:38

Second Leadership Conference (Delegates) 1964

Box-folder 2:39

Second Leadership Conference (Delegates) 1964

Box-folder 2:40

Second Leadership Conference (Delegates) 1964

Box-folder 2:41

Second Leadership Conference (Program) 1964

Box-folder 2:42

Second Leadership Conference (Reports) 1964

Box-folder 2:43

Debutantes 1954

Box-folder 2:44

Debutantes 1954

Box-folder 2:46

Debutantes Ball, account 1954
Box-folder 2:47

Program- Unveiling Ceremonies 1967

Box-folder 2:48

Program, Guides 1956

Box-folder 2:49

Songs No Date

Box-folder 2:50

Ceremony, Founders Day

Box-folder 2:51

Award National Projects Fund 1956

Box-folder 2:52

Newsletter, Regional 1955

Box-folder 2:53

Newsletter, Delta Omega 1958-1959

Box-folder 2:54

Newsletter, Ivy Leaf 1958-1959

Box-folder 2:55

News-Clippings No Date
National Meeting No Date

Members No Date

Brown, Naomi 1951- Debutantes Ball

Butler, Delors 1951-Debutantes Ball

Chapman, Edna 1951-Debutantes Ball

Douglas,Delores 1951-Debutantes Ball

Jones, Gean 1951-Debutantes Ball

Morton, Jean 1951-Debutantes Ball

Reese, Dorothy 1951-Debutantes Ball

Saunders, Carinne 1951-Debutantes Ball

Debutantes Ball 1954

Debutantes Ball 1954

Debutantes Ball ca 1960's

Debutantes Ball No Date

Debutantes Ball No Date

Box 4

Printed, Programs, minutes of some

Alpha

 

Kappa

 

Alpha

 

and Ivy Leaf Magazines for (1940,1943-1945). In addition there are copies of the A.K.A Yearbooks, 1952, 1980, and a history of the South Atlantic Region of

Alpha

 

Kappa

 

Alpha

Ivy Leaf Magazine,Volume 18-June 1940 (AKA Papers)

Ivy Leaf Magazine, Volume 19-March 1941, June 1941, December 1941

Ivy Leaf Magazine,Volume 20-March 1942, June 1942, September 1942

Ivy Leaf Magazine,Volume 21-March 1943, June 1943 (AKA Papers), September 1943, December 1943

Ivy Leaf Magazine,Volume 22-March 1944, June 1944 (AKA Papers), September 1944, December 1944

Ivy Leaf Magazine,Volume 23-March 1945 (AKA Papers), June 1945, September 1945, December 1945

Ivy Leaf Magazine,Volume 23-March 1946, June 1946

Ivy Leaf Magazine,Volume 25-June 1947, September 1947

Ivy Leaf Magazine,Volume 26-Missing

Ivy Leaf Magazine,Volume 27-June 1949, September 1949, December 1949

Ivy Leaf Magazine,Volume 28-March 1950, June 1950, December 1950

Ivy Leaf Magazine,Volume 29-June 1951

Ivy Leaf Magazine,Volume 30-March 1952, June 1952, September-December1952

Ivy Leaf Magazine,Volume 31-March 1953, June 1953, September 1953, Decmber 1953

Ivy Leaf Magazine,Volume 32-March 1954, June 1954, September 1954, December 1954

Ivy Leaf Magazine,Volume 33-March 1955, September 1955, December 1955

Ivy Leaf Magazine,Volume 34-March 1956, June 1956, September 1956, December 1956

Ivy Leaf Magazine,Volume 35-March 1957, June 1957, September 1957, December 1957

Ivy Leaf Magazine,Volume 36-March 1958, June 1958, September 1958

Ivy Leaf Magazine,Volume 37-March 1959, June 1959, October 1959, December 1959

Ivy Leaf Magazine,Volume 38-March 1960, June 1960, September 1960

Ivy Leaf Magazine,Volume 39-February 1961, April 1961, December 1961, March 1962, June 1962, September 1962

Ivy Leaf Magazine,Volume 40-March 1963, June 1963, September 1963, December 1963, March 1964, June 1964, September 1964, November 1964, February-March 1965, June 1965

Ivy Leaf Magazine,Volume 41-Decmber 1965, September 1965, December 1967

Ivy Leaf Magazine,Volume 42-February-March 1966, June-July 1966, December 1966

Ivy Leaf Magazine,Volume 43-February 1967, May 1967, September 1967, November 1967

Ivy Leaf Magazine,Volume 44-February 1968, May-June 1968, September-October 1968, November-December 1968

Ivy Leaf Magazine,Volume 45-March 1969, May-June 1969, September-October 1969, November-December 1969

Ivy Leaf Magazine,Volume 46-Spring 1970, Summer 1970, Fall 1970, Winter 1970

Ivy Leaf Magazine,Volume 47-March 1971, May 1971, September 1971, November 1971

Ivy Leaf Magazine,Volume 48-February 1973, May 1972, Fall 1972, Winter 1972

Ivy Leaf Magazine,Volume 49-Fall 1973

Ivy Leaf Magazine,Volume 50-Spring 1974, Summer 1974, Fall 1974, Winter 1974

Ivy Leaf Magazine,Volume 51-Summer 1975, Fall 1975, Winter 1975

Ivy Leaf Magazine,Volume 52-Spring 1976

Ivy Leaf Magazine,Volume 53-Summer 1976

Ivy Leaf Magazine,Volume 54-1977

Ivy Leaf Magazine,Volume 55-(In Alice Jackson Papers) Summer 1978

Ivy Leaf Magazine,Volume 56-Winter 1979

Ivy Leaf Magazine,Volume 57-Summer 1980, Fall 1980, Winter 1980

Ivy Leaf Magazine,Volume 58-Spring 1981, Summer (In A.J Papers), Fall (In A.J Papers), Fall, Winter (In A.J Papers)

Ivy Leaf Magazine,Volume 59-Spring 1982, Summer 1982, Fall 1982, Winter 1982

Ivy Leaf Magazine,Volume 60-Spring 1983, Fall 1983, Winter 1983

Ivy Leaf Magazine,Volume 61-Spring 1984, Summer 1984, Winter 1984

Ivy Leaf Magazine,Volume 62-Summer 1985, Fall-Winter 1985, Winter 1985

Ivy Leaf Magazine,Volume 63-Spring 1986, Summer 1986

Ivy Leaf Magazine,Volume 64-Spring 1987, Summer 1987

Ivy Leaf Magazine,Volume 65-Spring 1988