A Collection in the
Supreme Court of Virginia Archives, Virginia State Law Library
Accession Number 00031899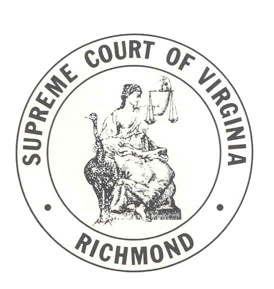 Repository
Supreme Court of Virginia Archives, Virginia State Law Library
Accession Number
00031899
Title
Supreme Court of Virginia Photographs, 1981-2000, circa; 2004 1981-2000, circa; 2004
Physical Characteristics
21 photographs (11 x 14) and 1 leaf
Creator
Virginia. Supreme Court.
Location
Language
English
Abstract
---
Access Restrictions
Access to photographs of current members of the court may be restricted.
Use Restrictions
Because the library is not open to the general public, researchers should contact the library to arrange access to the collection.
Preferred Citation
Supreme Court of Virginia Photographs, 1981-2000, circa; 2004, Accession #00031899, Supreme Court of Virginia Archives, Virginia State Law Library, Richmond, Va.
Acquisition Information
Transferred from the chambers of Justice Harry L. Carrico, 2013 Apr. 17, accession 00031899.
---
The Supreme Court of Appeals of Virginia was created by an act of the new General Assembly in 1779. By Constitutional amendment in 1928, the number of justices was increased from five to seven and the title of the presiding officer of the Court was changed from President to Chief Justice. At the same time, the amendment significantly increased the power given the Supreme Court by permitting the Court to prescribe forms and to regulate the practice of Virginia's courts. The Constitution of 1971 changed the name of the Court to its present title of Supreme Court of Virginia.
Photographs of the justices, 1981-2000, circa. Twenty black-and-white photographs and one color photograph (11x14). Most are formal group portraits of the justices on the bench. The collection also contains two photographs of the justices in the judicial conference room, circa 1986; and three candid photographs of the robed justices standing together, by David Bremer Photography, 1987 or 1988. Also includes one photograph, undated, of a group of equestrians who appear to be preparing for a fox hunt, with mountains in the distance. Some of the photographs are identified as the work of photographers David Bremer and Bob Brown.
The collection also contains a certificate of recognition commemorating Governor John Warner's recognition of John Marshall Day, 2004 Sep. 24.
The collection contains photographs of the following justices: Harry L. Carrico, George M. Cochran, A. Christian Compton, Albertis S. Harrison, Leroy R. Hassell, Lawrence W. I'Anson, Barbara M. Keenan, Cynthia F. Kinser, Lawrence L. Koontz, Elizabeth B. Lacy, Donald W. Lemons, Richard H. Poff, Charles S. Russell, Roscoe B. Stephenson, John Charles Thomas, W. Carrington Thompson, and Henry H. Whiting, as well as Robert N. Baldwin, Executive Secretary; Allen Lucy, Clerk; and David Beach, Clerk.