A Collection in
Special Collections
The University of Virginia Library
Accession Number 14641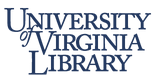 Special Collections, University of Virginia Library
Contact Information:
Albert and Shirley Small Special Collections Library
P.O. Box 400110
University of Virginia
Charlottesville, Virginia 22904-4110
USA
Phone: (434) 243-1776
Fax: (434) 924-4968
Contact information
Reference Request Form
URL:
http://www.lib.virginia.edu/small
Processed by: Special Collections Staff
© 2009 By the Rector and Visitors of the University of Virginia. All rights reserved.
Repository
Special Collections, University of Virginia Library
Accession Number
14641
Title
Beach Hill Letters to Stephen Barlow 1803-1805
Physical Characteristics
Language
English
---
Access Restrictions
There are no restrictions.
Use Restrictions
There are no restrictions.
Preferred Citation
Beach Hill Letters to Stephen Barlow, Accession #14641, Special Collections, University of Virginia Library, Charlottesville, Va.
Acquisition Information
The collection was purchased from Charles Apfelbaum on May 1, 2009.
---
This collection consists of 4 letters of Beach Hill to Stephen Barlow. Hill describes his life since he left Connecticut, his decision to go to sea, current work on a James River and Chesapeake Bay shipping vessel, the "indolent" lives of the lower classes in Virginia, the control of Virginia mercantile business by foreigners, political frenzy at election time, and inferiority of Virginia lawyers. He enquires after his friend and the fate of the Federalist party. The small pox epidemic in Savannah and the mob scene at election time there are brief topics.
---
The letters are arranged chronologically.
---
Beach Hill, Richmond, [Virginia], to Stephen Barlow 1802 March 23
8pp. sewn together
Remains ignorant of all that has passed in Connecticut since he left, describes his feelings when they parted in New York, his subsequent decision to go to sea on a Virginia vessel out of Philadelphia, his new career as a seaman, currently in charge of a [crafting?] vessel whose owner lives on the banks of the James River and with whom he stays when not on the vessel. He then goes on in detail about the inferior habits and customs of both the high and low classes of Virginia, sharing his observations about the latter Virginians, "But the lower classes of both sexes are mere objects of pity, they are taught nothing, they possess nothing, they have seen nothing, they know nothing and they aspire to nothing--too indolent to labor and too [stupid?] to live without it. They live in mere huts and will content themselves to feed upon Indian cake and [dried?] herring." He also states that all the mercantile business in Virginia is run by foreigners. Hill then reflects back pleasurably on his days at the Weston Academy, [Fairfield County, Connecticut?], and all his childhood friends.
Beach Hill, Manchester, to Stephen Barlow, Fairfield, Connecticut. 1803 January 16
6 pp. on 2 l.
Celebrates his good fortune at renewing their friendship; asks if Barlow has married, sharing his own lack of success; he has spent the past winter sailing only upon this river [the James?] and the Chesapeake; asks how Federalism is faring at home, stating that the people in Virginia are in a political frenzy; and attends the courts in Virginia whose practice is more formal than the [North's?] but whose lawyers are (of course!) generally inferior.
Beach Hill, Richmond, Virginia, to Stephen Barlow, Fairfield, Connecticut. [1805?] July 4
3 pp. on 1 l.
Expresses his enjoyment of his visit with Barlow, which he hopes to repeat; declares that he never intended to be away for three years when he left New York; and begs Barlow to write often.
Beach Hill, Savannah, to Stephen Barlow, Saugatuck, Connecticut. 1805 October 6
3 pp. on 1 l.
Writes about the [smallpox] calamity that has struck Savannah, with many of the citizens dead or dying; mentions the beautiful geographic situation of the town; and describes the election of representatives for the General Assembly, "it was more like a mob than a meeting for election; the fortunate candidates were no sooner announced than they were hoisted upon men's shoulder and with a sound of music and huzzas that echoed through the town, carried them to their respective houses where they gave a plenteous entertainment of wine and brandy."