A Collection in
Special Collections
The University of Virginia Library
Accession Number 5096-a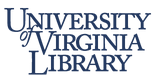 Special Collections, University of Virginia Library
Albert and Shirley Small Special Collections Library
University of Virginia
Charlottesville, Virginia 22904-4110
USA
Phone: (434) 243-1776
Fax: (434) 924-4968
Reference Request Form:
https://small.lib.virginia.edu/reference-request/
URL:
http://small.library.virginia.edu/
© 2008 By the Rector and Visitors of the University of Virginia. All rights reserved.
Processed by: Special Collections Staff
Repository
Special Collections, University of Virginia Library
Accession Number
5096-a
Title
Papers of the Trist, Burke, and Randolph Families 1832-1886, n.d.
Physical Characteristics
Language
English
---
Access Restrictions
There are no restrictions.
Use Restrictions
See the University of Virginia Library's use policy.
Preferred Citation
Papers of the Trist, Burke, and Randolph Families, Accession #5096-a, Special Collections, University of Virginia Library, Charlottesville, Va.
Acquisition Information
This collection was deposited in the Library by the Thomas Jefferson Memorial Foundation, 1955 June 27.
---
Nicholas P. Trist: American diplomat, b. Charlottesville, Va. Trist attended West Point, studied law under Thomas Jefferson, whose granddaughter he married, and was private secretary to Andrew Jackson. He served as U.S. consul (1833-1841) in Havana, Cuba, and was chief clerk of the Dept. of State when he was sent (1847) to Mexico as a special agent to conduct negotiations to end the Mexican War. A short armistice was reached after the battles of Contreras and Churubusco (August, 1847), but negotiations were unsuccessful and war was resumed. President Polk had Trist recalled. Trist had reopened negotiations before his recall arrived and decided to ignore the order. He succeeded in negotiating the Treaty of Guadalupe Hidalgo. Polk supported the treaty but declared Trist in disgrace. Trist did not recover his unpaid salary and expenses until 1871.
Chiefly the correspondence (drafts) and notes of Nicholas P. Trist relating to his activities in the peace negotiations with Mexico, 1847-1848, and to his controversy with Generals Scott and Pillow. Persons mentioned and correspondents include James Buchanan, Caleb Cushing, James L. Freaner, Henry W. Hilliard, Commodore M.C. Perry, Major General Gideon Johnson Pillow, Major General Winfield Scott, and R.C. Winthrop. Map of northern Mexico with annotations and signed by R.E. Lee.
The remaining portion of the collection pertains to the Trist and related families and includes the correspondence of Martha Jefferson Trist Burke, J.W. Burke, Ellen Wayles Randolph Coolidge, Sydney Coolidge, E. H. Janne, Lewis Carter Randolph, Mary Jefferson Randolph, Mary Page Randolph, and Virginia Jefferson Trist.
The collection is arranged in four series. Series I: Correspondence of Nicholas P. Trist; Series II: Documents of Nicholas P. Trist Relating to the Mexican War; Series III: Correspondence of the Trist, Burke and Randolph Families; and, Series IV: Miscellaneous Documents. The series are arranged chronologically.
Series I: Correspondence of Nicholas P. Trist
Series II: Documents of Nicholas P. Trist Relating to the Mexican War
Series III: Correspondence of the Trist, Burke and Randolph Families
Series IV: Miscellaneous Documents