A Collection in
Special Collections
The University of Virginia Library
Accession Number 5533-f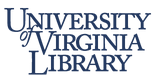 Special Collections, University of Virginia Library
Albert and Shirley Small Special Collections Library
University of Virginia
Charlottesville, Virginia 22904-4110
USA
Phone: (434) 243-1776
Fax: (434) 924-4968
Reference Request Form:
https://small.lib.virginia.edu/reference-request/
URL:
http://small.library.virginia.edu/
© 2005 By the Rector and Visitors of the University of Virginia. All rights reserved.
Processed by: Special Collections Staff
Repository
Special Collections, University of Virginia Library
Accession number
5533-f
Title
Additional Papers of the Randolph Family of Edgehill 1813-1834
Physical Characteristics
This collection contains six letters.
Language
English
---
Access Restrictions
There are no restrictions.
Use Restrictions
See the University of Virginia Library's use policy.
Preferred Citationssion #[ ], Special Collections, University of Virginia Library, Charlottesville, Va.
Additional Papers of the Randolph Family of Edgehill, Accession #5533-f, Spcial Collections, University of Virginia Library, Charlottesville, Va.
Acquisition Information
This collection was given to the Special Collections Department, University of Virginia Library by Patricia A. Taylor,7200 3rd Avenue, Apt. C. Sykesville, Maryland 21784 on August 12, 2005.
---
Patsy Jefferson Randolph (1817-1857) was the second child of Thomas Jefferson Randolph and Jane Hollins Nicholas Randolph. She was born at Tufton in Albemarle County,Virginia. Her grandparents were Martha Jefferson Randolph (daughter of Thomas Jefferson, 3rd President of the United States) and Thomas Mann Randolph. Her siblings were Margaret Smith Randolph (1816-1842); Caryanne Nicholas Randolph Ruffin (1820-1859); Mary Buchanan Randolph (1822-1884); Ellen Wayles Randolph Harrison (1823-1896); Maria Jefferson Carr Randolph Mason (1826-1902); Caroline (Carry) Ramsey Randolph (1828-1902); Thomas Jefferson Randolph (1829-1872); Jane Nicholas Randolph Kean (1831-1868); Wilson Cary Nicholas Randolph (Wicks) (1834-1907); Meriwether Lewis Randolph (1837-1871); Sarah Randolph (1839-1892).
Patsy married John Charles Randolph Taylor in 1834. He was the son of Susan Beverley Randolph and Bennett Taylor and grandson of Edmund Randolph,( Governor of Virginia 1786-1788; Attorney General of the United States 1789-1794; Secretary of State 1794-1795) and Elisabeth Carter. Edmund Randolph had three other children after Susan Beverley Randolph: They were Edmonia Madison Randolph Preston (1787-1847), Peyton Randolph (1828-?) and Lucy Nelson Randolph Daniel (1788-1847).
This collection contains six letters from Patsy Jefferson Randolph Taylor to her father Thomas Jefferson Randolph (1833-1834; n.d.); one letter (n.d.) from Edmund Randolph (1753-1813) of Clarke County to his daughter Susan Beverley Randolph Taylor and a land deed between William Fenwick and Edmund Randolph on July 5, 1813.
Four of the letters from Patsy Jefferson Randolph Taylor to her father are dated between 1833 and 1834 when she was age sixteen. The fifth and sixth letters have no year dated on them. The first letter dated January 20, 1833 relates to some excellent advice that her father gave her about taking care of the minutes and letting the hours take care of themselves. She mentioned a visit she and her sister [Margaret Smith Randolph?] had with cousin John Bankhead's wife. She also referred to correspondence with her grandmother Martha Jefferson Randolph and Aunt Ellen Coolidge. She also wrote that Charlotte Tailor was well enough to visit but Dr. Robley Dunglison advised her not to come because the girls [Patsy's sisters] might have scarlet fever instead of measles. She also wrote about her Uncle Ben (Dr. Benjamin Franklin Randolph 1808-1871, brother of Thomas Jefferson Randolph).
The second letter written on February 12, 1833 mentioned the health of her brothers and sisters: "This is the first time this winter, I believe that we have been able to say 'we are all well'. She also wrote that "we are all coming on tolerably with our lessons now". There is also a reference to Uncle Ben's son Lewis who had a very dangerous burn. Lastly, she mentioned that she hopes her father will send them a portrait that he promised them, as well as some bulbs and seed for the garden.
The third letter written on December 16, 1833 is mostly about her sister [Mary Buchanan?] being very unwell and unable to have any lights on. She wrote that Dr. Robley Dunglison thinks that she is getting better and can now leave the darkened room and be guided around the house as long as the shutters are closed.
The fourth letter written on October 14, 1834 begins with a concern that her father will follow her mother's prediction of not answering their letters. Patsy also wrote that her grandmother and Aunt Margaret were visiting them and that this would lift her mother's spirits. Her mother was very down because some of the young slaves were sold, thus separating them from their own mother by a long distance. She wrote that the overseer, Mr. Wheat, kept the slaves in very good order without being too severe. She also relayed that a letter from her father to Mr. Dickerson had successful results when he responded that he would be happy to aid the son of his old friend William Randolph [possibly by removing Uncle George Wythe Randolph? to the Constitution?]. She added that her Uncle Meriwether Lewis Randolph was well received by the President but there were no further details.
The fifth letter written on January 8th, n.y. described her mother's bad spirits due to the children being sick: Maria Jefferson Carr Randolph was quite unwell from eating wet walnuts, Thomas Jefferson Randolph was also unwell; Mary Buchanan Randolph and Ellen Wayles Randolph had the measles although they were able to go to school; Carry (Caroline Ramsay Randolph) had the measles but it turned out to be a false report; Mary Buchanan Randolph had a terrible sty which they were very concerned about (including Dr. Robley Dunglison and Dr. Benjamin Franklin Randolph- Uncle Ben) but it fully recovered. She also mentioned the recovery of Charlotte Tailor; made a reference to cousin Elizabeth Preston and scarlet fever gaining in Lexington; told of the marriage of Uncle John to Esther; (Patsy questioned if she is solid enough for him); she also wrote about Cousin Jane Margaret having a bad cold. There was also a reference from cousin Jane Margaret that she had not forgotten Thomas Jefferson Randolph's injunction about "the west". There was an effort made to go west but it failed. Uncle Smith said that he could not leave his parents ; Uncle Dabney was willing to buy the land and settle it; Grandma [Martha Jefferson Randolph?] offered to stay with Aunt Polly and Aunt Sarah. Cousin John and cousin Wilson nearly persuaded Uncle John to go with them, however Mr. Buchanan would not hear of them going west.
The sixth letter n.y. describes the general health and comings and goings of their friends and family; Patsy's mother (Jane Hollins Nicholas Randolph) had a bad cold; Uncle Ben set out for Halifax; Aunt Margaret went up to Charlottesville to care for Mrs. Mason; Mr. Bibb and Mr. Richard Watson came down to make arrangements for the servant (hiring of "Betty"); Mr. Howard built a hen-house; Patsy asked her father for a barrel of Irish potatoes and cauliflower seed for her mother. Patsy also asked her father what he thought about their teacher, Miss Lewis, leaving them.
This collection also contains a letter from Edmund Randolph, Secretary of the United States (grandfather of Patsy Jefferson Randolph Taylor's husband, John Charles Randolph Taylor) to his daughter Susan Beverley Taylor. He wrote that during this session of the General Assembly he had seen such a "vanity of intrigue" that he looked forward to spending time among his children. He wrote that he was the most affected by what he foresaw as a consequence from having been part of the Council.
He also wrote about his concern for the political future of his son-in-laws, Tom Preston (husband of his daughter, Edmonia Madison Randolph) and Peter Daniel (husband of his daughter Lucy Nelson Randolph). In his description of the political situation of his son-in-law he made references to Peter Johnston and General James Breckenridge. Randolph also mentions to his daughter that Mrs. Brockenbrough was immersed in religion and was receiving books of spiritual assistance from him.
There is also a signed deed between Edmund Randolph and William Fenwick conveying to Fenwick two certain lots of land in the town of Manchester on the 5th day of July 1813.
This collection is arranged alphabetically by topic and chronologically within each folder.
---
Box-folder 1:1
Deed of Land between Edmund Randolph and William Fenwick 1813 July 5
Box-folder 1:2
Letter from Edmund Randolph to his daughter Susan Beverley Taylor n.d.
Box-folder 1:3
Letters from Patsy Jefferson Randolph Taylor 1833-1834
Box-folder 1:4
Letters from Patsy Jefferson Randolph Taylor to her father Thomas Jefferson Randolph n.d.