A Collection in
Special Collections
The University of Virginia Library
Accession Number 10031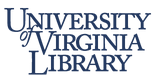 Special Collections, University of Virginia Library
Albert and Shirley Small Special Collections Library
University of Virginia
Charlottesville, Virginia 22904-4110
USA
Phone: (434) 243-1776
Fax: (434) 924-4968
Reference Request Form:
https://small.lib.virginia.edu/reference-request/
URL:
http://small.library.virginia.edu/
© 2005 By the Rector and Visitors of the University of Virginia. All rights reserved.
Processed by: Special Collections Staff
Repository
Special Collections, University of Virginia Library
Accession number
10031
Title
Papers of Benjamin Muse 1934-1966
Physical Characteristics
Ca. 975 items in 3 boxes and 1 reel of microfilm.
Language
English
---
Access Restrictions
There are no restrictions.
Use Restrictions
See the University of Virginia Library's use policy.
Preferred Citation
Papers of Benjamin Muse, Accession #10031, Special Collections, University of Virginia Library, Charlottesville, Va.
Acquisition Information
Mr. Muse gave his papers to the Library on December 13, 1974.
---
Benjamin Muse was born in 1898 in Durham, North Carolina. After attending Trinity College (now Duke University) from 1914-1916, he enlisted in the British Army during World War I and was captured by the Germans. Out of his experiences as a prisoner of war, he would later write his book on WWI, Tarheel Tommy Atkins (1963). Following a year of graduate study at George Washington University in 1919, he began his career of public service with the United States Stae Department, 1920-1934. In 1925 he married Beatriz de Regil. During this time, Mr. Muse served as Counselor of the U.S. Delegation to the Seventh International Conference of American States, better known as the Montevideo Conference of 1933. In 1936, having been elected to the Virginia State Senate as a Democrat from the Eight District, he "bolted" from the party in opposition to the ideology of the New Deal. In 1941 he ran as the Republican candidate for governor and lost to the "Byrd Machine" candidate, Colgate Darden.
His contributions as a moderate voice in a period of heated discussions over integration, compliance with the Supreme Court order of 1954 and other political issues include being editor of the Manassas Messenger, Director of the Southern Leadership Project of the Southern Regional Council (1959-1964), member of the President's Committee on Equal Opportunity in the Armed Forces (1962-1964), and the "Virginia Affairs" columnist for the Washington Post (1949-1959). He retired from the U.S. Army, General Staff Corps as a Lieutenant Colonel in 1944 and was known by his friends as "The Colonel." In the decade of the 1960s, Mr. Muse wrote four books: Virginia's Massive Resistance (1961); Tarheel Tommy Atkins (1963); Ten Years of Prelude (1964) and The American Negro Revolution (1968).
The Papers of Benjamin Muse, 1934-1966, consist of ca. 975 items, chiefly his professional correspondence. Mr. Muse's outline and opening chapters for his projected book on the evaluation of a Southerner's attitude toward the Negro, his speeches, editorials (in six scrapbooks), notes on desegregation in Virginia, and his collection of newspaper clippings on Virginia politics comprise the remainder of the collection.
The letters are generally concerned with two political issues: old age pension or social security in the mid 1930s, and the policy in Virginia of "Massive Resistance" to the integration of public schools in the 1950s. Mr. Muse corresponded with prominent Virginians, including Harry F. Byrd, George Peery, James Price, Colgate Darden, and John S. Battle, as well as leaders of communities, his colleagues in the Virginia State Senate, and his constituents. One box contains letters written in response to his Washington Post column, "Virginia Affairs," 1949-1959. There are two folders of letters concerned with his "bolt" from the Democratic Party in 1936 when he felt that he could no longer support Roosevelt's New Deal. The correspondence would interest a student of the period of Virginia history when the Byrd Machine was in power and the public schools were desegregated. The collection does not include the manuscripts for Mr. Muse's four books.
When the collection arrived at the Library, the correspondence was roughly divided into four categories which have been retained:
1. Correspondence of Benjamin Muse re: Political Issues, 1935-1965, arranged alphabetically by correspondent. 2. Correspondence re: the
Washington Post
column "Virginia Affairs," 1949-1959, arranged chronologically. 3. Correspondence and Papers re: Old Age Pension and Social Security Legislation, 1934-1936, arranged chronologically. 4. Correspondence re: Muse's "bolt" from the Democratic Party, 1936, arranged chronologically.
The remaining seven folders of speeches and newspaper clippings are arranged chronologically. Besides the three boxes, there are seven scrapbooks, which are on microfilm, and one copy of Tarheel Tommy Atkins, which was transferred to Rare Books.
Series I: Correspondence of Benjamin Muse re: Political Issues, A-Y 1935-1965
Box: 1
8 folders; ca. 460 items
Series II: Correspondence re: his Washington Post column
Box 2

Correspondence of Benjamin Muse re: his Washington Post column 1949-1959

5 folders; ca. 165 items

Box 2

Correspondence of Benjamin Muse re: his Washington Post column n.d.

ca. 27 items

Box 2

Correspondence of Benjamin Muse re: his article on Integration in the "Black Belt" in Harper's Magazine 1957 March 24-October 9

ca. 25 items
Series III: Correspondence and Papers of Benjamin Muse re: Old Age Pension and Social Security Legislation 1934-1936
Box: 2
ca. 16 items
Series IV: Correspondence of Benjamin Muse re: his "bolt" from the Democratic Party
Box 2

Correspondence re: his "bolt" from the Democratic Party 1936 August 7-September 30

Folder #1; ca. 95 items

Box 3

Correspondence re: his "bolt" from the Democratic Party 1936 October-January 6

Folder #2; ca. 40 items
Box 3

Speeches 1934-1956

26 items;

re: the Montevideo Conference, the New Deal, the G.O.P., the 1941 Gubernatorial Campaign, and desegregation in public schools

Box 3

Newspaper clippings about and articles by Benjamin Muse 1936

6 items

Box 3

Newspaper clippings 1937-1960

ca. 30 items;

re: Segregation in Virginia, the Poll Tax Issue, the Election of Gov. James Price

Box 3

Magazine articles on the "Byrd Machine" 1950, 1952

2 items

Box 3

The Manassas Messenger , editor, Benjamin Muse 1948 November-1949 July

19 items

Box 3

Printed materials re: desegregation in Virginia's schools 1956-1959

4 items

Box 3

Benjamin Muse's notes on James v. Almond case 1956

13 pp. AN.

Box 3

Benjamin Muse Speeches 1956-1966

18 items

re: the "Byrd Machine," Massive Resistance, Ted Dalton, Virginia Politics
Reel Film #2125

The Republican Survey 1939-1940

Reel Film #2125

Scrapbook 1949 Aug. 1-1951 Dec. 30

Reel Film #2125

Scrapbook 1952 Jan. 6-1954 Feb. 7

Reel Film #2125

Scrapbook 1954 Feb. 14-1954 Nov. 7

Reel Film #2125

Scrapbook 1954 Nov. 14-1955 Dec. 4

Reel Film #2125

Scrapbook 1955 Dec. 11-1958 Feb. 2

Reel Film #2125

Scrapbook 1958 Feb. 9-1959 Aug. 9