A Collection in
Special Collections
The University of Virginia Library
Accession Number 5533-e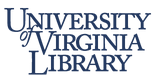 Special Collections, University of Virginia Library
Albert and Shirley Small Special Collections Library
University of Virginia
Charlottesville, Virginia 22904-4110
USA
Phone: (434) 243-1776
Fax: (434) 924-4968
Reference Request Form:
https://small.lib.virginia.edu/reference-request/
URL:
http://small.library.virginia.edu/
© 2005 By the Rector and Visitors of the University of Virginia. All rights reserved.
Processed by: Special Collections Staff
Repository
Special Collections, University of Virginia Library
Accession number
5533-e
Title
Additional Papers of the Randolph Family of Edgehill 1822-1888
Physical Characteristics
This collection consists of 60 items.
Language
English
---
Access Restrictions
There are no restrictions.
Use Restrictions
See the University of Virginia Library's use policy.
Preferred Citation
Additional Papers of the Randolph Family of Edgehill, Accession #5533-e, Special Collections, University of Virginia Library, Charlottesville, Va.
Acquisition Information
This collection was loaned to the Special Collections Department, University of Virginia Library by Stevens M. Moyer, 751 Seneca Parkway, Rochester, New York 14613, on May 13, 2005.
---
Most of the letters are written by the great grandchildren of Thomas Jefferson,namely Patsy Randolph-Taylor to her brothers and sisters and children. Martha Jefferson, daughter of the president, married Governor Thomas Mann Randolph in 1790. They had eleven children that lived to adulthood. They were Anne Cary Randolph-Bankhead, Thomas Jefferson Randolph, James Madison Randolph, Ellen Wayles Randolph-Coolidge, Cornelia Jefferson Randolph, Virginia Jefferson Randolph-Trist, Mary Jefferson Randolph, Benjamin Franklin Randolph, Meriwether Lewis Randolph, Septimia Anne Randolph-Meikleham and George Wythe Randolph.
Patsy (nee Martha) Randolph-Taylor was the daughter of Thomas Jefferson Randolph and Jane Hollins Nicholas Randolph, and great-granddaughter of Thomas Jefferson. She married John Charles Randolph Taylor in 1834 and they had eleven children: Bennett, Jane, Sue, Jeff, Margaret, Charlotte, Stevens, Cornelia, Moncure, Edmund and John Charles. Since the Taylors were very close with all of the Randolph families the letters mention the names of several cousins, such as Isaetta Randolph , daughter of Patsy's uncle Benjamin Franklin Randolph or Ranny for Thomas Mann Meikleham, son of Patsy's aunt Septimia.
Pat also had eight sisters and three brothers. Her sisters were Sarah Nicholas Randolph, Margaret Randolph, Cary Anne Randolph-Ruffin, Maria Jefferson Carr-Mason, Jane Randolph-Kean, Ellen Randolph-Harrison, Mary Randolph, and Carolina (Carry) Randolph. Her brothers were Wilson Cary Nicholas Randolph (Wicks), Thomas Jefferson Randolph Jr., and Meriwether Lewis Randolph. The collection mostly includes these families: Taylor, Bankhead, Coolidge, Trist, Kean, Harrison, Ruffin, Mason, Meikleham, Dickens and Randolph.
The collection contains 60 items (one half of a Hollinger box) less than one linear foot and consists of letters written between the grandchildren and great grandchildren of Thomas Jefferson through the Randolph family line from 1822 to 1888. Specifically, the collection of letters center on Thomas Jefferson's great granddaughter Martha Jefferson Randolph Taylor (nicknamed Pat, Patsy or P.J.) and her family. According to the letters, Pat Taylor (P.J. Taylor 1817-1857) was admired by all of her family for her kindness of heart. The Randolphs were a very close-knit family and many of them lived at Edgehill or surrounding estates and areas such as Avonwood, Carleton, Enniscorthy, Shadwell, Tufton or Lego.
The collection also contains a history of Jefferson and the Edgehill Family Papers and Lego Farm including the fire, written by Ann Page Kirk, a descendant of the Randolph family (Pat's granddaughter). There is an oversized, detailed chart that is beautifully drawn in a circle that shows the Kirk genealogy. The genealogy extends as far back as John Rolfe, Pocahontas and King Henry II.
Other articles in the collection are a newsclipping about Governor Spotswood from Patsy's son, Jefferson Randolph Taylor; correspondence of Asbury Dickens, Secretary of the Senate including a letter from the United States Vice President George M. Dallas; and a letter to U. S. President James K. Polk. Asbury Dickens is related to the Randolph's through Thomas Mann Randolph's half-brother and also through the marriage of Randolph's daughter Margaret Harvie Randolph to Asbury's son Francis. Margaret and Francis Dicken's daughter Harriot Wight is a correspondent in the collection.
The letters in the collection are handwritten originals mostly from 1810 to 1889. In general they reveal the families concern for each other and the state of their health, and finances as well as the events and the comings and goings of family members. Many of these letters were saved and then passed down to a younger family member as a gift. The family lived in Albemarle County but some of the descendants moved to West Virginia, Mississippi, Alabama, Arkansas and Texas as did many American pioneers of that time.
The collection is arranged chronologically in folders by date.
---
Box-folder 1:1
Newsclipping about Governor Spotswood from Jefferson Randolph Taylor n.d.
Box-folder 1:2
History of Jefferson and Edgehill Family Papers by Page Kirk n.d.
Box-folder 1:3
History of Lego Farm, Fire, and Furniture by Page Kirk n.d.
Box-folder 1:4
Letter from Aunt Mary Randolph (Pat's sister) to nephew Bennett Taylor about his grandmother Jane Hollins Nicholas Randolph and his aunts n.d.
Box-folder 1:5
Letter from Pat's aunt Septimia Meikleham to sister in-law Jane Hollins Nicholas Randolph (Pat's mother) about hard times abroad n.d.
Box-folder 1:6
Letter from Pat's sister Cary Anne Randolph Ruffin to another sister n.d.
Box-folder 1:7
Letter from Susan Beverly Taylor (Pat's mother-in law?) to Sarah ? 1810 August 10
Box-folder 1:8
Letter from Thomas Mann Randolph (Thomas Jefferson's son-in law and Pat's grandfather) to his son Thomas Jefferson Randolph (Pat's father) 1822 March 7
Box-folder 1:9
Letters of Asbury Dickens, Secretary of the Senate; Official correspondence includes letter from Vice President George M. Dallas 1825-1851
Box-folder 1:10
Letter from John Marshall Harvie to Margaret H. Randolph aobut his plans of going to West Point and his love for Sally Watson 1831 Jan 23
Box-folder 1:11
Letter to President James K. Polk 1847 May 9
Box-folder 1:12
Letter from mother Pat, daughter Sue and son Bennett to sister/daughter Jane 1849 January 5
Box-folder 1:13
Letter from Jane Hollins Randolph (Pat's mother) to her sisters (Pats' aunts) about Pat's birth to Cornelia (Nely Taylor) named after her aunt 1849 March 30
Box-folder 1:14
Letter from Pat to one of her children 1853
Box-folder 1:15
Letter from Cornelia Jefferson Randolph (Pat's aunt) to Pat 1853 February 12
Box-folder 1:16
Letter from Jane Hollins Nicholas Randolph (Pat's mother) to daughter Carolina Randolph (Carry) about Jane being sick and money to pay the doctor; anxious about little Sallie (Carry Anne's daughter?) Mention of Dabney Carr 1853 May 27
Box-folder 1:17
Letter from Bennett Taylor to his mother Pat (Taylor) 1853 November 28
Box-folder 1:18
Letter from John Charles Randolph Taylor to his wife Pat (Taylor) 1854 June 14
Box-folder 1:19
Letters from Pat Taylor to her son Bennett Taylor 1855-1857
Box-folder 1:20
Letter from John Charles Randolph Taylor (Pat's husband) to Honorable Reverend [John Johns] about Reverend Meade's possibly resigning from the [Christ] Episcopal church and considerations of Mr. Cornelius Walker as a replacement 1857 January 15
Box-folder 1:21
Letter from John Charles Randolph Taylor to son Bennett Taylor 1857 May 8
Box-folder 1:22
History of Dickens family 1866
Box-folder 1:23
Letter from Harriot Wight to her mother Margaret Harvie Randolph 1869 December 13
Box-folder 1:24
Letter from Frank Dickens to his daughter Harriot W. Wight 1874 November 8
Box-folder 1:25
Letter from Bennett Taylor to his father John Charles Randolph Taylor 1888 December 6
Box-folder 1:26
Letter from Halle (Harriot?) to sister Fanny Dickens 1889 May 16