A Collection in
Special Collections
The University of Virginia Library
Accession Number 11,015, M-2320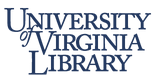 Special Collections, University of Virginia Library
Albert and Shirley Small Special Collections Library
University of Virginia
Charlottesville, Virginia 22904-4110
USA
Phone: (434) 243-1776
Fax: (434) 924-4968
Reference Request Form:
https://small.lib.virginia.edu/reference-request/
URL:
http://small.library.virginia.edu/
© 2003 By the Rector and Visitors of the University of Virginia. All rights reserved.
Processed by: Special Collections Staff
Repository
Special Collections, University of Virginia Library
Accession number
11,015, M-2320
Title
Barrett Family Scrapbooks 1898-1945
Physical Characteristics
This collection consists of 3 volumes.
Language
English
---
Access Restrictions
There are no restrictions.
Use Restrictions
See the University of Virginia Library's use policy.
Preferred Citation
Barrett Family Scrapbooks, Accession #11,015, M-2320, Special Collections, University of Virginia Library, Charlottesville, Va.
Acquisition Information
The scrapbooks were loaned for microfilming and historical reference by Mrs. Viola Barrett Greenland Pope on May 4, 1991 and were formally accessioned on June 3, 1991.
---
The three scrapbooks in this collection contain newsclippings, photographs, articles, correspondence, announcements and manuscripts, ca. 1898-1945, of the Barrett Family, primarily Tullius Tupper, Vernon Southall Tupper, Robert South Barrett, Viola Tupper Barrett, Kate Waller Barrett, John Paul Barker Barrett, and Clifton Waller Barrett as well as material collected by various members of the family. The scrapbooks document the history of the family, and their civic, philanthropic, and literary accomplishments and interests. Since the contents of the scrapbooks are not in chronological order (they contain considerable overlapping, and even duplication, of material from the same general time periods), the user is encouraged to review the collection en totofor items pertinent to his or her research.
Due to limitations of time and the condition of the scrapbooks, particularly the manner in which many of the items were mounted (often left folded within a mounted envelope), the scrapbooks could not filmed in their entirety. Loose papers were removed from the volumes, placed in folders identifying the volumes from which they came, and filmed as a series preceding the volumes themselves.
In general, the following materials were filmed in their entirety: original correspondence, photographs, manuscripts, and news articles by (or pertaining to) members of the Barrett family, including multi- page items. Original materials enclosed in mounted envelopes were either opened in a "display" format and filmed in situ, or were photocopied and the copies were then either displayed in situor placed in the "loose papers" series.
The following materials were omitted (or in the case of multi-page items, only the first page was filmed): Routine notes and greeting cards enclosed in mounted envelopes, duplicate or redundant news articles, and news articles and pamphlets collected by, but not specifically mentioning, members of the family. In the latter category are numerous news clippings (both prose and poetry) illustrative of the historical, literary, religious, and civic interests of the family. Many of these were filmed (at least in part) to provide the researcher a greater understanding of the varied interests of the family.