A Collection in
The Special Collections Department
Accession Number 3623,-a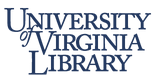 Special Collections Department, University of Virginia Library
Albert and Shirley Small Special Collections Library
University of Virginia
Charlottesville, Virginia 22904-4110
USA
Phone: (434) 243-1776
Fax: (434) 924-4968
Reference Request Form:
https://small.lib.virginia.edu/reference-request/
URL:
http://small.library.virginia.edu/
© 2007 By the Rector and Visitors of the University of Virginia. All rights reserved.
Funding: Web version of the finding aid funded in part by a grant from the National Endowment for the Humanities.
Processed by: Special Collections Department
Repository
Special Collections, University of Virginia Library
Accession number
3623,-a
Title
Kenneth E. Crouch Music Collection 1947-1958
Physical Characteristics
This collection consists of research material for songs.
Language
English
---
Access Restrictions
There are no restrictions.
Use Restrictions
See the University of Virginia Library's use policy.
Preferred Citation
Kenneth E. Crouch Music Collection, Accession #3623,-a, Special Collections Dept., University of Virginia Library, Charlottesville, Va.
Acquisition Information
This collection was a gift on 1950 December 20 and 1951 March 22.
---
Box 1

Manuscript of "Our Singing Land" by Kenneth Crouch n.d.
Research Material for Songs
State Songs

Box 1

Alabama 1947-1948

Box 1

Alaska 1947-1956

Box 1

Arizona 1947-1948

Box 1

Arkansas 1947-1955

Box 1

California 1947-1955

Box 1

Colorado 1947-1949

Box 1

Connecticut 1947-1951

Box 1

Delaware 1947-1948

Box 1

Florida 1947-1948, 1953-1957

Box 2

Georgia 1947-1948, 1952

Box 2

Hawaii 1947-1955

Box 2

Idaho 1947-1955

Box 2

Illinois 1947-1948

Box 2

Indiana 1947-1948

Box 2

Iowa 1947-1948

Box 2

Kansas 1947-1948 May

Box 2

Kansas 1948 June-1951

Box 3

Kentucky 1947-1951

Box 3

Louisiana 1947-1955

Box 3

Maine 1947-1948

Box 3

Maryland 1947-1948

Box 3

Massachusetts 1947-1955

Box 3

Michigan 1947-1957

Box 3

Minnesota 1947-1948

Box 3

Mississippi 1947-1955

Box 3

Missouri 1947-1955

Box 3

Montana 1947-1955

Box 4

Nebraska 1947-1951

Box 4

Nevada 1947-1949

Box 4

New Hampshire 1947-1955

Box 4

New Jersey 1947-1956

Box 4

New Mexico 1947-1949

Box 4

New York 1947-1952

Box 4

North Carolina 1947-1949

Box 4

North Dakota 1947-1949

Box 4

Ohio 1947-1954

Box 4

Oklahoma 1947-1949

Box 4

Oregon 1947-1955

Box 4

Pennsylvania 1947-1951

Box 5

Rhode Island 1947-1948

Box 5

South Carolina 1947-1948

Box 5

South Dakota 1947-1950

Box 5

Tennessee 1947-1955

Box 5

Texas 1947-1951

Box 5

Utah 1947-1948

Box 5

Vermont 1947-1955

Box 5

Virginia 1947-1948

Box 5

Washington 1947-1957

Box 5

West Virginia 1947-1955

Box 5

Wisconsin 1947-1955

Box 6

Wyoming 1947-1958

Former Possessions and Territories

Box 6

Canal Zone 1947-1948

Box 6

Guam 1951-1952

Box 6

Philippines 1947-1948

Box 6

Puerto Rico 1947-1953

Box 6

Samoa, American 1951-1957

Box 6

Virgin Islands 1955

Military

Box 6

United States Army Song 1947-1952

Box 6

United States Army Air Force 1947-1953

Box 6

United States Cavalry 1947-1949

Box 6

United States Coast Guard 1947

Box 6

United States Marine Corps 1947-1950

Box 6

United States Maritime Service 1948-1949

Box 6

United States Navy 1947-1955

Miscellaneous

Box 7

Confederate States of America 1947-1952

Box 7

The Republic of Texas 1947-1949

Box 7

Songs of the American Colleges n.d.

Box 7

United States National Anthem 1947-1949, 1957

Box 7

Miscellaneous 1957-1959