A Collection in
Special Collections
The University of Virginia Library
Accession Number 6073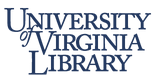 Special Collections, University of Virginia Library
Albert and Shirley Small Special Collections Library
University of Virginia
Charlottesville, Virginia 22904-4110
USA
Phone: (434) 243-1776
Fax: (434) 924-4968
Reference Request Form:
https://small.lib.virginia.edu/reference-request/
URL:
http://small.library.virginia.edu/
© 2011 By the Rector and Visitors of the University of Virginia. All rights reserved.
Processed by: Special Collections Staff
Repository
Special Collections, University of Virginia Library
Accession number
6073
Title
Papers of James Westhall Ford, 1804-1874
Physical Characteristics
This collection consists of 577 items.
Language
English
---
Access Restrictions
There are no restrictions.
Use Restrictions
See the University of Virginia Library's use policy.
Preferred Citation
Papers of James Westhall Ford, Accession #6073, Special Collections, University of Virginia Library, Charlottesville, Va.
Acquisition Information
These papers were purchased by the University of Virginia Library from Mrs. Thomas Ford of Philadelphia, Pennsylvania, on June 15, 1959.
---
The papers of James Westhall Ford (ca. 1806-1868), a portrait painter who spent most of his life in Virginia, consist of some 577 items, ca. 1804-1874. Most of these (417) are financial documents and business correspondence. Personal correspondence, legal documents, scrapbook material, a commonplace book, and wallet account for the rest.
Ford, whose identity was virtually forgotten before the discovery of these papers, owed much of his early success to the friendship and patronage of Thomas Jefferson. Three letters from Jefferson during September 1823 gave Ford entree to the political world of Virginia and Washington D.C. One of these, September 1, 1823, establishes Ford as the probable "artist unknown" responsible for a portrait of Jefferson's daughter Martha Jefferson Randolph. Through Jefferson, Ford was invited to paint a portrait of President James Monroe. Monroe later (1825) wrote a letter of introduction for Ford to Col. Robert Y. Hayne (of the Webster-Hayne debates). Ford's friendship with Jefferson led to a series of portraits of University of Virginia faculty.
Ford worked out of Richmond for most of the years between 1825 and 1859. He occasionally traveled through the Shenandoah Valley painting portraits along the way. Newspaper clippings refer to stops in Haymarket, Mantua, Staunton, and other towns. Correspondence and newspaper clippings place him in Pittsylvania County, Virginia in 1858, and in Danville in 1859. As the Civil War approached, Ford's sympathies led him to Philadelphia where he lived until his death in 1868.
Business letters from E. Newland to James W. Ford relates to art supplies and picture frames ordered by Ford between 1842 and 1858. Included are bills of lading, shipping receipts, account statements, and letters from Newland relating to problems with shipments and with Ford's occasional delinquent payments.
The commonplace book contains a handwritten title page by Ford that gives his name as Westhall (a verse written by his wife Ann on his death gives his middle name as West). The book has notes on subjects ranging from recipes for goldsize and liquid blacking to instructions for the painting of miniatures and the preparation of canvas for painting. There are also several doodles and sketches.
The wallet is of brown leather and is signed in ink "James W. Ford 1830 Richmond." There is also a monogram "JWF" in ink.
Correspondence folders include letters for most of the years from 1823 to 1874. Most of these are letters of introduction and personal letters from friends of James and Ann Ford. They contain pleasantries, inquiries after the health of the Fords, and reports on the health of mutual friends. Photostats of the letters from Jefferson (Sep 1, 8, and 30, 1823) and Monroe (Aug 1, 1825) are in Correspondence folder 1823- 1828.
A letter from R. R. Robinson at Vicksburg, Mississippi, dated Jan. 11, 1836, contains observations concerning the situation on the frontier, land speculation in Texas and Arkansas, and prospects for trade on the Mississippi River.
A letter of introduction (Mar 19, 1836) from Andrew Beirne to Andrew Jackson recommends Ford as a portrait painter of note. Beirne was a Representative from Virginia who served in the 25th and 26th Congresses (1837-1841).
Letters to Ford from J. C. Cabell (Nov 27, 1840) and W. H. Woodley (Jan 25, 1841) refer to University of Virginia faculty portraits; Cabell Hall was named in honor of J.C. Cabell. Woodley was proctor at the University from 1837 to 1845.
A letter from Robert B. Bolling of Petersburg (1842) requests Ford to come immediately to Petersburg for the purpose of "taking the likeness" of the very recently deceased infant daughter of David Dunlap. Another letter, dated May 23, 1846, from Alexander Bryant of Mantua, refers to the Mexican War, President James K. Polk, and the Loco-Foco Party.
There are two letters ( Dec 25, 1848 and Jan 23, 1849) from Ford to his wife Ann. A letter from Mariah Clopton (Clapton?) to Ann Ford (May 17, 1866) includes a brief, eye-witness account of the burning of Richmond [April 2, 1865] at the end of the Civil War.
Personal correspondence between the Fords and the family of Josiah Wills of Norfolk is contained in a separate folder. Extending from 1839 to 1848, it deals largely with family matters of both a personal and financial nature. A number of letters deal with problems associated with Sister Sarah Alvey; others relate to Wills's efforts to sell a slave by the name of Delphia. In a letter dated January 13, 1840, Mr. Wills writes that he has "sent to you my negro Woman Delphia to be sold to the highest bidder or for the best price you can obtain." A subsequent letter (July 28, 1840) reveals that Delphia does not like to live in Norfolk and has been sent "again to Richmond to be disposed of."
Financial Documents includes a variety of receipts and account statements for the years between 1804 to 1870, including some undated material. Legal documents include the Fords' marriage certificate. The Scrapbook Material folder contains an assortment of newspaper clippings, two small notebooks, poetry, prayers, and inspirational quotations. There is also an item resembling a diary page from Christmas 1818. Some of this material is undated.
Article Re Ford Reprinted from AntiquesMagazine August 1956
Business Correspondence from E. Newland and Co. to James W. Ford 1842-1849
Business Correspondence from E. Newland and Co. to James W. Ford 1850-1858
Commonplace Book and Wallet Belonging to James W. Ford N.D.;1830
Correspondence from Josiah and Margaret Wills to James and Ann Ford 1839-1848
Financial Documents 1804-1847
Financial Documents 1852-1858
Financial Documents 1860-1864
Financial Documents 1865-1870
Legal Documents 1820-1825/1840-1851
Scrapbook Material 1818-1868