A Collection in the
Marion duPont Scott Collection
The Special Collections Department
Accession Number 11070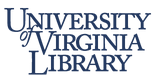 Special Collections Department, University of Virginia Library
Albert and Shirley Small Special Collections Library
University of Virginia
Charlottesville, Virginia 22904-4110
USA
Phone: (434) 243-1776
Fax: (434) 924-4968
Reference Request Form:
https://small.lib.virginia.edu/reference-request/
URL:
http://small.library.virginia.edu/
© 2001 By the Rector and Visitors of the University of Virginia. All rights reserved.
Funding: Web version of the finding aid funded in part by a grant from the National Endowment for the Humanities.
Processed by: Special Collections Department
Repository
Special Collections, University of Virginia Library
Accession number
11070
Title
Catalog of sporting books in the library of James Wilson Rimington-Wilson 1866
Physical Characteristics
There is 1 volume (98 pages) in this collection.
Language
English
---
Access Restrictions
There are no restrictions.
Use Restrictions
See the University of Virginia Library's use policy.
Preferred Citation
Catalog of sporting books in the library of James Wilson Rimington-Wilson, 1866, Accession #11070, Special Collections Dept., University of Virginia Library, Charlottesville, Va.
Acquisition Information
The catalog was purchased by the Library from H.P. Kraus, New York City, on November 10, 1992, and was transferred from the Manuscripts Division to the Rare Books Division to be housed with the books in the Scott Sporting Books Collection.
Provenance
The catalog was formerly from the libraries of A.N.L. Munby, with his bookplate, and Hans Peter Kraus, with his bookplate. Part of Rimington-Wilson's collection was sold by his son at Sotheby's, February 27- 28, 1928, in conjunction with his famous chess library.
---
This collection consists of a bound manuscript catalog, 1866, of the sporting books in James Wilson Rimington-Wilson's (1822-1877) library from the sixteenth to nineteenth centuries, containing 98 pages, of which thirty are blank. The catalog, which has covers of blue-grey diced cloth, is generally divided into subjects including falconry, archery, hunting, riding, fishing, dueling, fencing, training and diet, pugilism, and skating.
The catalog covers books from the 16th to the 19th centuries and is divided into sections by subject.