A Collection in
The Special Collections Department
Accession Number 11087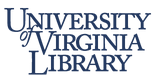 Special Collections Department, University of Virginia Library
Albert and Shirley Small Special Collections Library
University of Virginia
Charlottesville, Virginia 22904-4110
USA
Phone: (434) 243-1776
Fax: (434) 924-4968
Reference Request Form:
https://small.lib.virginia.edu/reference-request/
URL:
http://small.library.virginia.edu/
© 2001 By the Rector and Visitors of the University of Virginia. All rights reserved.
Funding: Web version of the finding aid funded in part by a grant from the National Endowment for the Humanities.
Processed by: Special Collections Department
Repository
Special Collections, University of Virginia Library
Accession number
11087
Title
Lybrook Family Letters 1833-1843
Physical Characteristics
There are 5 items in this collection.
Language
English
---
Access Restrictions
There are no restrictions.
Use Restrictions
See the University of Virginia Library's use policy.
Preferred Citation
Lybrook Family Letters, 1833-1843, Accession #10087, Special Collections Dept., University of Virginia Library, Charlottesville, Va.
Acquisition Information
These letters were purchased by the Library on March 17, 1993, from William A. Fox Auctions, Inc. of Springfield, New Jersey.
---
This collection consists of five letters, 1833-1843, from Philip and Sally Lybrook of Giles County, Virginia, to their brother, Henley C. Lybrook, Cassopolis, Cass County, Michigan Territory. Ten Lybrook brothers and sisters are known from the letters and include: John C. Lybrook, Catharine Burke, Henley C. Lybrook, Evalina Lumpkins, Sarah (Sally) Lybrook, Elizabeth (Betsy) Lybrook Atkins, Isaac Lybrook, George Lybrook, Nancy Lybrook, and Philip Lybrook.
Sally Lybrook, June 21, 1833, expresses thankfulness that her brother has escaped the recent Indian wars unharmed; describes their mother's illness during the last winter and spring, the sickness of Aunt Peggy Hall, and the scarlet fever afflicting her brother Philip's family; mentions her father's sale of the large field adjoining the plantation of David Williams to Williams and his payment of several debts, the sale of Captain G. Cale's farm to Philip and Cale's plans to move from Giles County and the wedding of Olivia Johnston; hopes that he will arrive home by summer; and a mention of the black children working the farm by themselves.
A second letter from Sally Lybrook, January 21, 1834, to Henley, pleads with Henley to return to the more healthful climate of Virginia; mentions a letter from a brother, John C. Lybrook in Carroll County and his difficulty with crop failure, and Captain Hale's purchase of a plantation in St. Joseph country; describes a meteor shower; mentions two new stores in Giles County belonging to Peterman Crawford and John Peck; and again mentions that "the black children work the farm by themselves and have raised a tolerable good crop this last season and they are fine children."
In a letter from Philip Lybrook, March 23, 1838, to Henley, he writes in great detail about the sale of his father's estate on January 12, 1838, in which all the property was sold "Negroes land and all" for about $ 2800, and about a piece of land sold by his father earlier to pay a debt to the estate of Colonel George Snidow who had held a deed of trust on a slave boy named Jim and relates the circumstances of how his father contracted the debt; describes the family problems over the courtship and marriage of Betsy and Joseph Atkins following his father's death, with Sally coming to live with him and his family; supposes that Nancy was not mentioned in the will because when she left home, she took with her a slave called Sampson and the little gray mare; mentions that the slave Jim brought $900 in the sale; and describes the legal difficulties of [Keith ?] in Greenbrier County.
Philip Lybrook, in a second letter, April 1, 1840, attempts to make arrangements to get Henley's share of his father's estate to him safely; relates the contents of his father's will and the difficulties in settling the estate; refers to sale of the slaves, "the Negroes sold much higher than he [his father] rated them before his death"; and asks for help in purchasing a tombstone for his father as "it has become customary to have them in this country."
In a third letter, [Philip ?] Lybrook, February 17, 1843, describes the ravages of [typhoid fever ?] upon his family, "my white family has all been down with it with the exception of Eliza and Eleanor - it is now among my black family some has recovered there is but two of the little boys that is any ways dangerous and I think they are on the mend - the disease has been in my house near six months"; mentions other cases of the disease in the neighborhood, some fatal, hard financial times, Sally's poor health and desperate condition, and rumors of the mistreatment of Betsy Lybrook Atkins by her husband Joseph.
---