A Collection in
The Special Collections Department
Accession Number 11160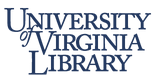 Special Collections Department, University of Virginia Library
Albert and Shirley Small Special Collections Library
University of Virginia
Charlottesville, Virginia 22904-4110
USA
Phone: (434) 243-1776
Fax: (434) 924-4968
Reference Request Form:
https://small.lib.virginia.edu/reference-request/
URL:
http://small.library.virginia.edu/
© 2001 By the Rector and Visitors of the University of Virginia. All rights reserved.
Funding: Web version of the finding aid funded in part by a grant from the National Endowment for the Humanities.
Processed by: Special Collections Department
Repository
Special Collections, University of Virginia Library
Accession number
11160
Title
Spiero Family Letters 1940-1942
Physical Characteristics
58 letters
Language
English
Abstract
The Spiero family correspondence consists of fifty-eight letters written between 1940 and 1942, containing family news and serving as a record of life in wartime Germany.
---
Access Restrictions
There are no restrictions.
Use Restrictions
See the University of Virginia Library's use policy.
Preferred Citation
Spiero Family Letters, 1940-1942, Accession #11160, Special Collections Dept., University of Virginia Library, Charlottesville, Va.
Acquisition Information
This collection of letters was given to the Library by Hans A. Schmitt of Charlottesville, Virginia, on December 5, 1994.
---
There are fifty-eight letters, 1940-1942, chiefly from Olga Spiero in Berlin-Friedenau, Odenwaldstrasse, Germany, to her daughter, Josepha Warburg in Kasteel Eerde, Ommen O., Netherlands. There are also two letters from Heinrich Israel Spiero (1876-1947), historian of German literature on November 14, 1941 to Max Adolf Warburg and on March 27, 1942 to Josepha Warburg; and, one letter, March 15, 1941, from Wolfgang Jlisch to Josepha Warburg. The letters from the mother to the daughter contain personal family news and serve as a record of life during wartime Germany. The letter from Heinrich Spiero to Max Adolf Warburg appears to discuss certain family documents such as marriage certificates (trauschein) and baptismal certificates (taufscheine) of the grandfather (grossvater) and grandmother (grossmutter). It also mentions Monaten [Martin] Luther's (1483-1546) Briefwechsel,Desiderius Erasmus' (d. 1536) Colloquia,and Kaiser Wilhelm- Gedachtniskirche. These letters are written in German and have not been translated.