A Collection in
The Special Collections Department
Accession Number 11395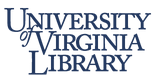 Special Collections Department, University of Virginia Library
Albert and Shirley Small Special Collections Library
University of Virginia
Charlottesville, Virginia 22904-4110
USA
Phone: (434) 243-1776
Fax: (434) 924-4968
Email:
https://www2.lib.virginia.edu/small/referencerequest/
URL:
http://www.lib.virginia.edu/small
© 2001 By the Rector and Visitors of the University of Virginia. All rights reserved.
Processed by: Special Collections Staff
Repository
Special Collections, University of Virginia Library
Accession number
11395
Title
Letters to Henry A. Bitner 1861-1863
Physical Characteristics
This collection consists of twenty-seven items.
Language
English
---
Access Restrictions
There are no restrictions.
Use Restrictions
See the University of Virginia Library's use policy.
Preferred Citation
Letters to Henry A. Bitner, Accession #11395, Special Collections Dept., University of Virginia, Charlottesville, Va.
Acquisition Information
This collection was originally donated by Bitner's great-grandson, Mr. Jack Bitner, of Mt. Gretna, Pennsylvania, in April 1996 to the "Valley of the Shadow" project of the University of Virginia; on March 25, 1998, the letters were donated to the Library by "Valley" project director Edward L. Ayers.
---
This collection consists of twenty-seven items, chiefly letters written to Henry A. Bitner of Shippensburg, Franklin County, Pennsylvania, May 17, 1861 to May 25, 1863. Civilian and Union soldier friends of Bitner (who was apparently a school teacher) wrote the twenty-two letters from Maryland, Ohio, Pennsylvania, Tennessee and Virginia. The major correspondents are: Dave [David] R. P. Shoemaker (Company E, 11th Regiment Ohio Volunteers; eight letters); Alex "Little Ellic" Cressler (a Chambersburg, Pennsylvania civilian (who died 1861 October 14); five letters); Thad Donnelly (Company D, 130th Pennsylvania Volunteer Infantry; four letters); William H. Kindig (Company B, 107th Pennsylvania Volunteer Infantry, two letters); Henry T. Daihl (Company A, 77th Pennsylvania Volunteer Infantry, one letter).
They discuss several Civil War battles, personal and public incidents, and personalties. The correspondents describe the battles [followed by the date of the letter which discuss them] of Rich Mountain, Virginia (July 15, 1861), First Manassas, or First Bull Run (July 30, 1861), Cedar Mountain (August 13, 1862), and South Mountain (October 18, 1862). Prominent Union generals and civilians mentioned include: Nathaniel Banks (1816-1894) Jacob D. Cox (1828-1900); George Crook (1828-1890); Andrew G. Curtin (1817-1894); Abram Duryee (1815-1890); Elmer Ephraim Ellsworth (1837-1861); John Charles Fremont (1813-1890); George B. McClellan (1826-1885); Irvin McDowell (1818-1885); Robert Patterson (1792-1881); John Pope (1822-1892); William S. Rosencrans (1819-1898); and George D. Wise (?-?). Several minor Union officers are also mentioned by name. Prominent Confederate officers discussed or mentioned by Bitner's correspondents include: Braxton Bragg (1817-1876); Thomas J. "Stonewall" Jackson (1824-1863); Joseph E. Johnston (1807-1891); John Hunt Morgan (1825- 1864).
Several letters or their envelopes contain colored patriotic images as well as camp news, battle and march rumors, and family news. Information of special interest includes a detailed description of Chambersburg, Pennsylvania (June 18, 1861); soldiers badly missing the company of women (January 18, 1862 and February 22, 1863); the high cost of apples (January 5, 1862); an envelope poem "The Bravest Home" (August 13, 1862); a visit to Baltimore and Washington, D.C. (August 20, 1862); life as a Confederate prisoner of war (October 18 and November 26, 1862;); a sexually suggestive poem ("What") post February 3, 1863; a discussion of marriage and the merits and drawbacks of bachelorhood, and a soldier's naming of his new rifle (March 21, 1863); and criticism of the Army of the Potomac (Union) by a member of the Army of the Cumberland (Union) (May 9, 1863). Also present are three envelopes addressed to Bitner; their contents are missing.
---