A Collection in the
Special Collections Department
Accession number 38-203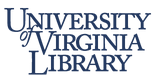 University of Virginia Library
Albert and Shirley Small Special Collections Library
University of Virginia
Charlottesville, Virginia 22904-4110
USA
Phone: (434) 243-1776
Fax: (434) 924-4968
Reference Request Form:
https://small.lib.virginia.edu/reference-request/
URL:
http://small.library.virginia.edu/
© 1997 By the Rector and Visitors of the University of Virginia. All rights reserved.
Funded in part by a grant from the National Endowment for the Humanities.
Processed by: Special Collections Department Staff
Repository
University of Virginia. Library. Special Collections Dept. Alderman Library University of Virginia Charlottesville, Virginia 22903 USA
Collection Number
38-203
Title
William Ransom Johnson Papers 1796-1896
Extent
ca. 368 items
Collector
Warren E. Biggs
Location
Language
English
---
Access Restrictions
Collection is open to research.
Use Restrictions
See the University of Virginia Library's use policy.
Preferred Citation
William Ransom Johnson Papers, Accession 38-203, Special Collections Department, University of Virginia Library
Acquisition Information
This collection was made a gift to the Library by Warren H. Biggs of Williamston, North Carolina, in June 1935.
Funding Note
Funded in part by a grant from the National Endowment for the Humanities
---
In this collection are ca. 368 items, 1796-1896, which consist of correspondence, business and legal papers, a lecture notebook, and miscellaneous papers pertaining to several families of Virginia. The material relates to the Johnsons of Petersburg, the Kagys of New Market, and the Logans of Salem, as well as other families.
Letters, 1838-January 1849, to William Ransom Johnson, are chiefly concerned with business matters. Colonel Johnson (1782-1849) was a member of the North CarolinaHouse of Representatives from Warren County, 1807-1808 and 1810-1814; the House of Delegates from Petersburg, 1818-1820 and Chesterfield County, 1821-1822; the VirginiaSenate, 1823-1826; and, the VirginiaHouse of Representatives, 1828-1830 and 1833-1837. He married Mary Evansin 1803, and their sons included William Ransom Johnson, Jr., J. E. Johnson, and Marmaduke Johnson. Known as "The Napoleon of the Turf," he was the leading turfman of America for a generation. He established stables at Oakland, Chesterfield County, Virginia, beginning his career on Virginiaturf. During 1808-1813, he raced "Sir Archy" and "Pacolet," and won $30,000. He was the leader and manager for the South in the South-North Races, Washington, D.C.in 1823, and also in nearly all thirty contests until 1834. He died in Mobile, Alabamaon February 10, 1849, and was buried at Oakland. Letters, February 26, 1845 and February 2, 1846, from William Yates Gholson(1807-1870), a lawyer practicing in Cincinnati, Ohio, concern a judgment against Mary A. Pughand the collection of the payment in the U. S. District Court. There are several letters (March 30, April 20, October 4, December 3, 1845; and, January 27, March 24, 1846) from Eggleston Cheatham, the overseer for William Ransom Johnson's estate in Yazoo County, Mississippi. These letters discuss a dispute between Johnson and his estate manager, William Berry, and the latter's refusal to accompany Negroes to Johnson in New Orleans, Louisianauntil they make a settlement; and, attempts to sell Johnson's property and estate in Yazoo County. One sale contract, a rent with the option to buy, fell through because of the purchaser's "bad luck with his negroes since he came to this neighborhood." After Cheatham's death in December 1848, there is a letter, July 23, 1849, from his brother William Cheahamto William Ransom Johnson, Jr., concerning the difficulty in selling the estate.
Letters, 1849-1871, to William Ransom Johnson, Jr., are concerned with his father's estate as well as his own business affairs. There are a few letters from his brothers, J. E. Johnson(October 26, 1849; December 16, 1850; and, February 22, 1851) and Marmaduke Johnson(January 28, December 11, 1850; and, February 26, 1852) mentioning such matters. In his letter of October 26, 1849, J. E. Johnsonwrites about their father's estate, including the sale of Bellegroveand a settlement with "Bruce," and asks if there is "any negro woman belonging to the estate worth from $200 to $500 who would make a good cook & has no family!" In his letter of January 28, 1850, Marmaduke Johnsonexpresses his wish to bid for the tract of land bought by their father from Branch Archer. There are also letters from associates which touch upon various business matters. A January 8, 1851 letter from George Nicholson Johnson, an attorney, discusses problems with General [John] Pegram's estate due to its being advertised for sale by W. R. Johnson, Jr.without the consent of Will Carter. A September 14, 1853 letter from Tazewell Taylor, Bursar of William and Mary College, brings up the matter of some property for sale. There is an interesting letter, January 18, 1852, from Thomas B. Poindexter, Louisville, Kentucky, which discusses a racehorse, "Sally Morgan." The writer relates that it was the wish of Johnson's father to have the horse sent to Boston, where she is now a successful runner, and also to give the horse to himself. There are two letters, December 9, 1868 and February 20, 1869, from Meador and Brothers, Tobacco Commission Merchants, Atlanta, Georgia, which discuss tobacco stock and the forced lowering of prices. Other correspondents include attorneys and legislators, such as John Mercer Patton(1797-1858), George Washington Jones(1806-1884), Samuel McDowell Moore(1796-1875), James A. Seddon(1815-1880), and John Minor Botts(1802-1869). In his March 31, 1849 letter, Patton discusses the suit of King vs. Johnson. In his letters of April 22 and July 17, 1849, Jones writes about his financial troubles and inability to pay the Johnson estate, his position in office being in jeopardy, and his having no property beyond his salary. Moore writes on August 3, 1849 concerning a settlement made two years earlier; and, Botts writes on June 12, 1850 about an account against himself at Oakland. In his October 14, 1849 letter, Seddon responds to Johnson's offer of his mountain estate, and mentions his own estate in Mecklenburg. Letters, August-September 1850, are concerned with the impending sale of Oaklandand the slaves on September 25.
Correspondence of the Kagyand related families, 1803-1896, covers a wide variety of subjects. In his March 16, 1803 letter to an unknown recipient, William Armistead Burwell(1780-1821) discusses the management of his claim upon "W.C.N." A December 12, 1865 letter from Francis J. Smithto Joseph B. Gentrydiscusses his election to the Office of Treasurer and his connection to the Richmond and Fredericksburg Rail Road. There are several personal letters from Thomas A. Ayreto his friend Baxter W. Logan. In a June 2, 1873 letter from Norfolk, Ayre relates the effect of the Civil War on his family, and the loss of his father's wealth which he had in the form of property such as slaves. A letter, April 2, 1874, from J. B. Jacksonin Washington, D.C.to Baxter W. Logan, describes a visit to the Capitol where he heard Senator [Allen Granberry] Thurmanof Ohio, mentions a few other individuals being there from the Indian Nation, refers to seeing Vice-President [Henry] Wilsonand Senator [James Winright] Flanagan, and also mentions a stop at the University of Virginia. Another interesting letter, May 26, 1875, from Terrell and Walthallto J. P. M. Sanders, describes an enclosed rough draft of a four passenger rockaway. Letters of May 1890 are concerned with the unveiling of the Lee Monument in Richmond.
Business and legal papers, 1796-1875, relate to various Virginia families. There are papers relative to the estates of Edwin Burwell(ca. 1798-1800), Joseph Selden(ca. 1802-1804), James W. Pegram(ca. 1844-1845), and William Ransom Johnson(ca. 1845-1850); and, the Richmondfirm of Caperton and Crump(1830s-1840s). Miscellaneous items of interest include: Sale of 105 barrels flour, December 10, 1827; Invoice of 289 hogsheads sugar purchased by Carroll Hoy and Company, 1861-1862; and, Tobacco sales to William Ransom Johnsonfrom Branch, Scott, and Company, February 23, June 9, 1868 and January 31, February 23, 1869.
There are several references to blacks among the business and legal papers. An account of the Estate of Joseph Seldenwith Dr. Joseph Trent, 1803-1804, includes a reference to "visiting negro woman in the Measles..." There are several promissory notes and receipts for the hire of Negroes by the names of " Jim& Jerry" (July 15, 1840), " Jim Lumpkin" (January 4, 1841), " Kelly" (January 2, 1849), " Frederick" (January 1, 1850), and " Robin& Richard" (January 2, 1850). Among the legal papers is an agreement between Rubinand Byrd Georgeand Joseph Seldento purchase a Negro man slave by the name of Ned.
---
Letters to Colonel William Ransom Johnson

1838-1849 Jan

Letters to William Ransom Johnson, Jr.

1849 Mar-1871

(4 folders)

Correspondence of the Kagy and Related Families

1803-1896, n.d.

(3 folders)
Business and Legal Papers
Business Papers

1796-1875, n.d.

(4 folders)

Legal Papers

1798-1850
Lecture Notes kept by [University of Virginia] Student A. B. Guignon, Jr.

1878-1879

Miscellaneous

1835, n.d.
Baxter W. Logan
Branch Archer
Byrd George
Edwin Burwell
Eggleston Cheatham
Francis J. Smith
Frederick
George Nicholson Johnson
George Washington Jones
J. B. Jackson
J. E. Johnson
J. P. M. Sanders
James A. Seddon
James W. Pegram
Jerry
Jim
Jim Lumpkin
John Mercer Patton
John Minor Botts
Joseph B. Gentry
Joseph Selden
Joseph Trent
Kelly
Marmaduke Johnson
Mary A. Pugh
Mary Evans
Ned
Richard
Robin
Rubin
Samuel McDowell Moore
Tazewell Taylor
Thomas A. Ayre
Thomas B. Poindexter
W. R. Johnson, Jr.
Will Carter
William Armistead Burwell
William Berry
William Cheaham
William Ransom Johnson
William Ransom Johnson, Jr.
William Yates Gholson
[Allen Granberry] Thurman
[Henry] Wilson
[James Winright] Flanagan
[John] Pegram
Atlanta, Georgia
Boston
Chesterfield County
Chesterfield County, Virginia
Cincinnati, Ohio
Louisville, Kentucky
Mecklenburg
Mobile, Alabama
New Market
New Orleans, Louisiana
Norfolk
North Carolina
Petersburg
Richmond
Salem
Virginia
Warren County
Washington, D.C.
Yazoo County
Yazoo County, Mississippi