A Collection in the
Clifton Waller Barrett Library of American Literature
Accession number 6978-c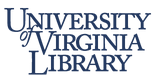 Special Collections Department, University of Virginia Library
Contact Information:
University of Virginia Library
Alderman Library
University of Virginia
Charlottesville, Virginia 22903
USA
Phone: (804) 924-3025
Fax: (804) 924-3143
Email: mssbks@virginia.edu
Processed by: Penny Weiss
Date Completed: 1997
Encoded by: Elizabeth Slomba
© 1997 By the Rector and Visitors of the University of Virginia. All rights reserved.
Repository
University of Virginia. Library. Special Collections Dept. Alderman Library University of Virginia Charlottesville, Virginia 22903 USA
Collection Number
6978-c
Title
Alice and Phoebe Cary Collection 1855-1870, n.d.
Extent
ca. 23 items
Creator
Location
Language
English
---
Access
Collection is open to research.
Publication Rights
EDIT ME!
Preferred Citation
EDIT ME!
Acquisition Information
Deposit, 1964 May 25
Funding Note
Funded in part by a grant from the National Endowment for the Humanities
---
"Our spirits seem to me as wines ..." by Alice Cary

1855 Mar

AMsS, 1 p.

"Adelied" by Alice Cary

n.d.

AMsS, 1 p.

"Uncertainty" by Phoebe Cary

n.d.

AMsS, 1 p.

"Alas" by Phoebe Cary

n.d.

AMsS, 1 p.

[in folder with newspaper clippings under Miscellaneous]
Alice Caryto Mr. Foster

1860 Dec 21

ALS, 2 p.

[Explanation that ill health of others for whom she had to care prevented her from writing.]

Alice Caryto "My dear friend"

1862 Mar 6

ALS, 2 p.

[Mentions death of friend General [Frederick West] Lander, whose life she characterizes as a "brilliant failure."]

Alice Caryto Richard Henry Stoddard

1866 Oct 21

ALS, 1 p.

[Compliments his poems and advises him to "stick to what you see and know and feel" as topics for poetry.]

Phoebe Caryto "My dear friend"

1869 Feb 25

ALS, 3 p.

[Is compiling a hymn book with Rev. Dr. Charles F. Deems. ]

Phoebe Caryto Emily [Hartley]

1870 Aug 21

ALS, 3 p.

[Doing some editing-work; took Emily's ms to a publishing house.]

Alice Caryto Eddie (nephew)

n.y. Apr 18

ALS, 3 p.

[Writing for the Ledgerand visit from [John Greenleaf] Whittier; her new book is selling well and she mentions plans to publish her poetry in the winter.]

Phoebe Caryto Mrs. McKaye

n.y. Apr 21

ALS, 1 p.

[Complies with request for an autograph.]

Phoebe Caryto Mr. Leaver

n.y. Jul 20

ALS, 1 p.

[Encloses poems for possible public ation, their prices, and return addresses. Also note, possibly by Leaver, which indicates that the poems were not accepted.]

Phoebe Caryto Edwin (nephew)

n.y. Sep 27

ALS, 3 p.

[Information from Mr. Owen about private European school "Hofwyl."]

Phoebe Caryto [Richard Watson] Gilder

n.y. Nov 6

ALS, 1 p.

[Encloses poem by Charles Deemsfor review by Hours at Home. ]

Alice Caryto Emily Hartley

n.y. Nov 19

ALS, 4 p.

[Encourages Emily to send her articles for children on Africato Riversidemagazine.]

Alice Caryto [James Ripley] Osgood

n.d.

ALS, 2 p.

[Asks to have her books sent to Clark, Waggoner & Sonand Thurlow Weed, where she hopes they will receive favorable reviews.]

Phoebe Caryto Mr. Foster

n.d.

ALS, 1 p.

[Regrets unable to see him due to Alice's ill health and the absence of Mr. and Mrs. Trillis.]

"Anonymous" ( Phoebe Cary) to [ Charles Force Deems]

n.d.

ALS, 3 p.

[Offers advice on Deems' poetry. Explanatory note on verso by Deems.]
Alice Caryby J. A. J. Wilson

n.d.

Engraving

Alice Cary"from a daguerreotype from life" with same engraving titled, "Miss Alice Cary, first president of Sorosis" by Johnson, Wilson & Co., Publishers, N.Y.

n.d.

Engraving

Phoebe Cary, Brady's, National Photographic Galleries, Broadway & 10th St. N.Y.

n.d.

Original photograph and two engravings
Engraving of Phoebe Cary

n.d.

Engraving

Newsclippings in bound volume include: Poems by Phoebe Cary, "Thou and I" "A poetic tribute to Susan B. Anthonyat her 50th birthday," "Peace," "Nearer Home," "Prayer," and "The Christian's Evening Tide." Several obituary notices of both Alice Caryand Phoebe Caryand an item entitled, "Pleasant Evenings: Reminiscences of the Cary Sisters." Bound volume also includes AMsS for "Alas"

14 newspaper clippings
Alice Cary
Charles Deems
Charles F. Deems
Charles Force Deems
Emily Hartley
Emily [Hartley]
J. A. J. Wilson
Phoebe Cary
Richard Henry Stoddard
Susan B. Anthony
Thurlow Weed
[Frederick West] Lander
[James Ripley] Osgood
[John Greenleaf] Whittier
[Richard Watson] Gilder