A Collection in the
Special Collections
The University of Virginia Library
Accession number 5633-b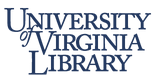 Special Collections, University of Virginia Library
Albert and Shirley Small Special Collections Library
University of Virginia
Charlottesville, Virginia 22904-4110
USA
Phone: (434) 243-1776
Fax: (434) 924-4968
Reference Request Form:
https://small.lib.virginia.edu/reference-request/
URL:
http://small.library.virginia.edu/
© 2007 By the Rector and Visitors of the University of Virginia. All rights reserved.
Processed by: Special Collections Staff
Repository
Special Collections, University of Virginia Library
Collection Number
5633-b
Title
Sarah Ann Graves Strickler Fife Papers 1861-1972
Extent
ca. 12 items
Language
English
---
Access Restrictions
There are no restrictions.
Use Restrictions
See the University of Virginia Library's use policy.
Preferred Citation
Sarah Ann Graves Strickler Fife Papers, 1861-972, Accession #5633-b, Special Collections, University of Virginia Library, Charlottesville, Va.
---
The collection contains 3 notebooks, 1861-1869, kept by Fife, chiefly while a student at the Albemarle Female Institute, Charlottesville, and loose papers, chiefly class notes laid in the notebooks. Topics include English grammar and literature, Latin and Greek grammar and literature, and trigonometry.
Also include six photographs of members of the Fife and related families, and miscellaneous material including newsclippings, Strickler family genealogical notes, two Confederate stamps, and a printed booklet of Latin philosophical texts. Of interest is a baby journal kept by Fife, 1869, for her son Howell, who died in infancy.
Bound notebook containing short compositions on a variety of subjects; a translation from Livy; mathematical theorems in trigonometry.
1861 October (on fly leaf)
108 pp.
Bound notebook
[1864] and 1868-1869
Containing: a. "Lectures on English Grammar," notes taken at Albemarle Female Institute, ca. 1864, 74 pp.; b. "Howell Fife's [b. 9 September 1868] Journal/As written by his mother/Oak Lawn very near Charlottesville and University of Virginia," 1869 January 11 -October 3, with several poems re the death of children at the end; c. "Notes on English Literature," 10 pp.; d. "Notes on Shakespeare," 12 pp.; e. List of books on back end papers, 2 p.
Bound notebook inscribed on fly leaf: "Sallie Strickler/Albemarle Female Institute/Prof. C.H. Toy--professor of Greek"
[1865]
Containing: a. translation of Aeschylus' Agamemnon; b. transciption of 6 verses of "The Eve of St. Agnes"; c. translation of portion of "Essay of Cicero on Old Age"; d. "Extracts from John Ruskin, A.M."; e. transcription of "When the Cows Come Home"; f. "Notes on distinguished men"; g. transcription from Josephus' "Table of Jewish months."
Loose Papers formerly laid in the above notebooks have been foldered as follows: [ca.1864-1865] Translations on "Old Age" from Latin; [ca. 1864-1865] Translations and notes of Latin and Greek; [ca. 1864-1865] Translation of portions of Chaucer's Canterbury Tales.
Sewn notebook - notes on Shakespeare, Chaucer, and Trigonometry
[ca. 1864-1865]
Printed booklet, [Klotz, Reinholdus]. M. Tullii Ciceronis/Cato Major de Senectute ... Leipsig, 1879.
1879
List of Strickler Family births, marriages, deaths
n.d.
Miscellaneous
[ca. 1866]; n.d.
a. 1-page AMS, [ca. 1866 Oct. 10], by Sarah Ann Graves Strickler re nature; b. 2 CSA 5 cent stamps [uncancelled]; c. 3 newspaper clippings, 20th century
6 Photographs of members of the Fifeand related families
n.d.
Newsclipping re Strickler family home "Forest Hill," Madison County, Va., from The Madison County Eagle containing excerpts from Sarah Ann Graves Strickler's diary, 1862-1863
1972 August 31