A Collection in the
Clifton Waller Barrett Library of American Literature
Accession number 8790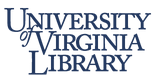 University of Virginia Library
Albert and Shirley Small Special Collections Library
University of Virginia
Charlottesville, Virginia 22904-4110
USA
Phone: (434) 243-1776
Fax: (434) 924-4968
Reference Request Form:
https://small.lib.virginia.edu/reference-request/
URL:
http://small.library.virginia.edu/
© 1997 By the Rector and Visitors of the University of Virginia. All rights reserved.
Funded in part by a grant from the National Endowment for the Humanities.
Processed by: Special Collections Department Staff
Repository
University of Virginia. Library. Special Collections Dept. Alderman Library University of Virginia Charlottesville, Virginia 22903 USA
Collection Number
8790
Title
Ruth McEnery Stuart Collection 1896-1908
Extent
17 items
Creator
Location
Language
English
---
Access Restrictions
Colletion is open to research.
Use Restrictions
See the University of Virginia Library's use policy.
Preferred Citation
Ruth McEnery Stuart Collection, Accession 8790, Special Collections Department, University of Virginia Library
Acquisition Information
Purchase [ 1967 Oct 4] 1968 Jan 25
Funding Note
Funded in part by a grant from the National Endowment for the Humanities
---
---
Ruth McEnery Stuartto Edward W. Bok

1896 Apr 30

ALS, 3 p.

[Discusses an article about New Orleanswhich she promised him by May 1; says it will be delayed due to problems with photographs.]

Ruth McEnery Stuartto Edward W. Bok

1896 Jun 3

ALS, 3 p.

[Sends him article on New OrleansCreoles with photographs; instructs him on how much to pay the woman photographer and to give credit in publication of photographs to "Washburn" who took the pictures of the three beauties; states that her fee is $200.]

Ruth McEnery Stuartto Edward W. Bok

1896 Jul 11

ALS, 3 p.

[Acknowledges check; hopes he is pleased with the article; says she is willing to make corrections if necessary and would like to have the proofs; requests proof of his planned article on her life; suggests future article on the Acadians, "Cajuns," of Louisiana. ]

Ruth McEnery Stuartto Edward W. Bok

1896 Jul 21

ALS, 2 p.

[Sends him just finished humorous sketch; asks to be sent proofs for correction, if he likes it; gives her new address.]

Ruth McEnery Stuartto Edward W. Bok

1897 Jul 9

TLS, 1 p.

[Offers a humorous Christmas story which exceeds the five thousand word limit a little; asks for a quick decision; intends to offer it to another editor in time for Christmas should Bok reject it.]

Ruth McEnery Stuartto Edward W. Bok

1897 Jul 13

TLS, 1 p.

[Says she is pleased at acceptance of the manuscript, but expected $300 for it and is sure a mistake has been made; promises more work for him in the future.]

Ruth McEnery Stuartto Edward W. Bok

1898 Mar 14

ALS, 2 p.

[Says the Christmas story will be included in a collection of short stories to be published by Harper's; asks permission to use Bok's illustrations; promises to send him a manuscript soon.]

Ruth McEnery Stuartto Edward W. Bok

1901 Apr 6

ALS, 3 p.

[Says that her sister, Sarah McEnery, is living temporarily in Holland, plans to write a series of articles on Holland towns, picture galleries, etc. for publication; attempts to get Bok interested in the series; sends him a sample and the asking price; reports on her improving health.]

Ruth McEnery Stuartto Edward W. Bok

1901 Sep 5

ALS, 2 p.

[Discusses corrections of her manuscript " If I had a Million"; says she has another idea for a Christmas piece, if it is not too late.]

Ruth McEnery Stuartto Edward W. Bok

1903 Jan 28

ALS, 3 p.

[Says she is late in answering due to illness; considers his Christmas suggestion.]

Ruth McEnery Stuartto Edward W. Bok

1903 Apr 30

ALS, 3 p.

[Says she is still in ill health; encloses a manuscript with permission to do "whatever" with it; requests proofs.]

Ruth McEnery Stuartto Edward W. Bok

1903 Dec 13

ALS, 3 p.

[Says she has moved to Long Island, which interrupted completion of a Christmas story; says she will keep him in mind for the future.]

Ruth McEnery Stuartto Edward W. Bok

1904 May 11

ALS, 3 p.

[Says she has been overwhelmed by moving and the accumulation of work; promises to send him a piece by July.]

Ruth McEnery Stuartto Edward W. Bok

1904 Aug 19

ALS, 3 p.

[Sends promised manuscript of a Christmas story at 6 cents per word; asks for immediate return if he is not pleased.]

Ruth McEnery Stuartto Edward W. Bok

1908 Dec 15

ALS, 2 p.

[Expresses holiday greetings; says she is working on a few stories about New Orleansand its plantation environs, where she spent time taking notes and sketching.]
Obituary of Ruth McEnery Stuart

[1917 May 2]

Clipping

[Includes biographical sketch which emphasizes that she was a friend of the "blacks."]
Edward W. Bok
Ruth McEnery Stuart
Sarah McEnery
Holland
Long Island
Louisiana
New Orleans