A Collection in the
Clifton Waller Barrett Library of American Literature
Accession number 8381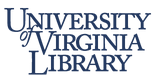 University of Virginia Library
Albert and Shirley Small Special Collections Library
University of Virginia
Charlottesville, Virginia 22904-4110
USA
Phone: (434) 243-1776
Fax: (434) 924-4968
Reference Request Form:
https://small.lib.virginia.edu/reference-request/
URL:
http://small.library.virginia.edu/
© 1997 By the Rector and Visitors of the University of Virginia. All rights reserved.
Funded in part by a grant from the National Endowment for the Humanities.
Processed by: Special Collections Department Staff
Repository
University of Virginia. Library. Special Collections Dept. Alderman Library University of Virginia Charlottesville, Virginia 22903 USA
Collection Number
8381
Title
Charles Eliot Norton Collection 1851
Extent
Creator
Shelf Location/Location/Storage
Language
English
---
Access Restrictions
Collection is open to research.
Use Restrictions
See the University of Virginia Library's use policy.
Preferred Citation
Charles Eliot Norton Collection, Accession 8381, Special Collections Department, University of Virginia Library
Acquisition Information
Deposit [ 1963 Dec 17] [ 1966 Sep 12]
Funding Note
Funded in part by a grant from the National Endowment for the Humanities
---
---
Preface, "Lectures and Fragments of Lectures by James Russell Lowell" by Charles Eliot Norton

n. d.

TMsS, 4 p.

[Includes author's corrections and addition.] (Bound volume also contains essay "Humor, wit, and fun" and engraving and print of Charles Eliot Norton)

Essay, " Humor, wit, and fun" by James Russell Lowell

n. d.

TMsS, 24 p.

[Includes autograph corrections by Charles Eliot Norton. ]
Charles Eliot Nortonto Charles E. Guild

1851 Aug 31

ALS, 5 p.

[Regards Longfellow and other friends.]

Charles Eliot Nortonto unknown

1859 Apr 22

ALS, 2 p.

[Thanks correspondent for information pertaining to his Eliotancestors; says a witch jury-man is of special interest; wishes to borrow the Eliot familyprinted genealogy.]

Charles Eliot Nortonto unknown

1866 Apr 17

ALS, 1 p.

[Refers to a letter by the correspondent which appeared in The North American Review; mentions that [George] Bancroftfled the country on the mere report of the letter's appearance.]

Charles Eliot Nortonto unknown

1877 Jul 3

ALS, 1 p.

[Informs correspondent that he was chosen to be a member of the Saturday Club. ]

Charles Eliot Nortonto Houghton, Mifflin & Co.

1883 May 7

ALS, 2 p.

[Expresses thanks for a copy of advance sheets of a new edition of Jones Very's poems; praises the spiritual intensity and sincerity of the poems and is glad that they are published.]

Charles Eliot Nortonto Editor of CenturyMagazine [ Richard Watson Gilder]

1884 Jan 23

ALS, 4 p.

[Discusses the oldest known portrait of Dante; he states that the portrait in the Bargelloin Florencewas not by Giottobut by one of his pupils.]

Charles Eliot Nortonto Carl Wilhelm Ernst

1887 Apr 12

ALS, 1 p.

[Thanks him for sending him an article about letters by Goethethat appeared in the Athenaeum. ]

Charles Eliot Nortonto Edmund Clarence Stedman

1887 Jul 27

ALS, 3 p.

[Refers to John Nortonand permits Stedman to make use of his own writings.]

Charles Eliot Nortonto Bayard Wyman

1887 Aug 9

ALS, 2 p.

[Refuses a request to write a critical opinion on the work of Tolstoy.]

Charles Eliot Nortonto George Pellew

1888 Mar 3

ALS, 4 p.

[Replies after having received an article by him in defense of the works of Williams Dean Howells; interprets "realists" and "actualists" among writers, stating that "actualists" are seldom artists of the highest rank and gives examples of both.]

Charles Eliot Nortonto Richard Watson Gilder

1890 Mar 28

ALS, 3 p.

[Refers to a letter by James Russell Lowellwhich, to his great satisfaction, is in the hands of Gilder for later publication; reports on Lowell's health.]

Charles Eliot Nortonto Willis Hatfield Hazard

1893 Feb 1

ALS, 2 p.

[Informs him that he might find the passages from the Biblereferred to in the Divine Comedyin an essay " Dante e la Bibbia" by Niccolo Tommaseo. ]

Charles Eliot Nortonto Robert Underwood Johnson

1894 Jan 11

ALS, 3 p.

[Discusses publication of the James Russell Lowellpapers in the Century. ]

Charles Eliot Nortonto Henry Paret

1894 Mar 19

ALS, 1 p.

[Sends the requested autograph of his father, Andrews Norton. ]

Charles Eliot Nortonto the Rev. J[ulius] H[ammond ?] Ward

1894 Mar 19

ALS, 4 p.

[Letter of recommendation regarding J. H. Jones, a student at Harvard, who would like to obtain a position as a reporter at the [Boston ?] Heraldto report on the proceedings and papers of The Schools of Social Ethics; mentions Crawford Howell Toy. ]

Charles Eliot Nortonto Messrs. Harper Brothers

1894 Jul 28

ALS, 4 p.

[Gives suggestions on how to improve the appearance of the book, Literary and Social Essays, by George William Curtis, which is about to be printed; points out number of misprints in the last volume of From the Easy Chairand makes corrections.]

Charles Eliot Nortonto Gerard Roberts

1895 Oct 9

ALS, 2 p.

[Thanks him for sending a 30 year old notices from the Atlantic Monthlyof the translation of Vita Nuovaby Norton.]

Charles Eliot Nortonto Howe

1896 Jan 22

ALS, 1 p.

[Complies with request for titles of books on the art of painting as practiced by the Egyptians.]

Charles Eliot Nortonto William Gibbs Peckham

1896 Jun 8

ALS, 3 p.

[Recalls a visit to Bryn Mawrwhere he enjoyed a friendly reception by Peckham and his student daughter, who will be coming to Cambridge. ]

Charles Eliot Nortonto William Gibbs Peckham

1897 Mar 8

TLS, 1 p.

[Includes autograph postscript acknowledging letter and cheque for the Memorial Library in memory of Mr. Child; voices his concern about future national politics; says he has noticed Peckham's name on the list of visiting committees to Harvard. ]

Charles Eliot Nortonto William Gibbs Peckham

1898 Apr 13

ALS, 1 p.

[Expresses his concern and anxiety about the nation.]

Charles Eliot Nortonto Hinckley Gilbert [Thomas] Mitchell

1899 Mar 17

ALS, 2 p.

[Gives the requested title of a book containing all of Dante's works: Tutte le Opere di Dante Alighieriby Dr. Edward Moore; mentions the cancellations of one of his readings.]

Charles Eliot Nortonto unknown

1900 Oct 26

ALS, 2 p.

[Gives a short description of the life of Charles C. Burleigh, an abolitionist and lawyer; comments on Burleigh's friendship with fellow abolitionist James Russell Lowell; mentions William Lloyd Garrison, 1805-1879: The story of his life told by his children. ]

Charles Eliot Nortonto Franklin Benjamin Sanborn

1901 Jun 5

ALS, 2 p.

[Mentions Ralph Waldo Emersonby Sanborn for the "Beacon Biographies of Eminent Americans" and The Correspondence of Thomas Carlyle and Ralph Waldo Emerson, 1834-1872, which he plans to reissue.]

Charles Eliot Nortonto William Gibbs Peckham

1907 Mar 11

TLS, 1 p.

[Includes autograph postscript thanking him for the third series of verse from the Harvard Advocate; expresses hope that in this generation there may be one poet of creative originality, etc.]

Charles Eliot Nortonto William Gibbs Peckham

1907 Apr 13

TLS, 1 p.

[Thanks him for sending his memorial pamphlet on R. R. Sinclair; points out the merits of Sinclair.]
Printed photograph of Charles Eliot Norton, seated

n. d.

Photograph

[In bound volume with TMs of "Humor and Wit."]

Printed etching by Hollyer of James Russell Lowell, head and shoulders

n. d.

Etching

[In bound volume with TMs of "Humor and Wit."]
Andrews Norton
Bayard Wyman
Carl Wilhelm Ernst
Charles C. Burleigh
Charles E. Guild
Charles Eliot Norton
Crawford Howell Toy
Dante
Edmund Clarence Stedman
Edward Moore
Franklin Benjamin Sanborn
George Pellew
George William Curtis
Gerard Roberts
Giotto
Goethe
Henry Paret
Hinckley Gilbert [Thomas] Mitchell
J. H. Jones
J[ulius] H[ammond ?] Ward
James Russell Lowell
John Norton
Jones Very
Niccolo Tommaseo
R. R. Sinclair
Richard Watson Gilder
Robert Underwood Johnson
William Gibbs Peckham
Williams Dean Howells
Willis Hatfield Hazard
[George] Bancroft