A Collection in the
Clifton Waller Barrett Library of American Literature
Accession number 7836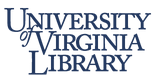 University of Virginia Library
Albert and Shirley Small Special Collections Library
University of Virginia
Charlottesville, Virginia 22904-4110
USA
Phone: (434) 243-1776
Fax: (434) 924-4968
Reference Request Form:
https://small.lib.virginia.edu/reference-request/
URL:
http://small.library.virginia.edu/
© 1997 By the Rector and Visitors of the University of Virginia. All rights reserved.
Funded in part by a grant from the National Endowment for the Humanities.
Processed by: Nancy Faulkner
Repository
University of Virginia. Library. Special Collections Dept. Alderman Library University of Virginia Charlottesville, Virginia 22903 USA
Collection Number
7836
Title
George Lippard Collection 1846-1853
Extent
4 items
Creator
Location
Language
English
---
Access Restrictions
Collection is open to research.
Use Restrictions
See the University of Virginia Library's use policy.
Preferred Citation
George Lippard Collection, Accession 7836, Special Collections Department, University of Virginia Library
Acquisition Information
Deposit [1963 Dec 17]1965 Feb 11
Funding Note
Funded in part by a grant from the National Endowment for the Humanities
---
---
George Lippardto the Corresponding Committee of the Few Society of Emory College

1846 Nov 18

ALS, 3 p.

[Accepts an honor; speaks of the Bible as an example, John Wesleyvs. John Calvin, preservation of the Union, fondness of the South; mentions Isaiah, Saint Paul, Homer, Virgil, Cicero, Demosthenes, George Washington, Jesus Christ, and Committee members W. H. Ellison, Jr., T. C. Soloman, and G. C. Everett. ]

George Lippardto Horace Greeley

1848 Nov 15

ALS, 2 p.

[Asks Greeley to review Paul Ardenheim the Monk of Urssahiken; mentions mixed feelings towards Greeley, defending him from Whig attacks, and Common Senseby Thomas Paine. ]

George Lippardto Editors of the Despatch

1853 Jun 2

ALS, 1 p.

[Complains about mistreatment by the Despatchand by Theophilus Beasley Paterson; asks for an extended notice for his new book; speaks of ill health; mentions Cincinnatipublishers ( H. M. Rulisonor E. Mendenhall) and editors Lawlor, Hincken, and Everett.]
Proof impression of woodcut portrait of George Lippardmade by John R. Telferfor frontspiece of Lippard's last book, New York: Its Upper Ten and Lower Million(1853)

n d. [1850-1853]

Proof
Cicero
Demosthenes
E. Mendenhall
G. C. Everett
George Lippard
George Washington
H. M. Rulison
Homer
Horace Greeley
John Calvin
John R. Telfer
John Wesley
T. C. Soloman
Theophilus Beasley Paterson
Thomas Paine
Virgil
W. H. Ellison, Jr.