A Collection in the
Special Collections Department
Accession number 1999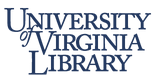 University of Virginia Library
Albert and Shirley Small Special Collections Library
University of Virginia
Charlottesville, Virginia 22904-4110
USA
Phone: (434) 243-1776
Fax: (434) 924-4968
Reference Request Form:
https://small.lib.virginia.edu/reference-request/
URL:
http://small.library.virginia.edu/
© 1997 By the Rector and Visitors of the University of Virginia. All rights reserved.
Funded in part by a grant from the National Endowment for the Humanities.
Processed by: Special Collections Staff
Repository
University of Virginia. Library. Special Collections Dept. Alderman Library University of Virginia Charlottesville, Virginia 22903 USA
Collection number
1999
Title
Cleveland Family Papers 1858-1943
Quantity
115 items
Collector
Lt. E. W. Gregory
Location
Language
English
---
Access Restrictions
Collection is open to research.
Use Restrictions
See the University of Virginia Library's use policy.
Preferred Citation
Cleveland Family Papers, Accession 1999, Special Collections Department, University of Virginia Library
Acquisition Information
This collection was placed on loan with the Library on September 28, 1944, by Lt. E. W. Gregoryof Norfolk, Virginia, through Miss Nellie George.
Funding Note
Funded in part by a grant from the National Endowment for the Humanities
---
This collection of 115 items, 1858-1943, contains the papers of Eva Cleveland(1868-1944), a well-known music teacher and choir director in Charlottesvillewhose musical career spanned fifty-eight years, 1886 to 1944, and a ledger from the A. H. Cleaveland Dry Goods Store. A. H. Cleavelandowned and managed the Cleaveland Dry Goods Storeon Main Street in Charlottesville, Virginia, at least during the dates of his ledger, 1858-1875. His wife ran a small school, Cleaveland School, which began in 1876 and continued until at least the first decade of the twentieth century.
Ms. M. Eva Cleaveland(who later dropped both her first initial and the "a" in Cleaveland) and her sister Kate Cleavelandwere accomplished musicians who were known locally for their talent in singing and playing the piano. A younger sister, Carrie Cleaveland, was later a student in Ms. Eva Cleveland's school. After completing school and musical training at New York Universityand the Cincinnati Conservatory of Music, Ms. Eva Clevelandtaught music at her mother's school at least during the 1887-1888 session, but by 1892 she had her own music school which continued under her direction until 1943. "Miss Eva," as she was known locally, was also the organist and choir director of First Baptist Church of Charlottesvillefor twenty-five years. The many newspaper clippings kept by Ms. Eva Clevelandattest to her skills both in playing and teaching music, and generations of Charlottesvilleyouth spent years under her tutelage.
The collection of Ms. Eva Cleveland's papers include miscellaneous memorabilia of the Charlottesvillearea, programs of music recitals, and a scrapbook filled with newspaper clippings of local interest and recipes. Of particular value to local historians are printed materials on the First Baptist Church of Charlottesvilleand various printed materials pertaining to Charlottesvilleand Albemarle County. There are "patriotic" pamphlets, and a program from the Medical College of Virginia's 1936 commencement exercises, numerous recital programs listing local youth, and newspaper clippings discussing local events, musical and other.
Music Recital Programs: Ms. Cleveland's School and the First Baptist Church

1892-1943, n.d.

[for whom Ms. Eva Clevelandserved as choir director]

Music Recital Programs: Other Local Music Schools

1892-1941, n.d.

Printed Materials: First Baptist Church of Charlottesville, Virginia

1905-1941

[Bulletin of Dedicatory Service, programs, and a 1941 church directory.]

Printed Materials: Charlottesville and Albemarle County

1875-1940, n.d.

[Includes prints of local buildings, program of 1922 AlbemarleHomecoming Celebration, battlefield markers information, and a copy of the town charter.]

Miscellaneous: Booklets

1876-1919, n.d.

[on etiquette, recipes, historical figures and patriotic issues.]

Miscellaneous: Music

1891-1928, n.d.

[Includes a copy of an 1896 New York Musical Echo,information on composers, booklets on piano exercises and teaching.]

Miscellaneous

1859-1938, n.d.

[Items of personal interest to Ms. Eva Cleveland. Includes pages from an 1859 edition of the Georgia Temperance Crusader,brochures from her mother's school, poems, and souvenirs of vacation trips]

Ledger-Scrapbook

1884-1930's, n.d.

[Ledger, presumably of her father's, used as a scrapbook, which contains recipes, articles about beauty and household issues, and clippings about local social events and reviews of Ms. Eva Cleveland's church and school's recitals.]
Ledger of A. H. Cleaveland Dry Goods Store
1858-1875
A. H. Cleaveland
Carrie Cleaveland
E. W. Gregory
Eva Cleveland
Kate Cleaveland
M. Eva Cleaveland
Nellie George
Albemarle
Albemarle County
Charlottesville
Charlottesville, Virginia
Norfolk, Virginia