A Collection in
Special Collections and University Archives
Collection Number MG 53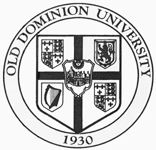 Special Collections and University Archives, Patricia W. and J. Douglas Perry Library, Old Dominion University
Special Collections
Perry Library
Old Dominion University
Norfolk, Virginia 23529-0256
USA
Phone: (757) 683-4483
Fax: (757) 683-5954
Email:
libspecialcollections@odu.edu
URL:
http://www.lib.odu.edu/special/
© 2002 By Rector and Board of Visitors of Old Dominion University.
Funding: Web version of the finding aid funded in part by a grant from the National Endowment for the Humanities.
Processed by: Jan Halecki
Repository
Special Collections, Perry Library, Old Dominion University
Collection number
MG 53
Title
Interviews of Vivian Carter Mason 1978
Physical Characteristics
One document case, .5 linear feet
Language
English
---
Access
The collection is open to researchers without restrictions.
Use Restrictions
Questions about literary property rights should be directed to the Special Collections Librarian.
Preferred Citation
[Identification of item], Box [insert number], Folder [insert number and title], Interviews of Vivian Carter Mason, Special Collections and University Archives, Patricia W. and J. Douglas Perry Library, Old Dominion University Libraries, Norfolk, VA 23529.
Acquisition Information
The collection is a gift of Zelda Silverman, July 1982.
---
Vivian Carter Mason was born February 10, 1900. Her father was a Methodist minister and her mother a music teacher. She grew up in a mostly white neighborhood in Auburn, New York, where she experienced discrimination first hand. She was also greatly affected by the stories her father told of her grandmother's life as a slave.
Carter Mason credits her parents with encouraging her and her siblings to work hard in school and insisting that they go on to college. She succeeded in school and graduated from the University of Chicago in 1925. After college she was a social worker in New York where she worked her way up to the position of Director of Social Services from 1940-1942.
After being injured in a train wreck in 1942 she went to Norfolk, her husband's home town, to recuperate. During this time she began thinking about ways to reconcile the differences between the races. She began by calling women that she knew or were recommended to her, both black and white, who were concerned about racial injustice. These concerned women formed the Women's Council on Interracial Cooperation in 1945. This was the first group in the area to hold integrated public meetings. Mason served as the Council's first president from 1945-47.
Mason was involved in many other civil rights organizations. In 1953 she was elected the third president of the National Council of Negro Women. During her tenure as president she helped the organization devise strategies to work toward implementation of the Brown vs. Board of Education supreme court decision. In Norfolk, when schools were closed during the massive resistance she helped educate the "Norfolk 17" by administering the school opened for them in the First Baptist Church.
She became the first black woman to serve on the Norfolk city school board in 1971. She served on the school board until 1978 when she resigned to start the Urban League of Hampton Roads.
Vivian Carter Mason died on May 10, 1982 in Norfolk. She is survived by her son William T. Mason, an attorney in Norfolk.
The collection consists of the cassette tapes and transcripts of four interviews recorded between March and October of 1978. Each interview of Vivian Carter Mason was conducted by Zelda Silverman. The interviews primarily cover the early 1900s up to the 1950s and largely with regard to Carter Mason's family history and civil rights issues.
The March 24, 1978 interview tape was damaged. Although it was restored, some of it is still inaudible. Topics covered in this interview include: Her experiences trying to find employment, her home town in upstate New York, police in Norfolk in the 1940s, taking her son to New York to go to school.
The March 29, 1978 interview includes discussion of her childhood in Auburn New York, Carter family history, slavery, civil rights issues, social work, the train accident.
The May 8, 1978 interview includes discussion of her civil rights experiences, job discrimination, black colleges, Adam Powell, the NAACP.
The October 19, 1978 interview covers civil rights issues, Norfolk politics, the Women's Council on Interracial Cooperation, segregation, Massive Resistance in Norfolk.
Box 1
Interview Cassette Tape, March 24, 1978
Box 1
Interview Cassette Tape, March 29, 1978
Box 1
Interview Cassette Tape, May 8, 1978
Box 1
Interview Cassette Tape (I), October 19, 1978
Box 1
Interview Cassette Tape (II), October 19, 1978
Box 1, Folder 1
Transcripts of interviews with Vivian Carter Mason